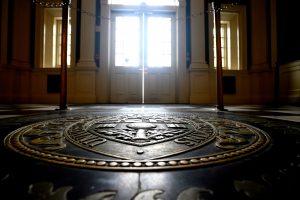 For the second year in a row, the JHU Senior Class Council has awarded Senior Lecturer Lawrence Aronhime the Gold Cup, presented each year to a faculty member who "enhances the undergraduate experience of the Senior Class." In their announcement, the council praised Professor Aronhime for his "masterful storytelling in classes like Introduction to Business and Introduction to Financial Accounting," as well as his "openness and willingness to provide guidance on their personal and career paths."
Professor Aronhime teaches courses in accounting, entrepreneurship, and technology commercialization and has successfully started several technology ventures. He is actively involved in supporting university technology commercialization efforts through the formation of student teams and projects as well as through coursework. Professor Aronhime was instrumental in growing the JHU Business Plan Competition from twelve competing teams in 1999 to over 70 in 2018. He also directs International Programs in the Center for Leadership Education, which includes Intersession trips throughout Europe, and through which, each January, he teaches the course Innovation and Entrepreneurship to Hopkins undergraduate and graduate students in Israel.
Congratulations to Professor Aronhime!