Several Clark Scholars are travelling to Israel for the winter break! We can't wait to hear more about their trip!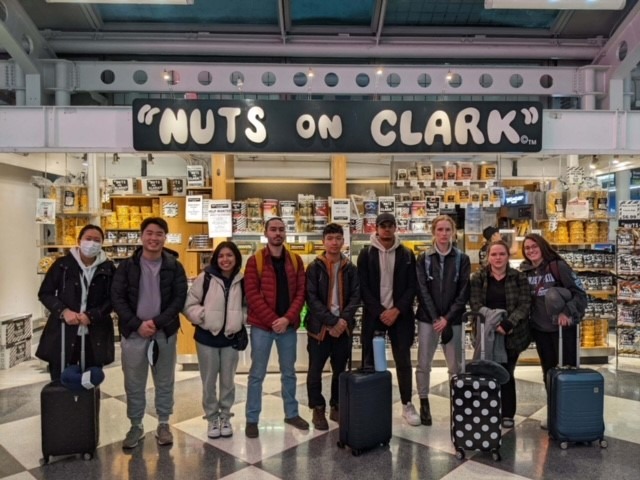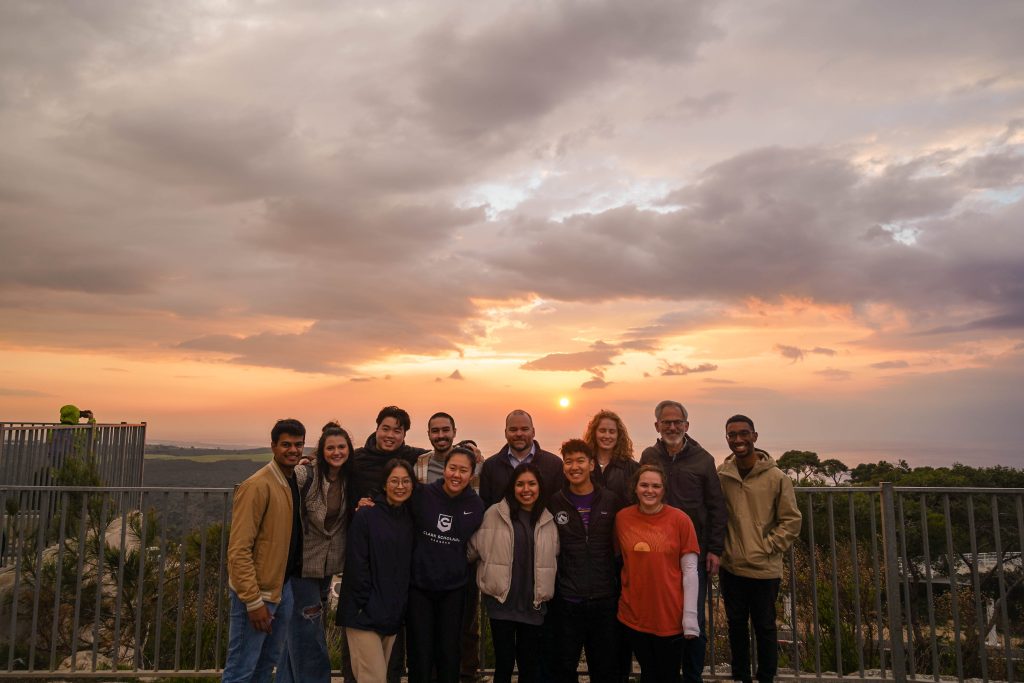 On December 12th, the 2024 Clark Scholar cohort visited the Hampden Christmas Street Holiday Show, Miracle on 34th Street, with CLE instructor, Trevor Mackesey and Copper! And hot chocolate, of course!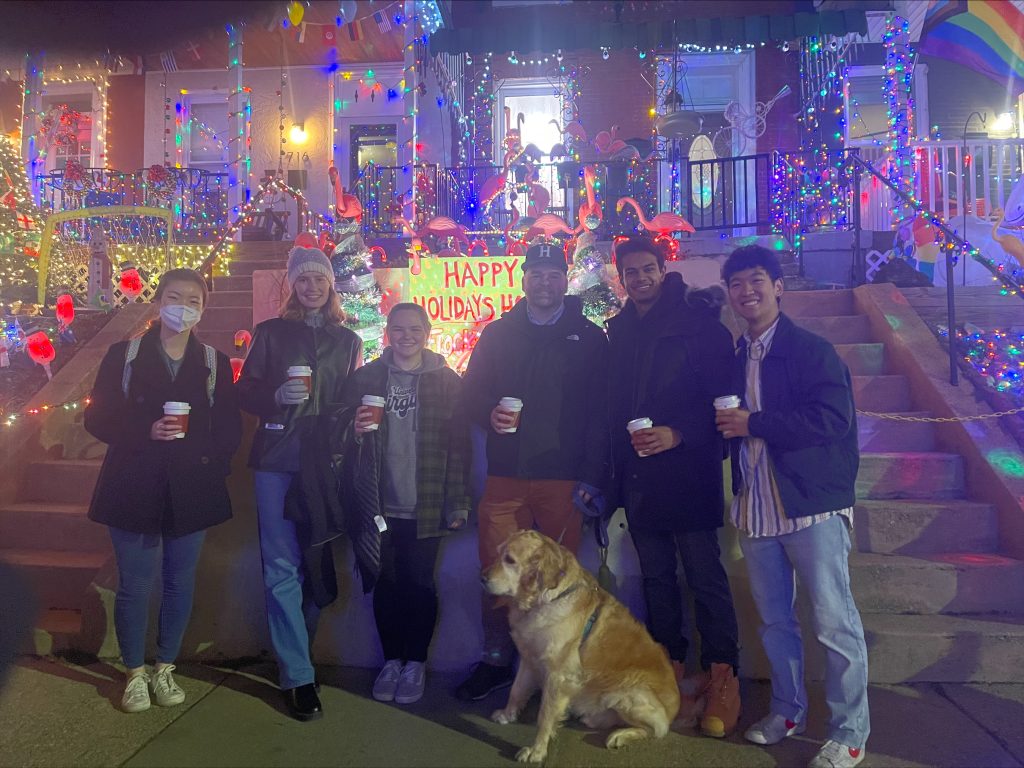 The Clark Scholars go to the Aquarium! On December 2nd, the Clark Scholars went to the Baltimore Aquarium and had dinner together afterwards at IHOP (can't go wrong with breakfast for dinner)
Also, Scholars, don't forget about the finals study session on December 13th from 6-9pm!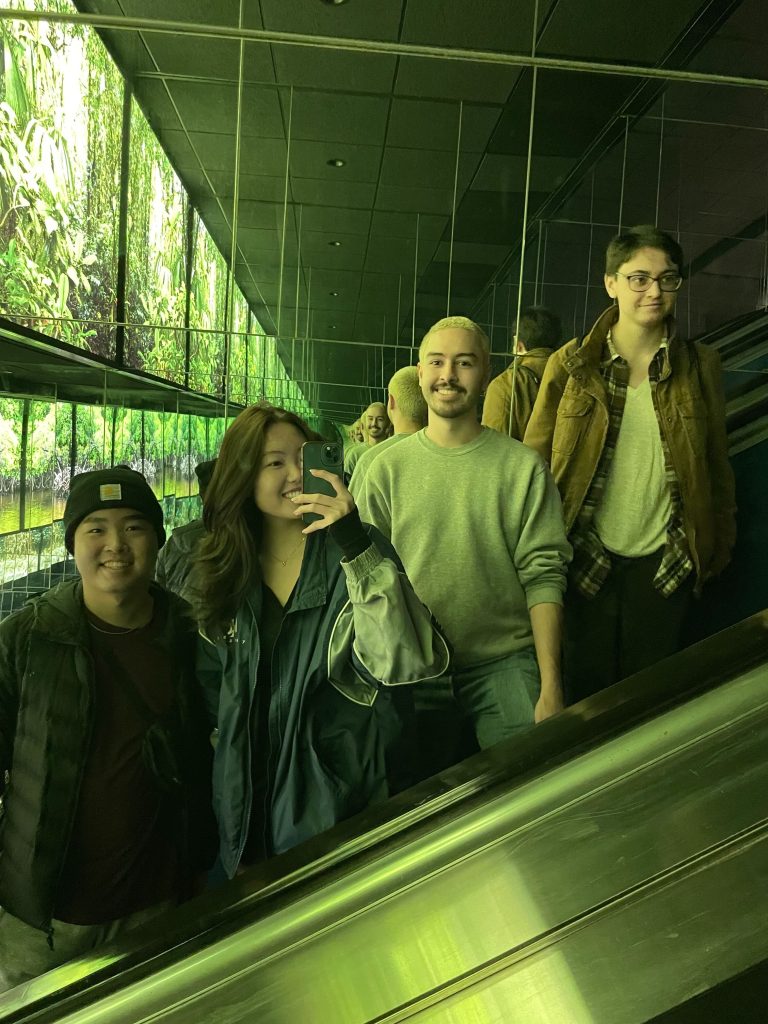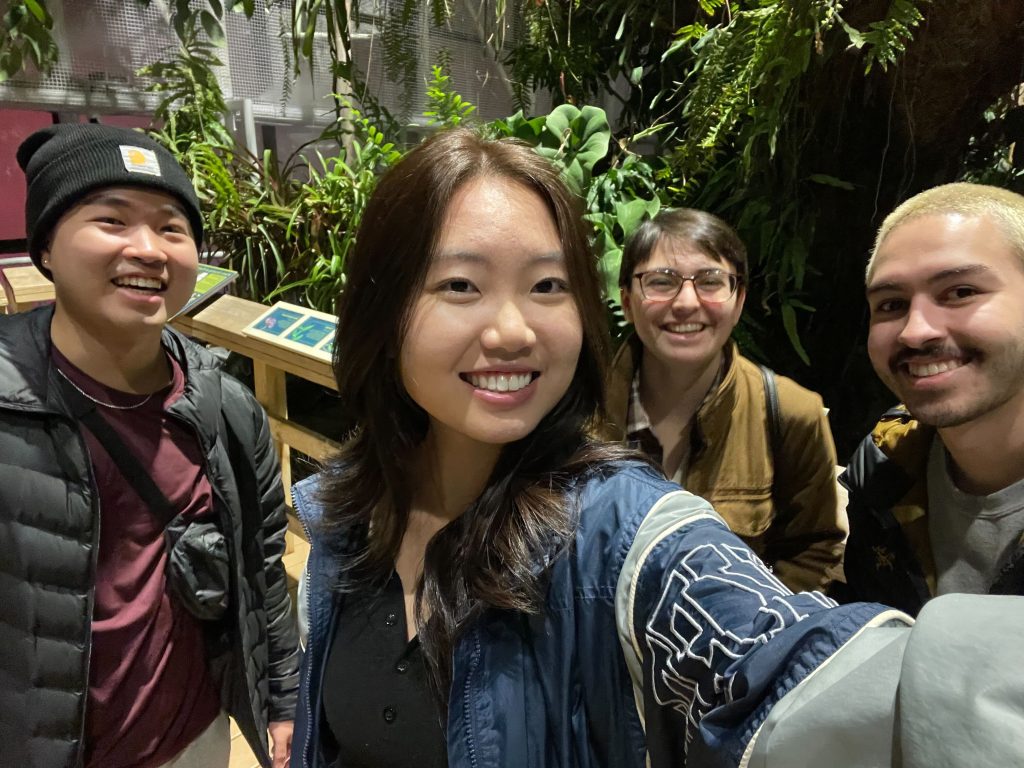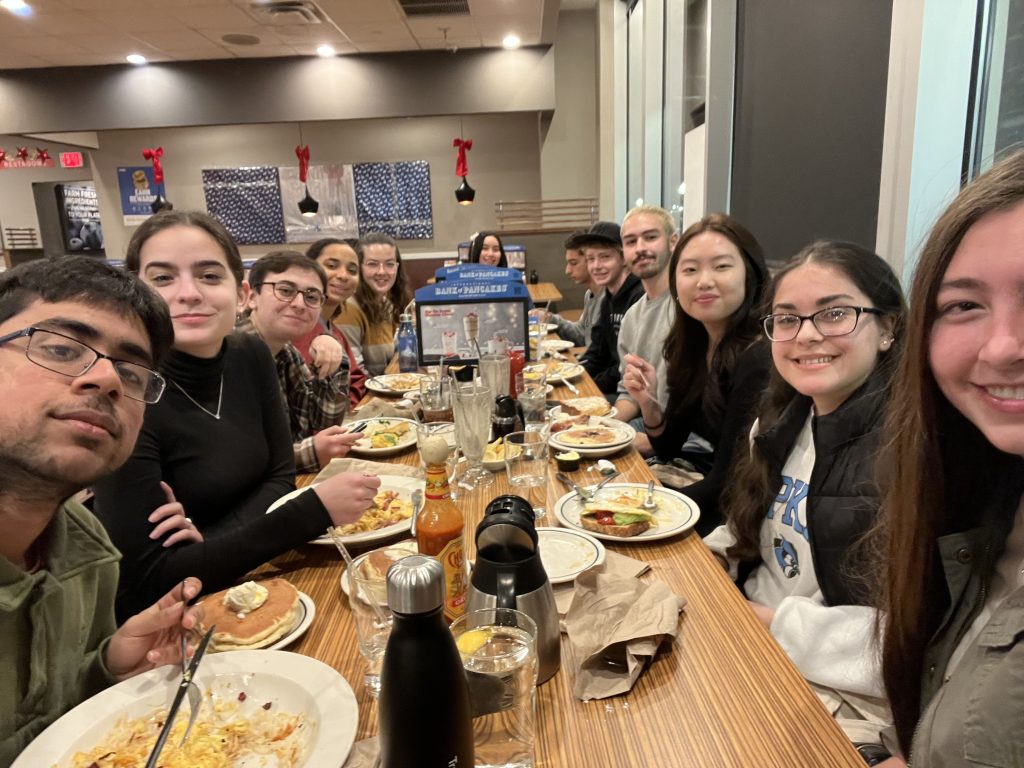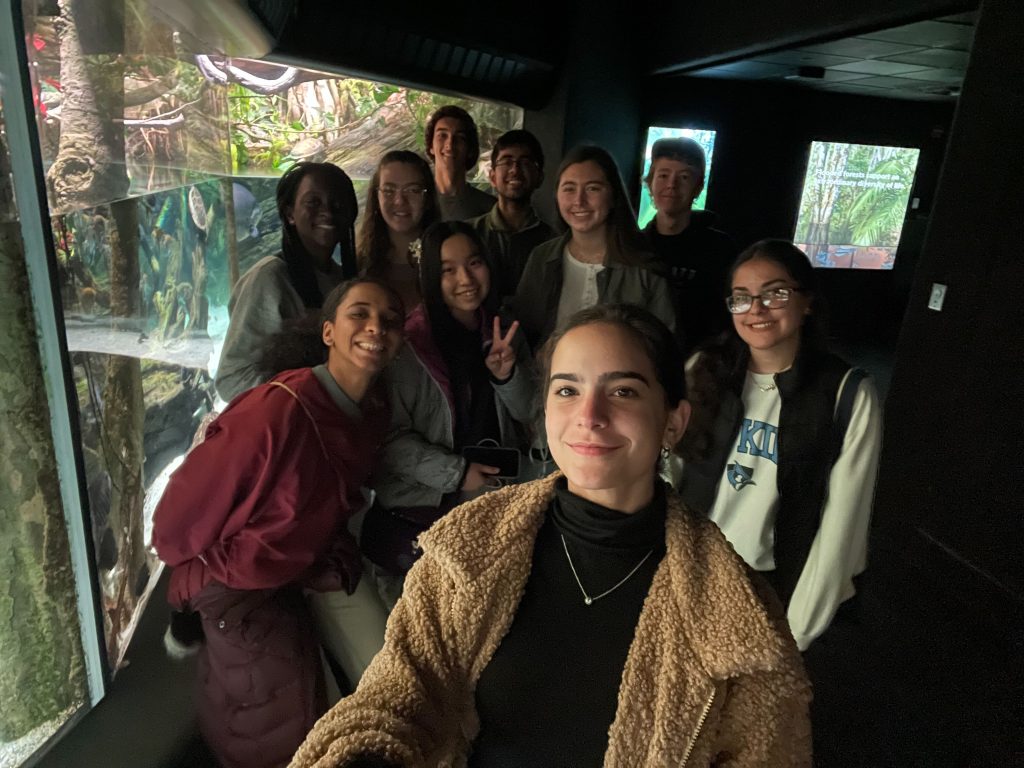 On Thursday, November 3rd, the Clark Scholars, Faculty, Staff, and Ashley Williams with the Clark Foundation, had dinner with the Dean! The dinner was hosted by Dean Ed and his wife Liora (who cooked an excellent meal – the hummus was outstanding) at their home! The evening was filled with delicious food, excellent conversation, and even better company. We look forward to continuing this annual tradition next year.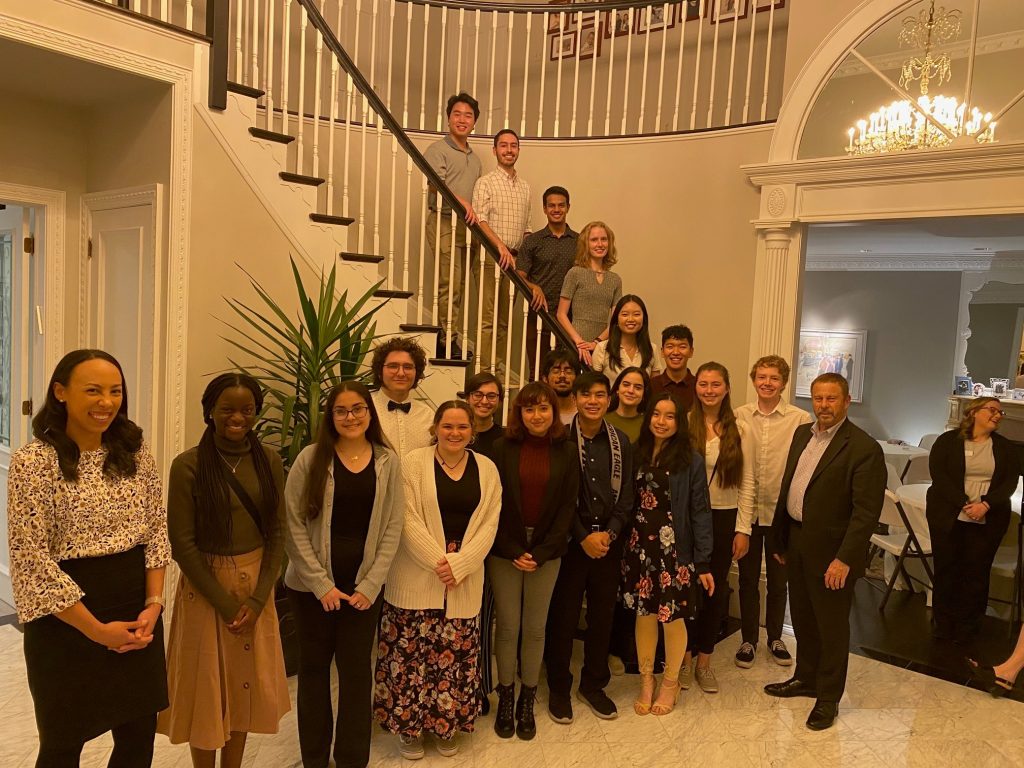 Several Clark Scholar alums met up last year to explore Zion National Park! In January, alums are planning a trip to Mexico. We love hearing about their adventures, even after they've graduated from JHU – and certainly miss them! #JHUCLARKIES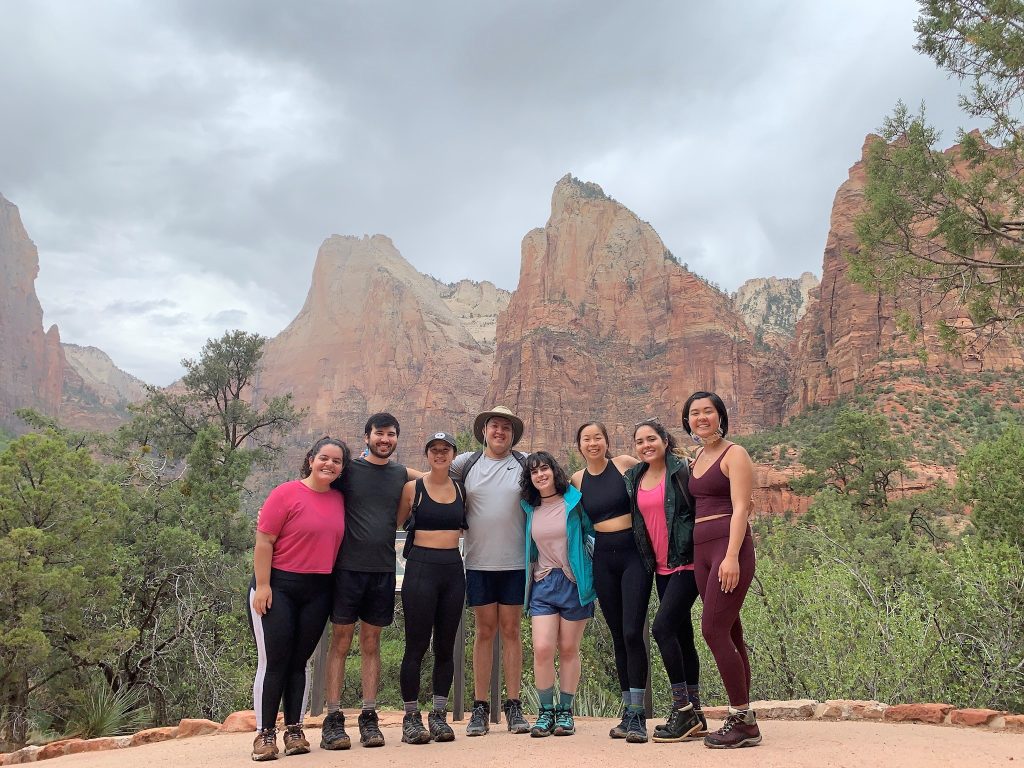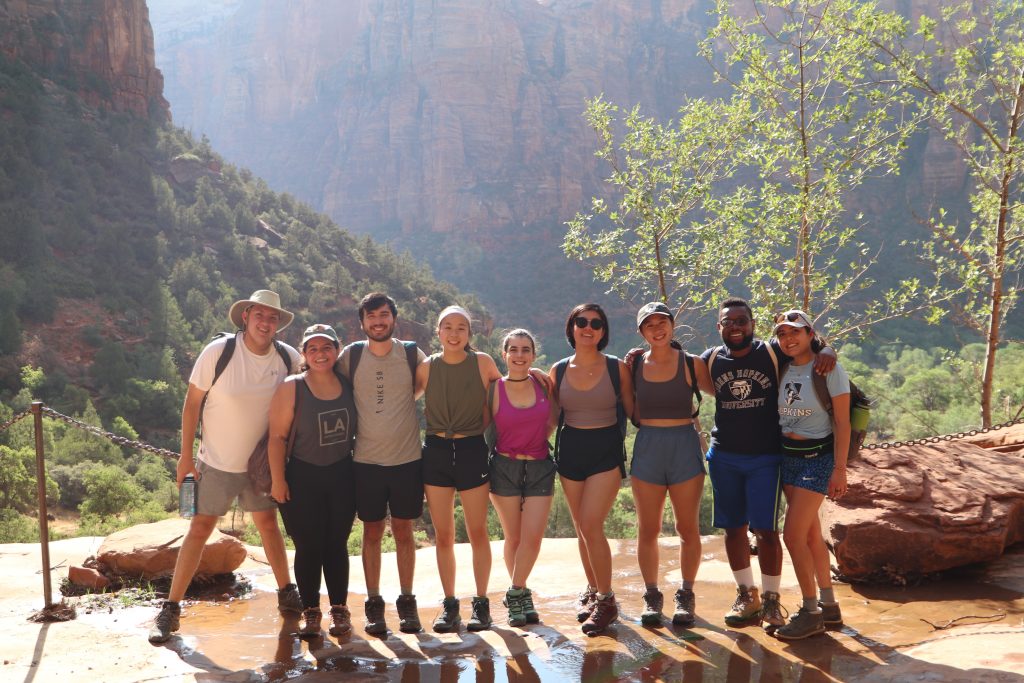 On Friday, September 23, all four of the Clark Scholar cohorts had a Clark Social! The event was catered by Bus Boys & Poets (yum), included a very festive photo booth, (hello, baby Yoda) and of course, Clark swag! We were so pleased to have all four cohorts together & are excited to host similar events throughout the year! Shoutout to Clark Scholars Program Coordinator, Corale Roten, for all of her hard work on this event – she may have skipped the photo booth, but she also had a great time with the scholars!!! #Clarkies #JHU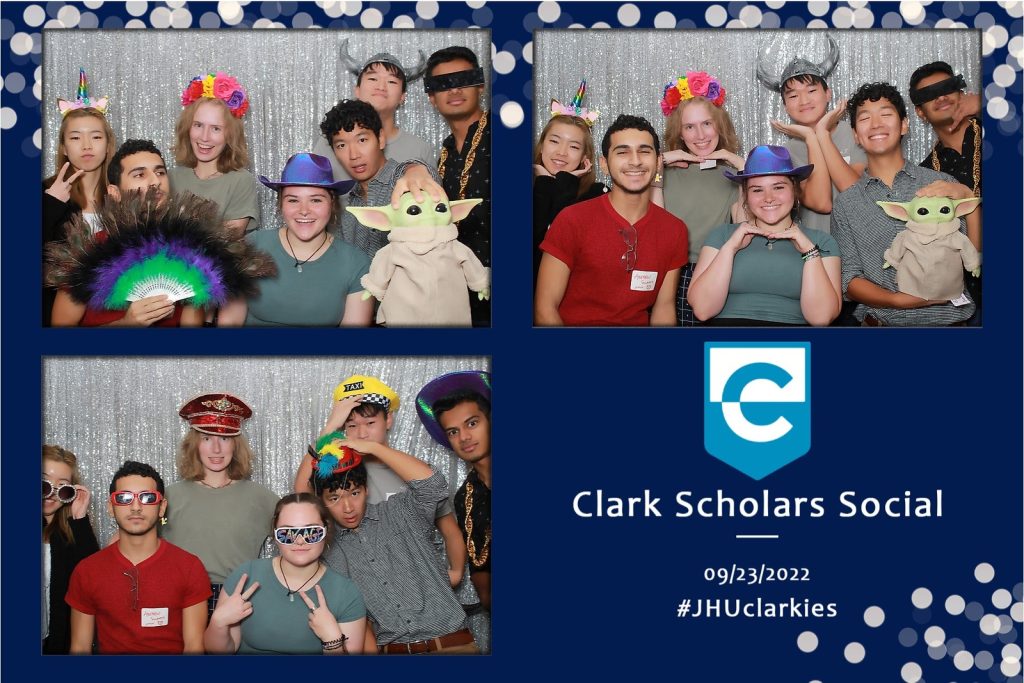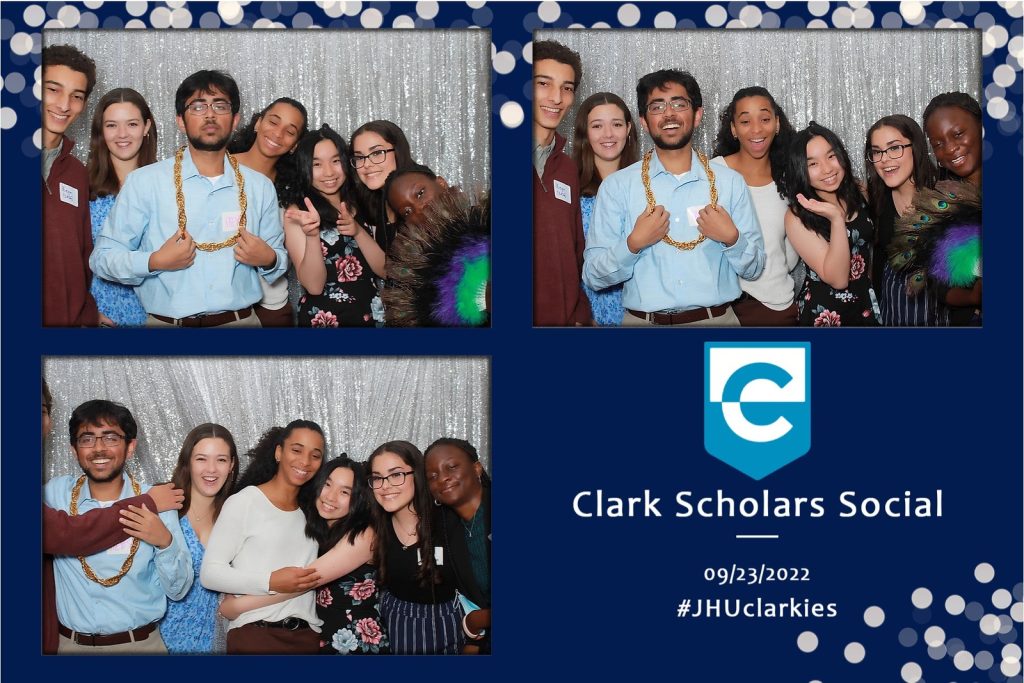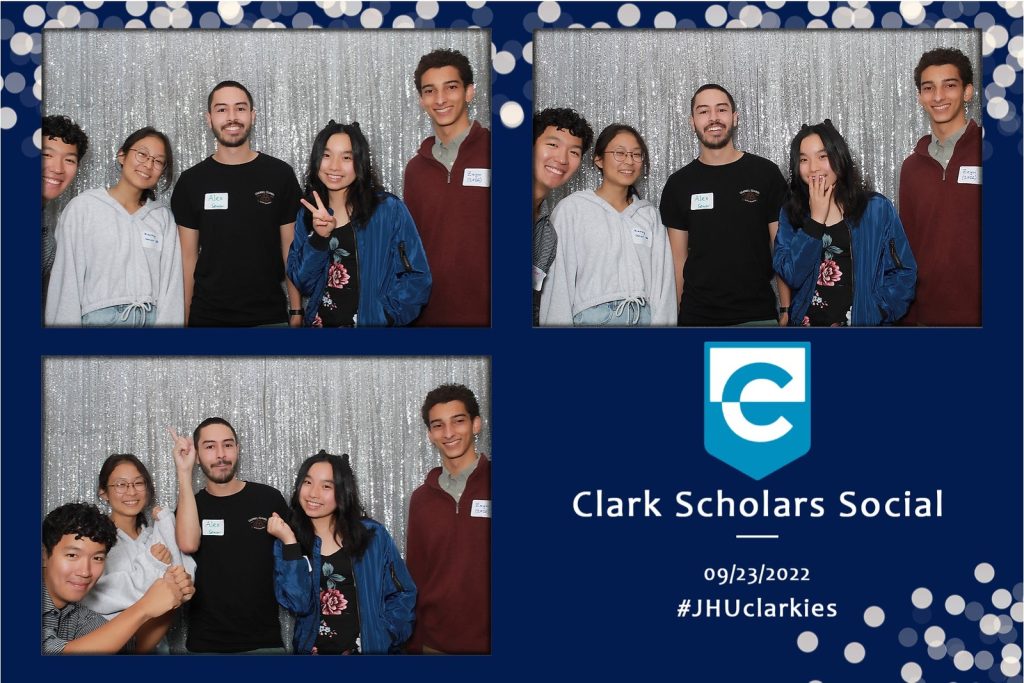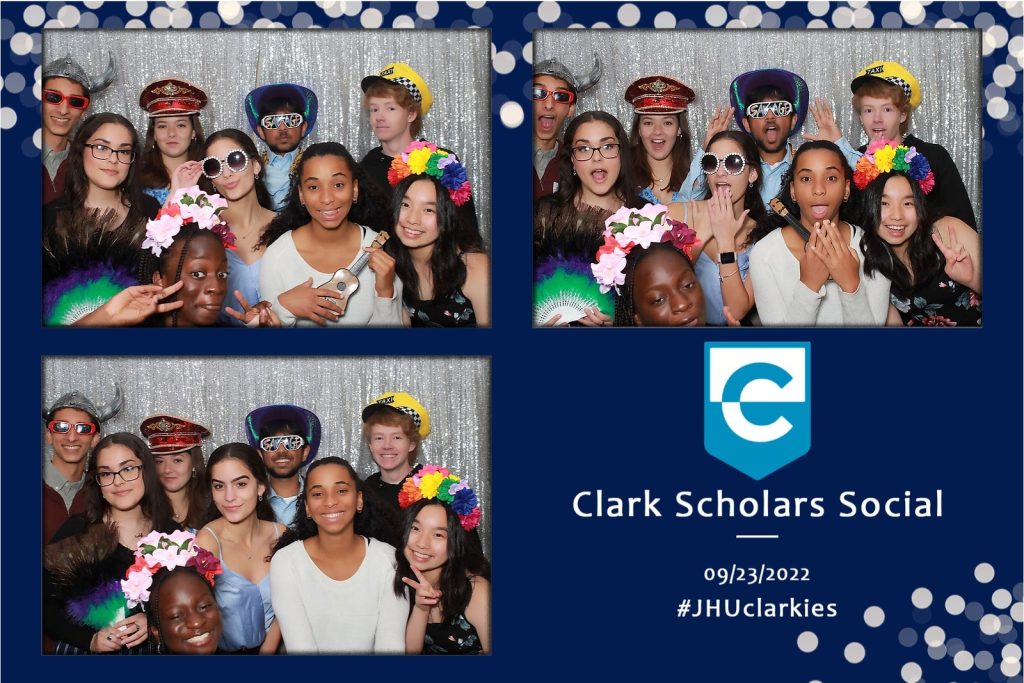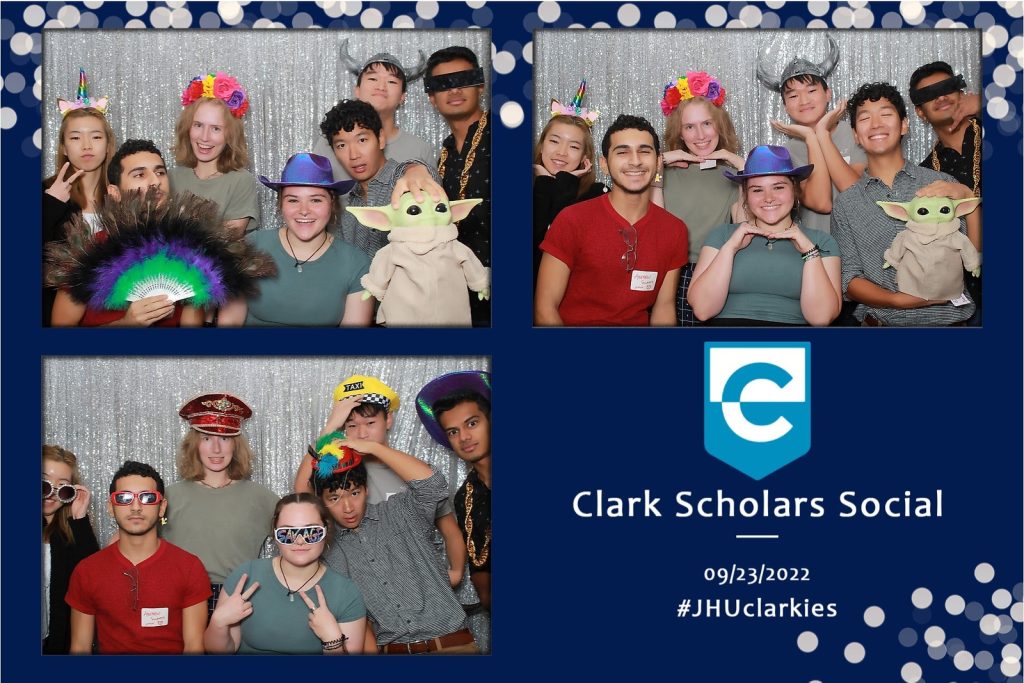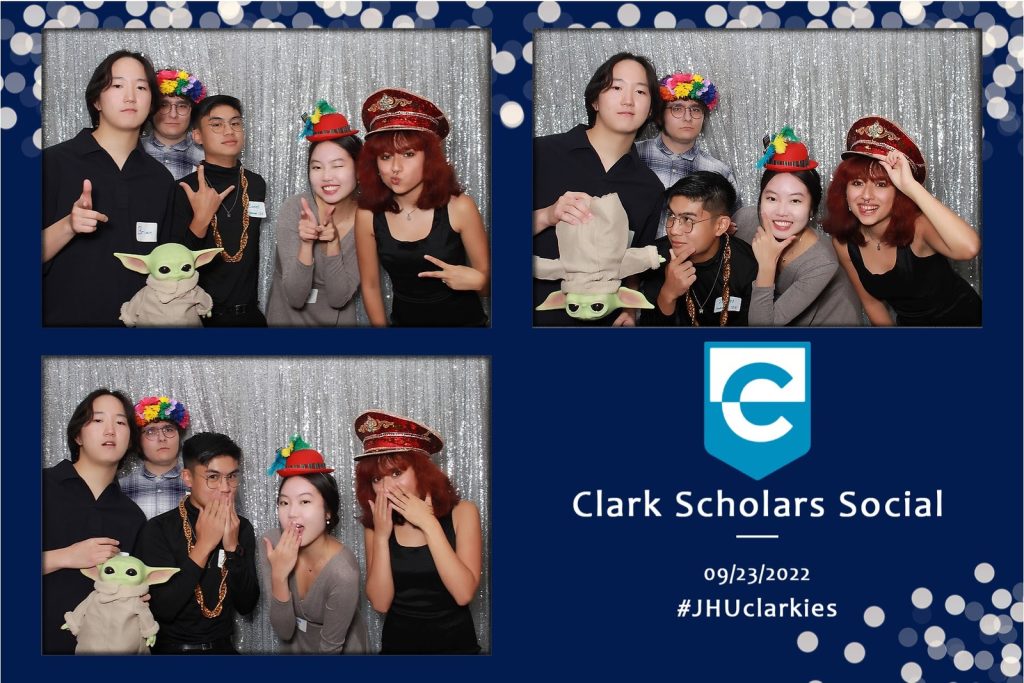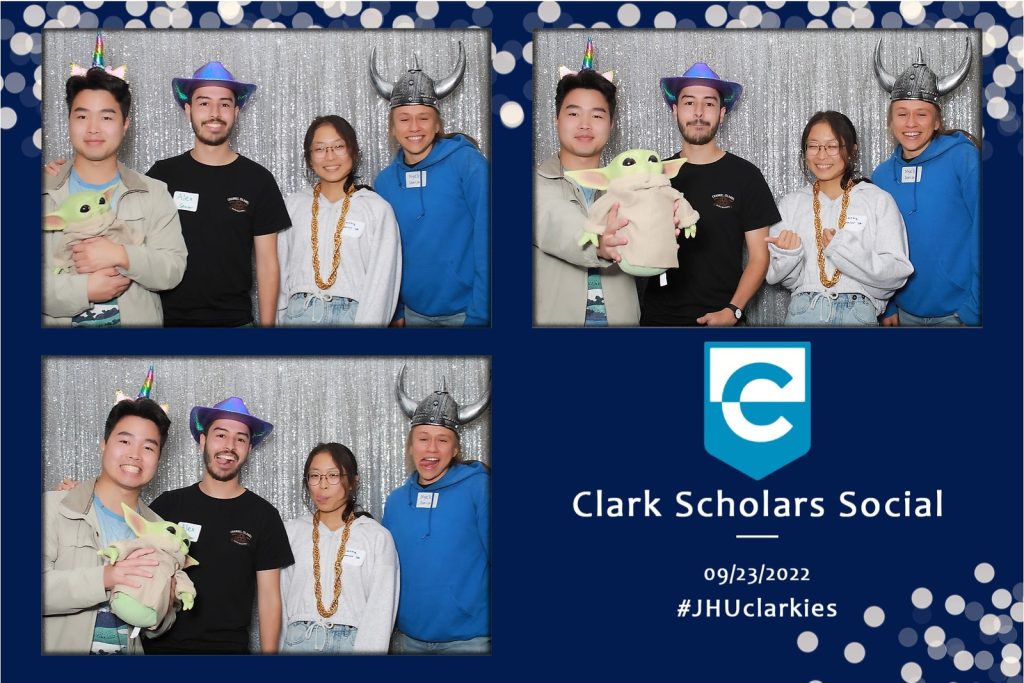 Meet our new Cohort of Clark Scholars, Class of 2026! **missing one due to COVID.
We are thrilled to have 10 new Clark Scholars join us this year!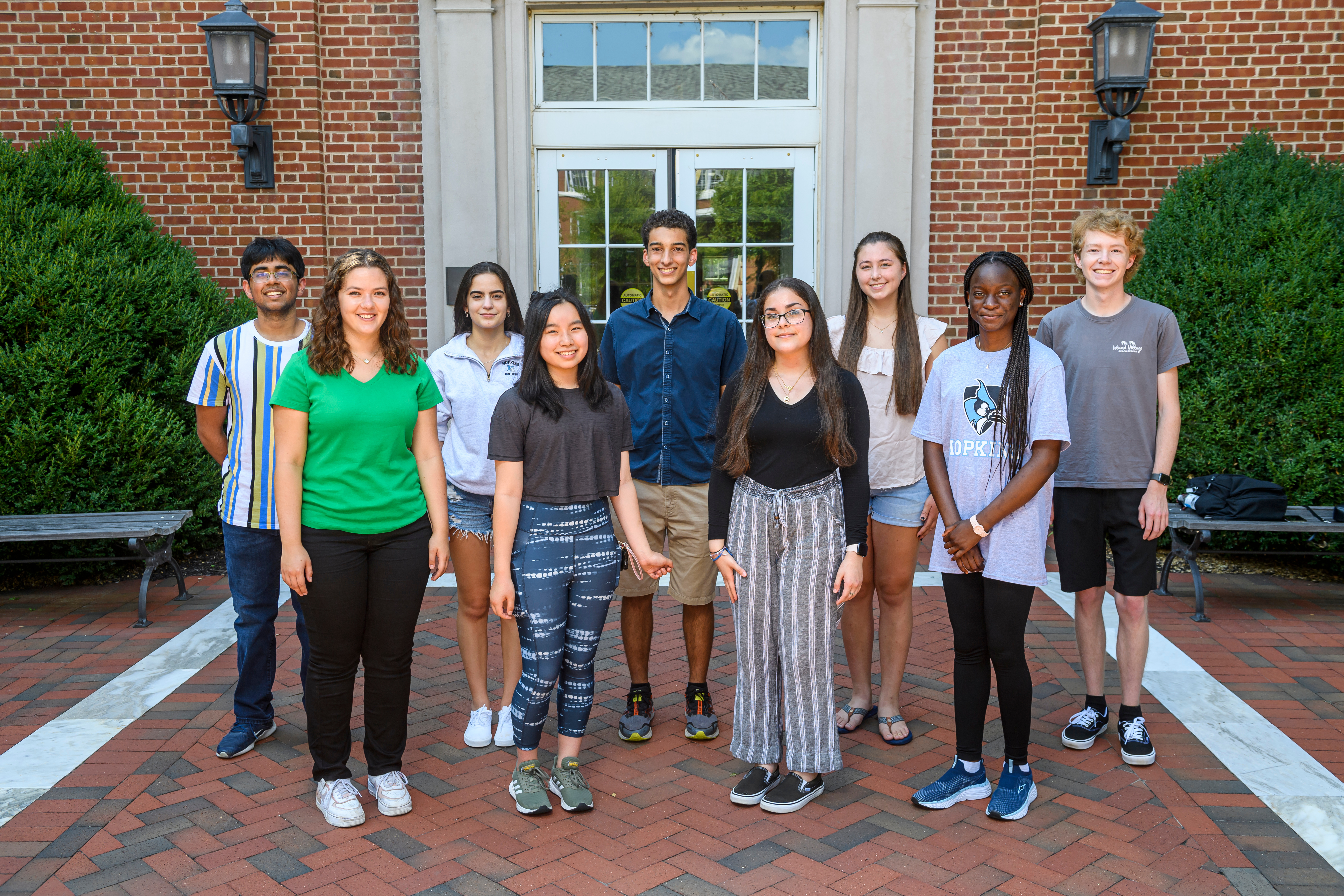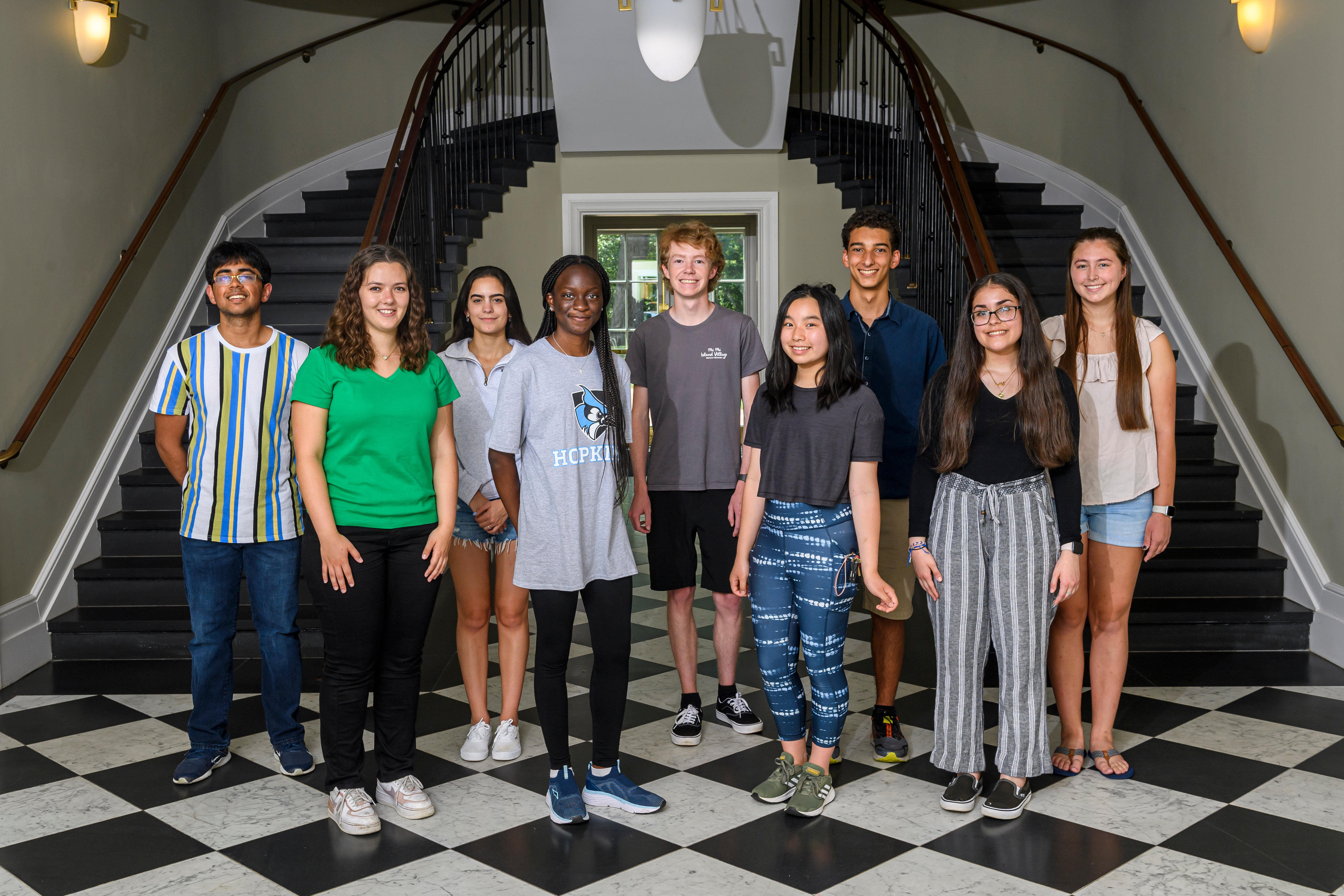 Undergraduate commencement took place on Monday, May 23. Congratulations to the class of 2022! See the recap of the event including a spotlight on Jonathan Edwards, a senior Clark Scholar beginning the MSEM program this fall. CONGRATS GRADS!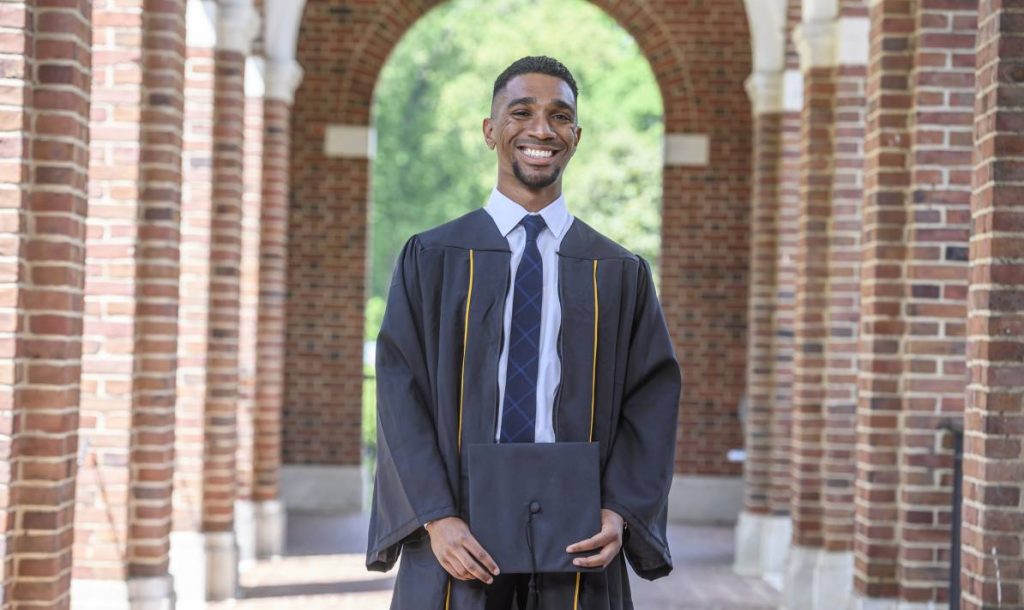 Yesterday, CLE hosted a reception to celebrate our 8 graduating Clark Scholars. Congratulations and best wishes to you all! We will miss you greatly!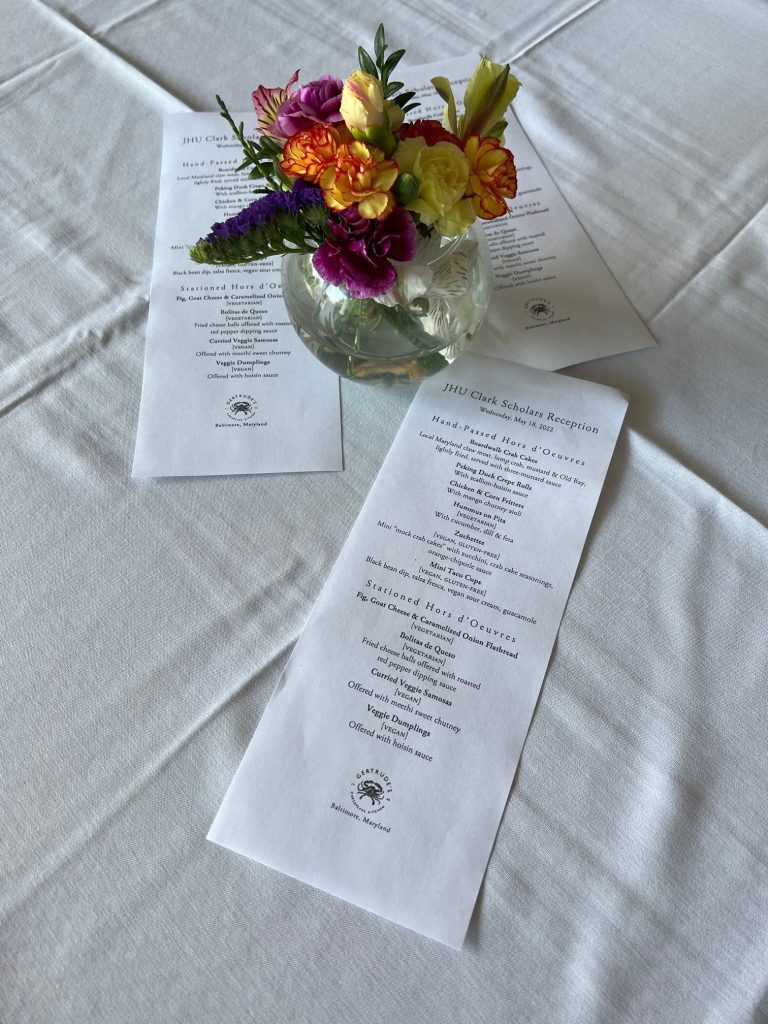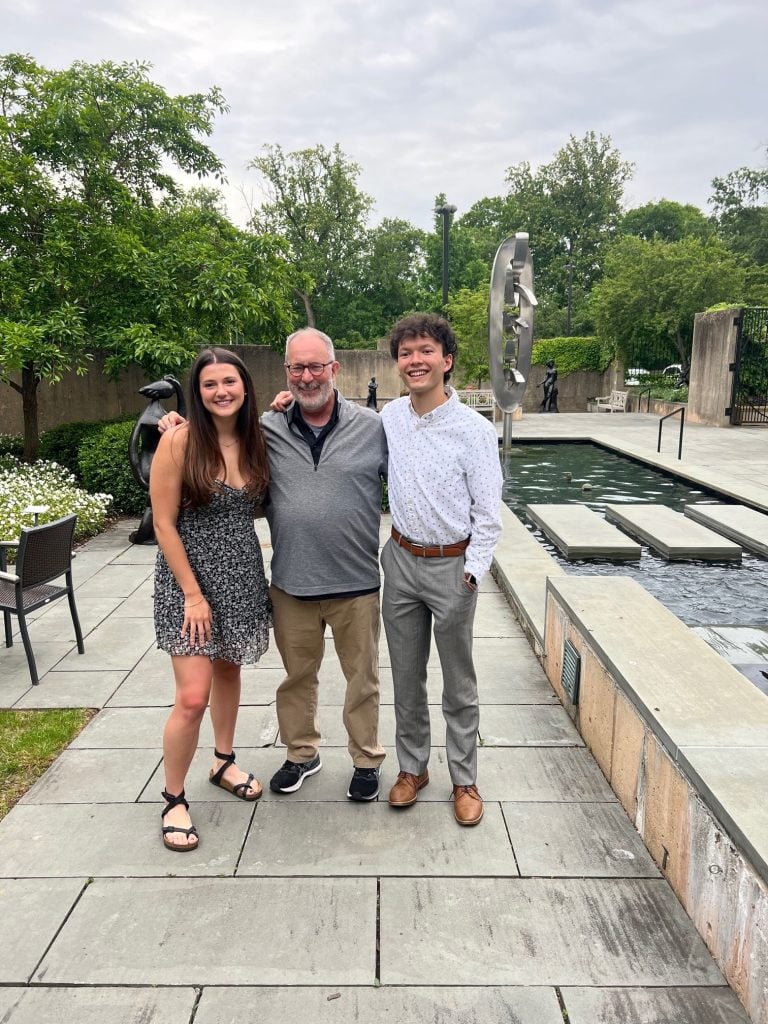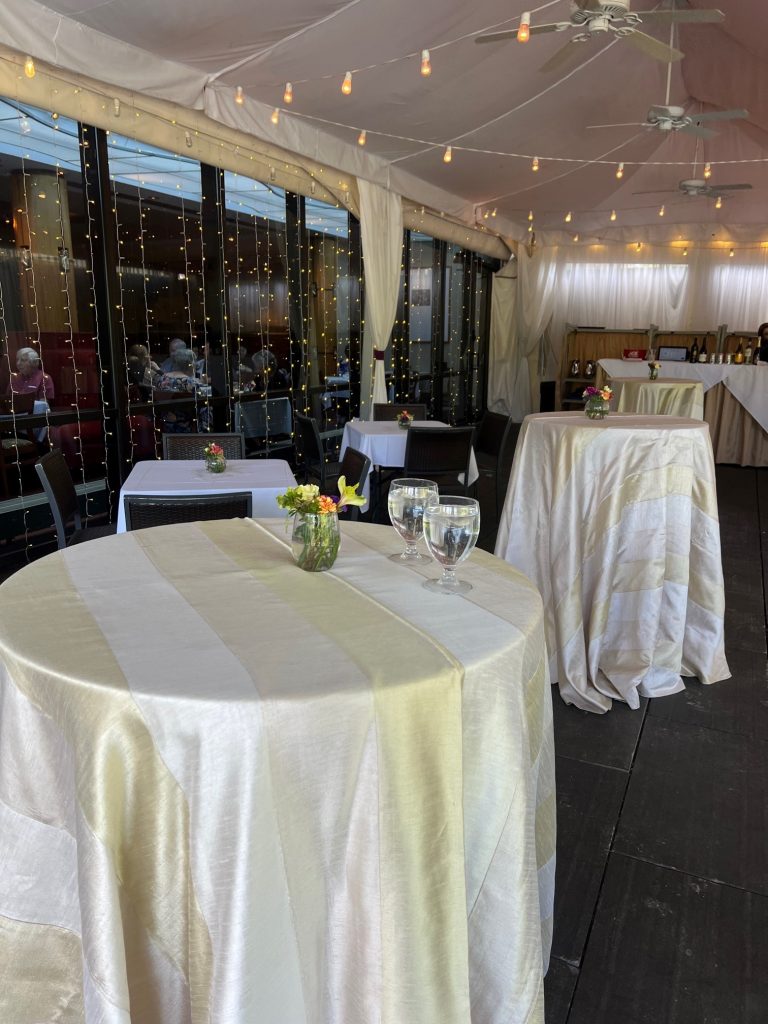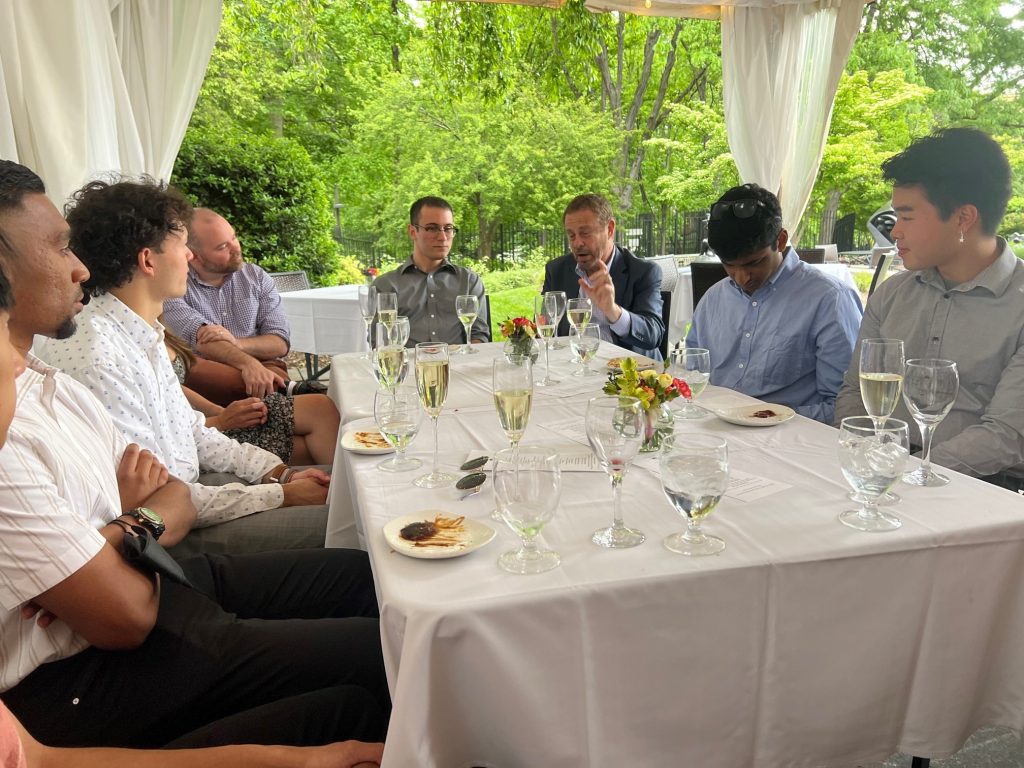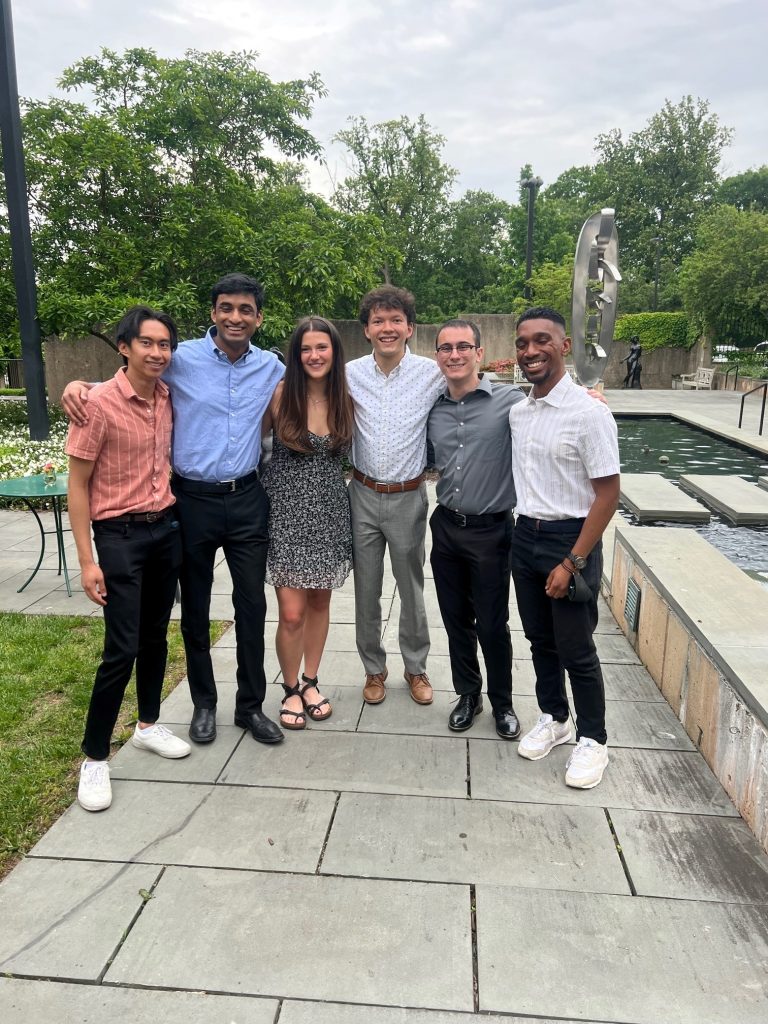 The graduating seniors started at JHU just a few months after I did. It's been so wonderful to see them grow the last four years! (And big shoutout to our two juniors: Jolie and Kathy for graduating early as well!!!). We will miss them greatly, but we're excited to plan some alumni events and keep in touch! Congrats again, grads! 
The sophomore Clark Scholars celebrated their final class with ice cream!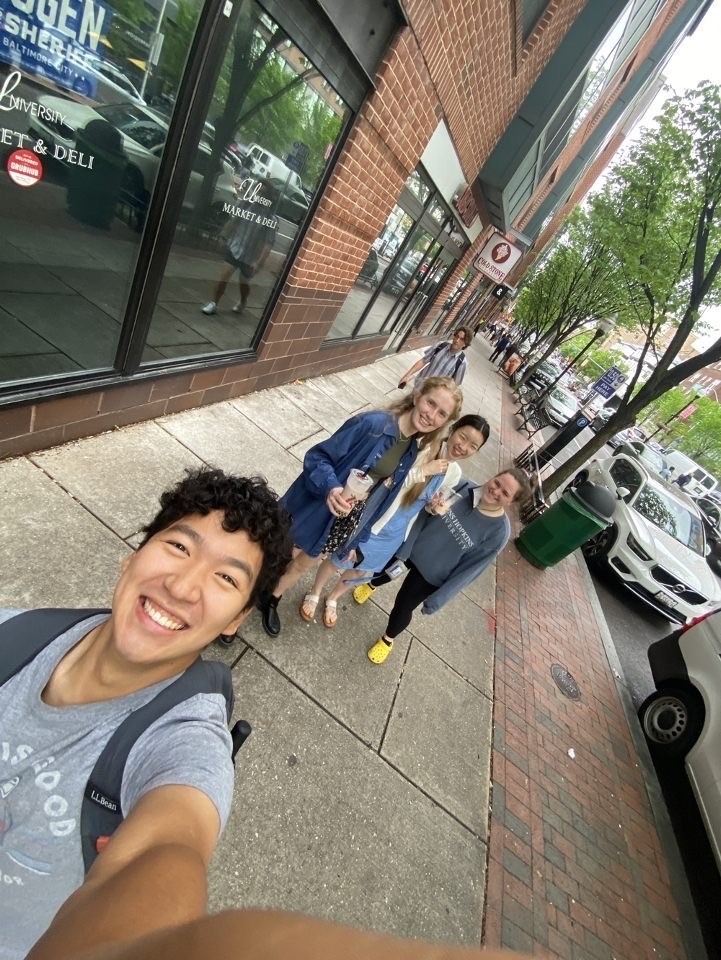 On Tuesday, the first year cohort of Clark Scholars, invited CLE staff to attend their final class for the "Clark Scholars Leadership Challenge" taught by Bill Smedick. The students gave a beautiful presentation on an annual Clark social idea, asked questions, and received feedback. The staff are now working on creating this annual event for the Scholars! The course concluded with a demonstration of a quirky, entrepreneurial game called "Patently Stupid." The game involved the students creating an inventive design, titling and tagging it and then presenting it to the class. Each student then voted on their favorite and that innovation received the most funding! See pictures of the game below. And congrats on the last week of classes to all of our Clark Scholars!
See Dennis presenting his idea of "the Crab gun" and also, congrats to Jenny for her winning innovation!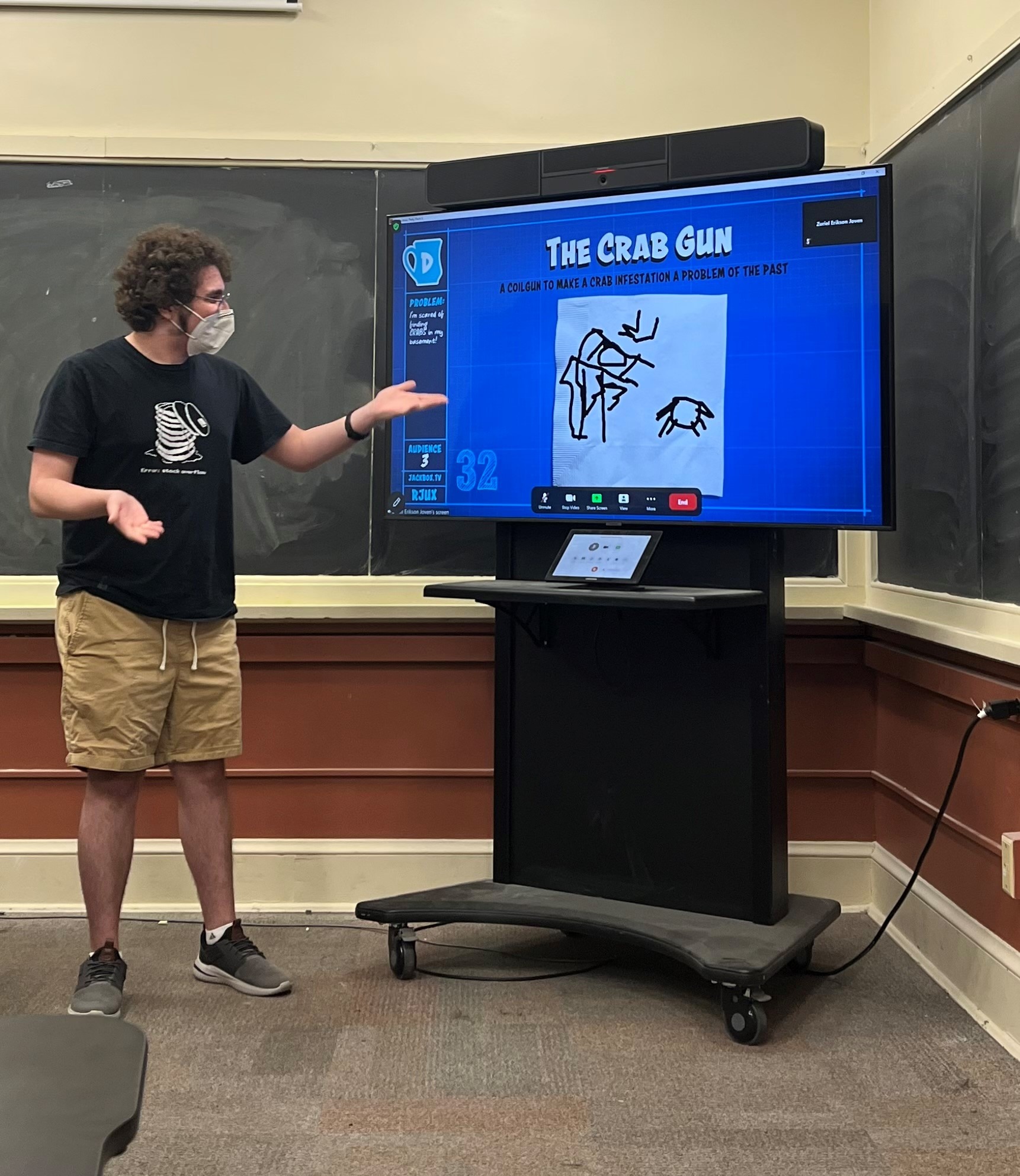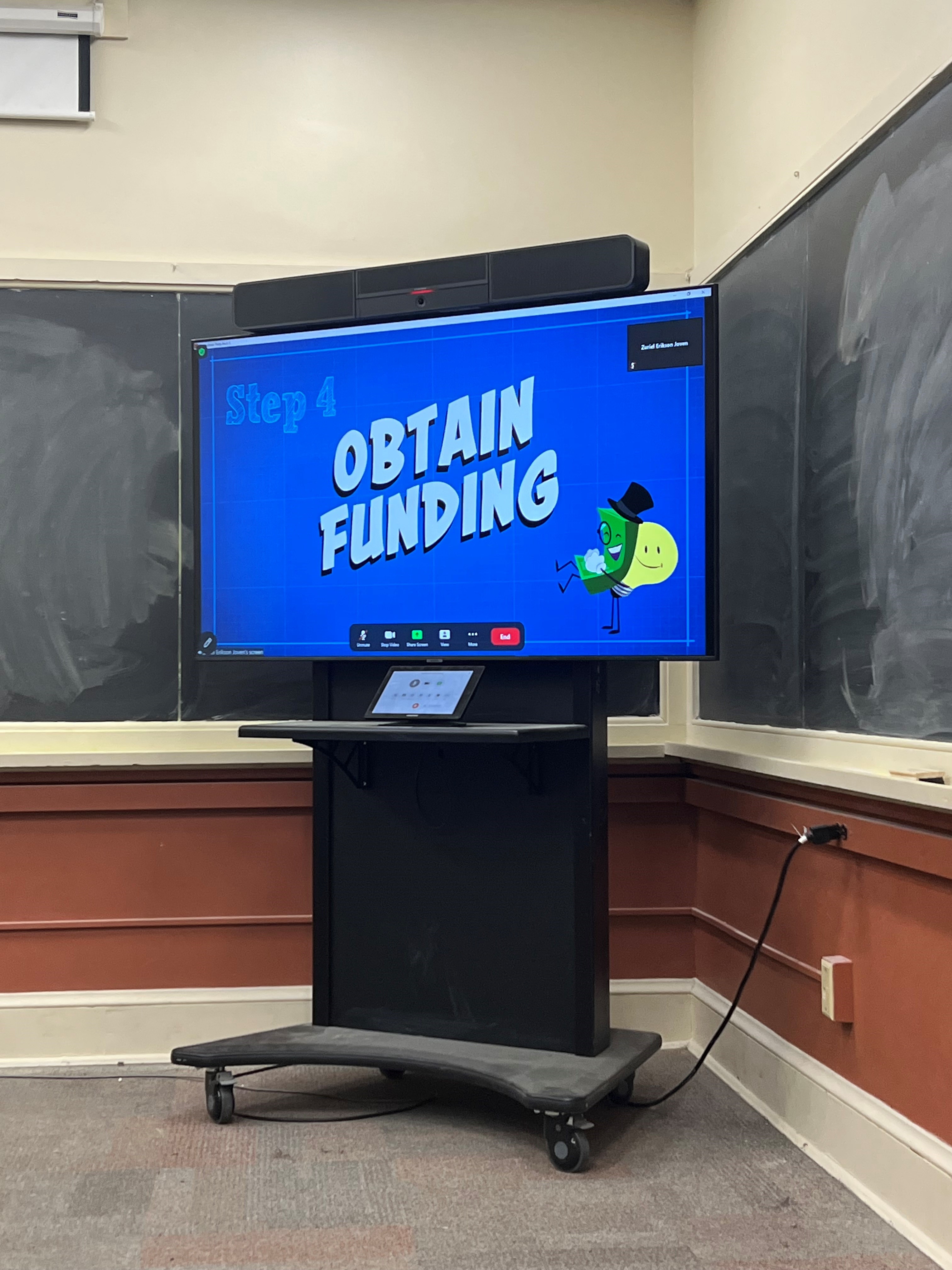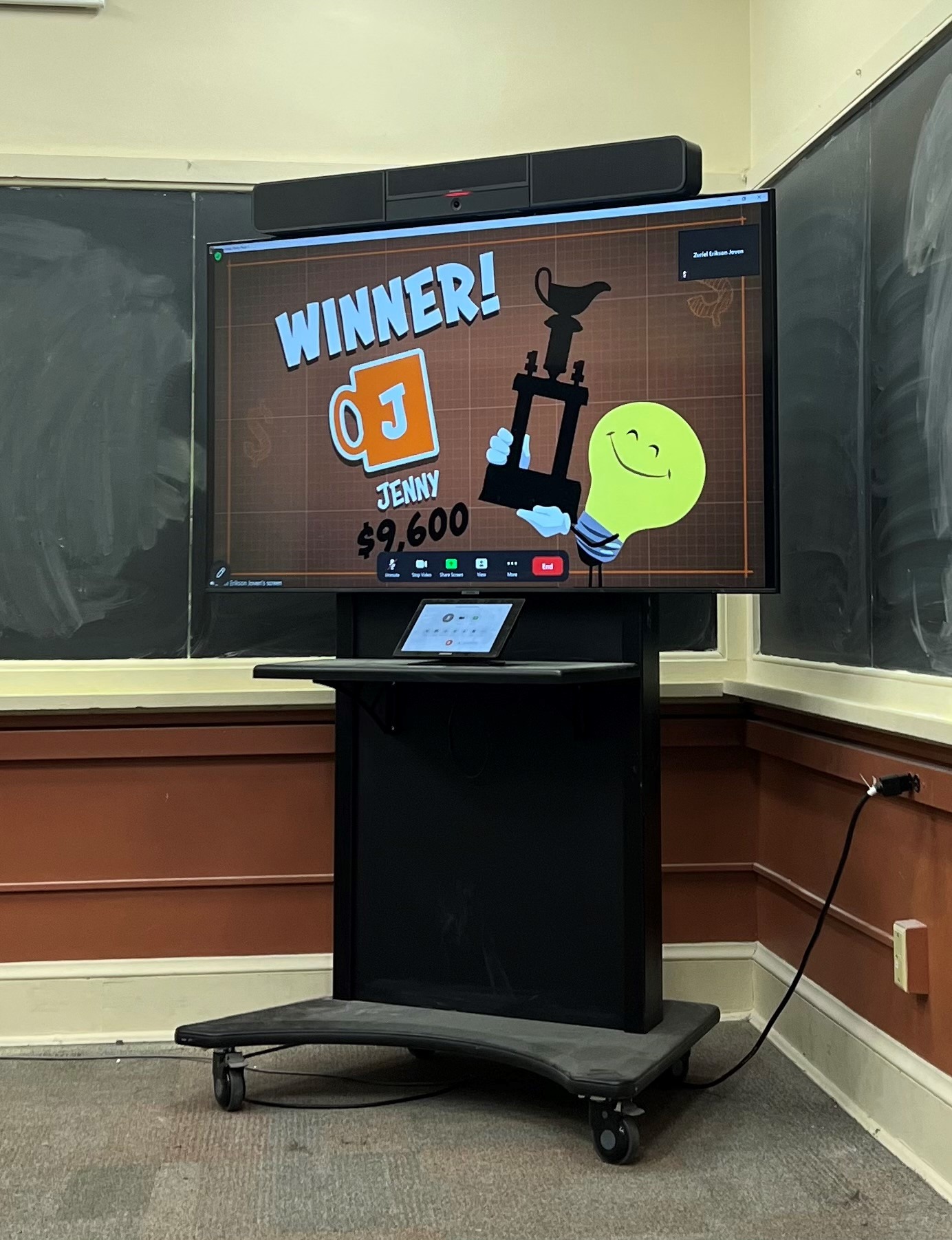 So proud of our Clark Scholars and the work they have done with NATO and the digital-triage assistant! Read the full article here.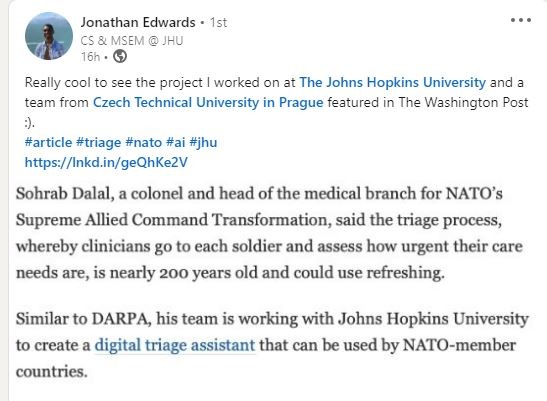 On April 5th, 2022 the Clark Foundation hosted a game night for all 11 university partners! Each university had a chance to share a bit about their unique program and then we participated in a trivia game. It was a blast to connect with other Clark Scholars (and throw a little shade). Thanks for hosting us!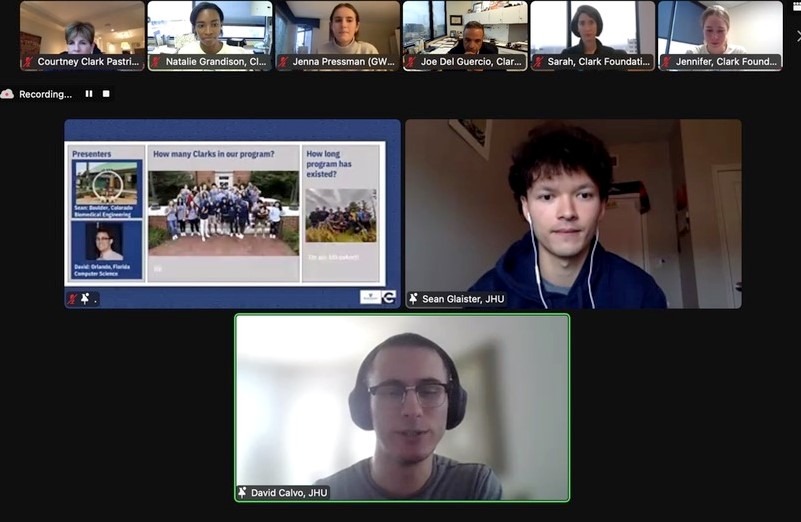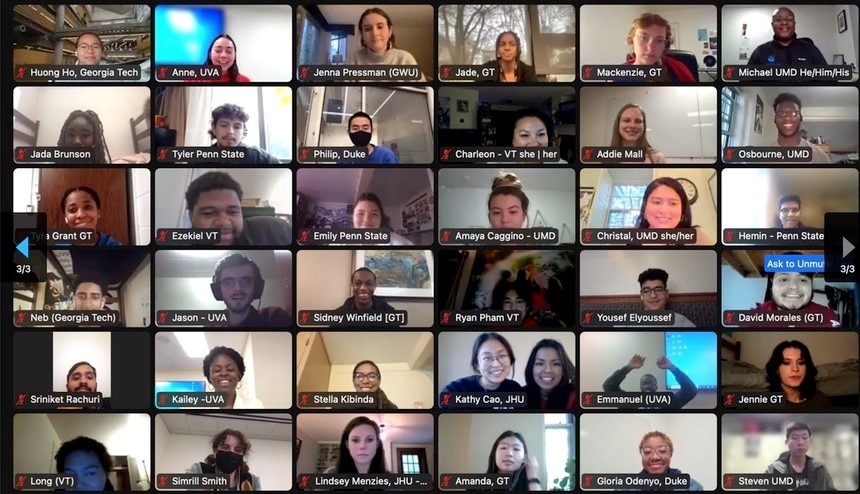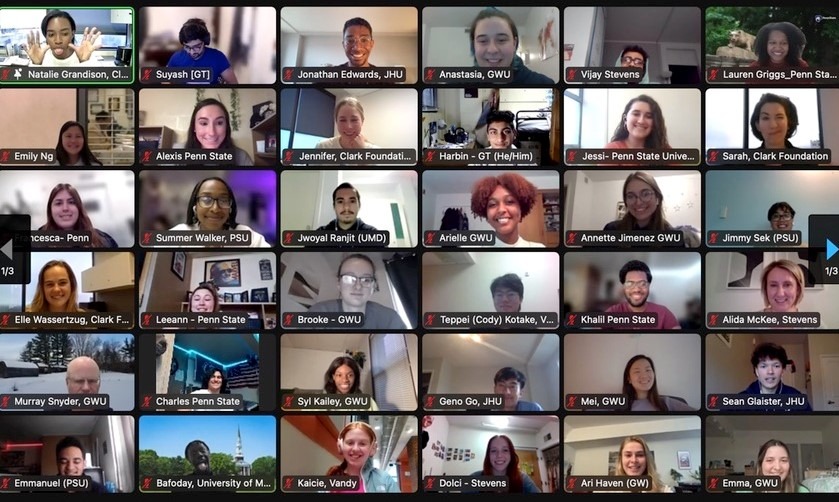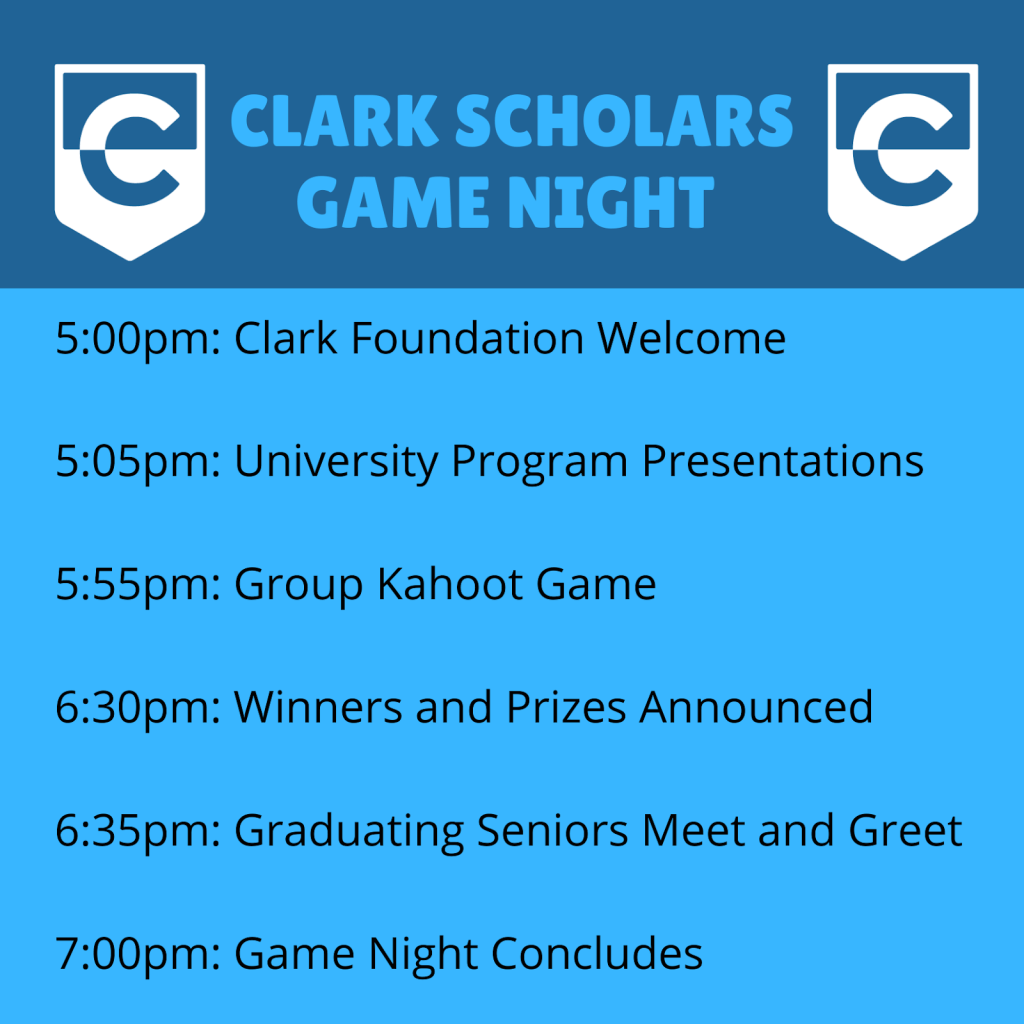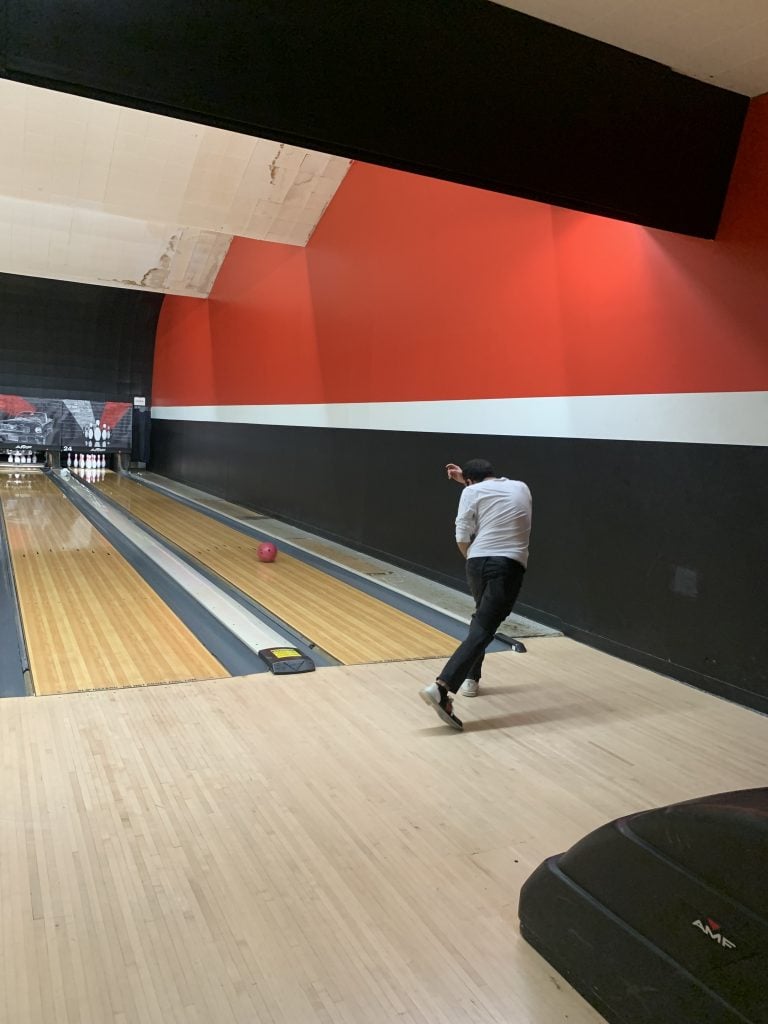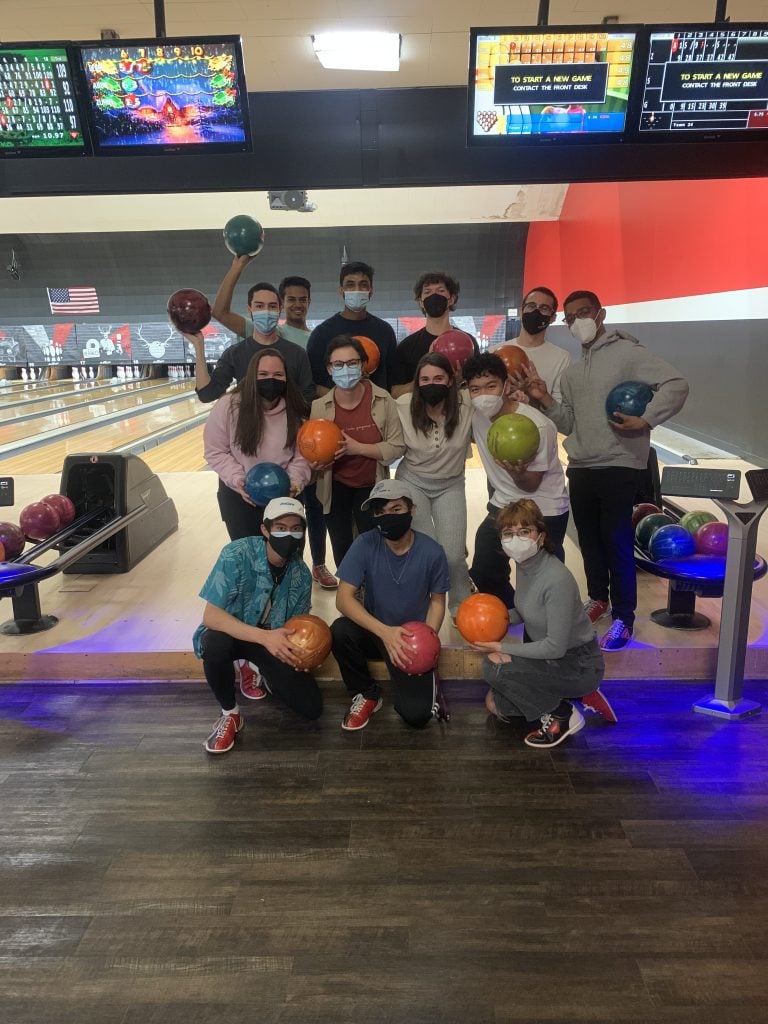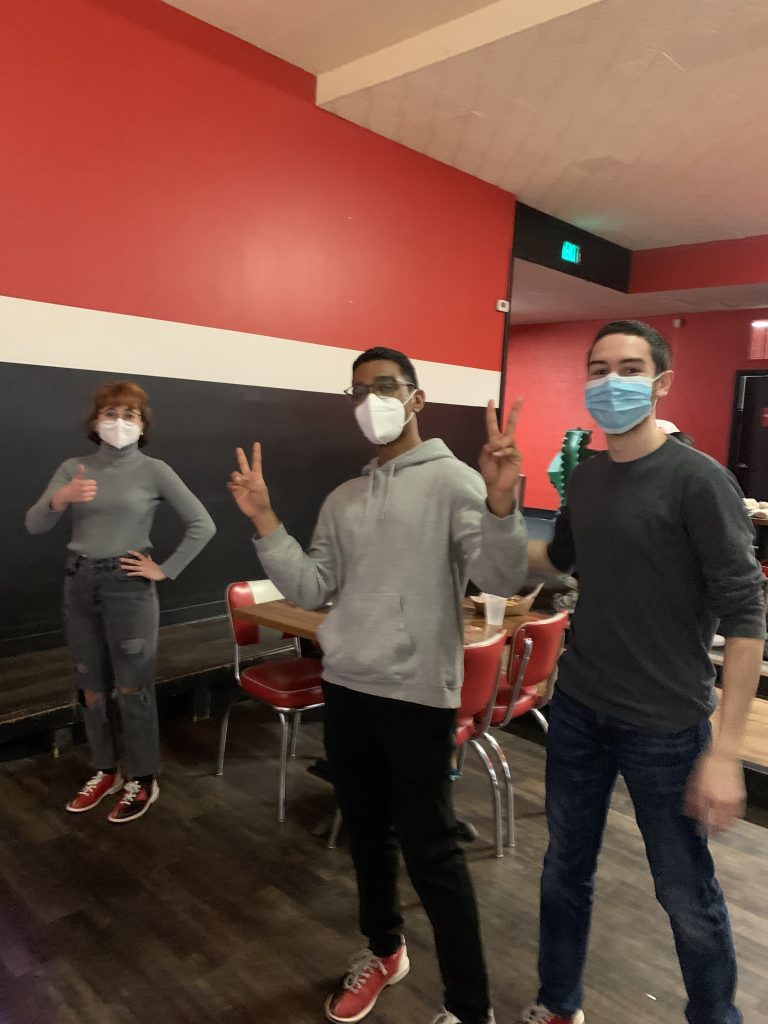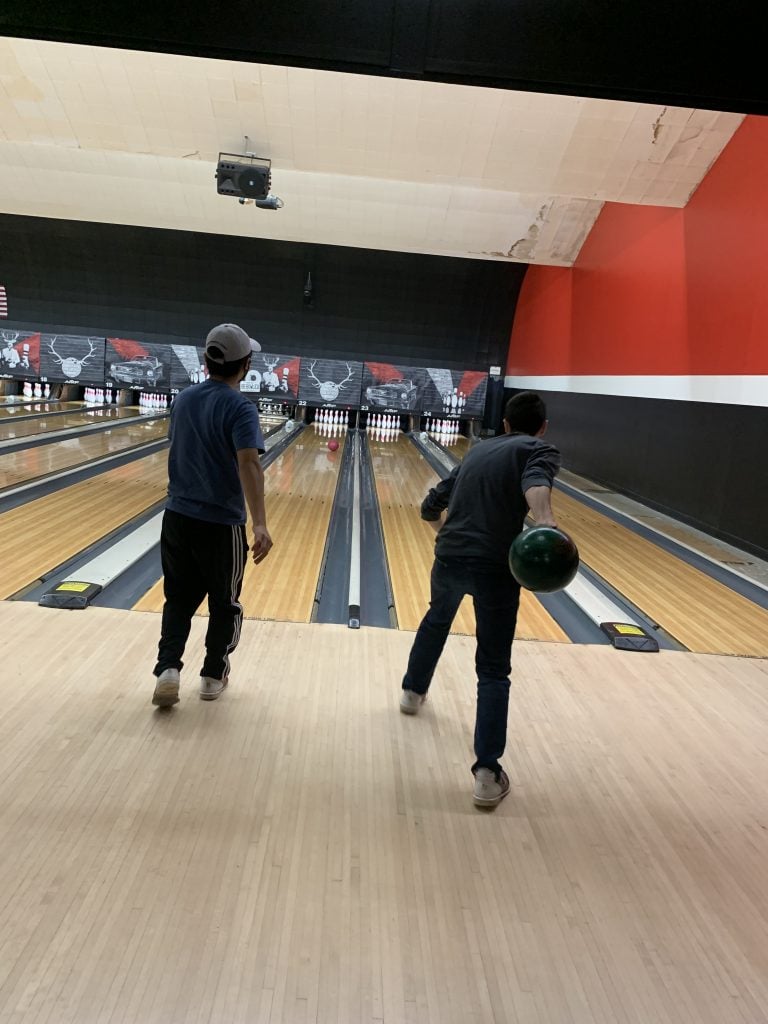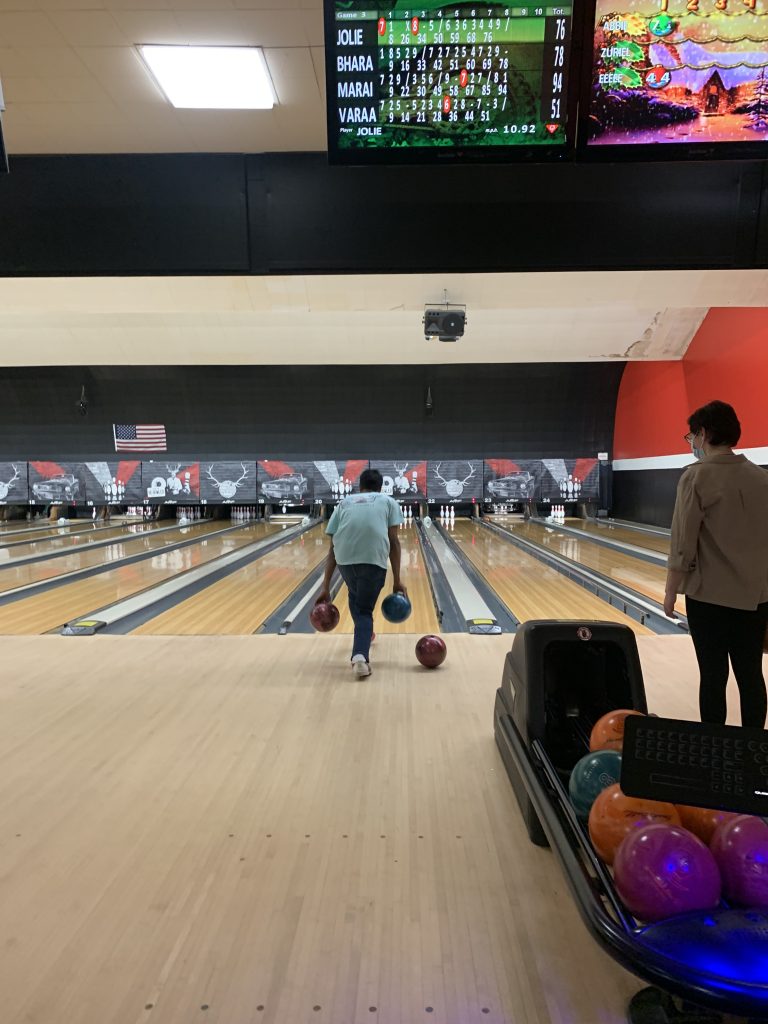 Bytes not bombs: Student team works with NATO to define, track cognitive warfare attacks
Read the full article here.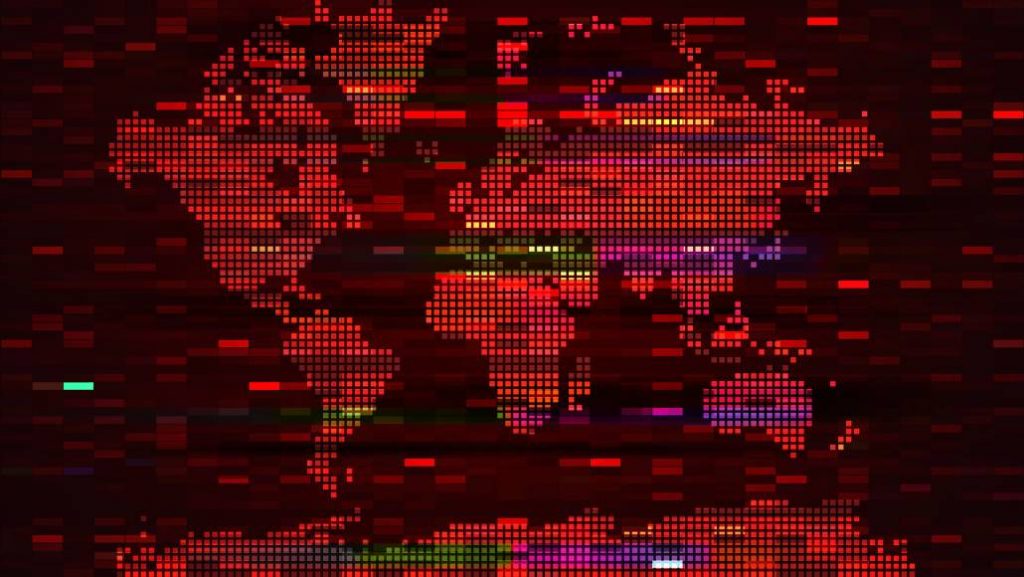 "TODAY'S BATTLES ARE BEING FOUGHT WITH IDEAS. I THINK WE ALL WANT AN INFORMED AND LESS POLARIZED SOCIETY, SO THIS PROJECT IS REALLY IMPORTANT."

William Rong, Materials Science and Engineering student
The Whiting School team members—all students in Johns Hopkins University'sClark Scholars Program—are tasked with defining what has come to be known as cognitive warfare as well as designing a system to identify, measure, and track attacks that confuse, misinform, and manipulate the behavior of targeted audiences.
"Today's battles are being fought with ideas," said team member William Rong, a third-year materials science and engineering student. "I think we all want an informed and less polarized society, so this project is really important."
Clark Scholars work on innovative projects to gain practical engineering experience and are challenged to develop solutions to real-world needs. Established in 2016 with a $15 million investment in the Whiting School of Engineering from the A. James & Alice B. Clark Foundation, the program is designed not only to attract talented engineering students to Johns Hopkins, but also to prepare them for leadership roles. The team members are working with NATO through the Whiting School of Engineering's Center for Leadership Education, with advisers Alexander Cocron, a CLE lecturer, and Lawrence Aronhime, associate teaching professor and director of CLE's international programs.
Since last year, Rong and his team have been working remotely with peers from Imperial College London and graduate students from the Czech Technical University in Prague on the project. Their first goal was to delineate cognitive warfare's parameters and describe what it involves. In the end, the group defined it as a combined arms approach that integrates the capabilities of several existing warfare techniques, including cyber, information, psychology, and social engineering, to achieve a desired outcome without any physical fighting.
"The term 'cognitive warfare' barely appeared on the internet when we began our study," Cocron says. "The students were the first to sit down and really think about how to define it and what it looks like." Cocron added that an article that the student team wrote for NATO Review on the subject has been "quite influential."
Next, the students began to tackle the challenge of creating a system, or tool, to identify and track cognitive warfare campaigns. According to Cocron, such a system would need to recognize patterns (also called "signatures") in the actions of those waging cognitive warfare, and then have the ability to trace the origins of that disruptive online content. With these two tasks in mind, the group is designing a live map inspired by the very successful COVID-19 dashboard, created by a team at the Whiting School of Engineering's Center for Systems Science and Engineering and used by scientists, government, and public health officials around the world to track the novel coronavirus pandemic.
"The COVID map was the main inspiration for our idea to create our Cognitive Warfare Dashboard to show users what information is being spread, where it's coming from, and why," Rong said.
The group says it's important to note that cognitive warfare does not rely upon "fake news," which is relatively easy to disprove with a few clicks of a mouse. Acts of cognitive warfare are far more challenging to detect, as they typically weaponize factual information from photos, news articles, and real emails to influence their chosen audiences' opinions and thoughts.
Rong and Cocron cite the hacking of the Democratic National Convention computer networks in 2016 as a good example of how those waging cognitive warfare combine nefarious strategy with factual information to achieve their goals. According to the 2018 United States District Court's timeline of events, hackers started trying to access DNC accounts and files as early as the spring of 2016.
"They collected a ton of information that they then sat on and waited to leak," says Cocron.
Cocron says the hackers' timing and the fact that the information slowly released consisted of real emails or statements made by members of the DNC is what qualifies this an apparent act of cognitive warfare. The hackers' goal was apparently to sow discord in the 2016 Democratic presidential primary and possibly to harm 2016 Democratic presidential candidate, Hillary Clinton.
"It sowed distrust among people all over the political spectrum," said Rong. "It was engineered in a way that indirectly caused chaos and destabilized the political process."
Rong and his team believe that, when complete, their dashboard will provide authorities with information that can help them respond quickly and effectively before the misinformation takes root in social media and in people's minds.
"The dashboard should contribute to threat prevention and response," said Serge Da Deppo, founder and manager of the NATO Innovation Hub. Da Deppo credits the student team members with bringing creativity, energy, and original insight to the challenge of developing this tool.
"Working with students is especially beneficial," he said. "Out-of-the-box insights and effective solutions are guaranteed because they are not only non-NATO in affiliation but from a younger generation than our personnel."

Rong credits Alexander Rovalino, a fellow Clark Scholar and third-year biomedical engineering student, with the original idea for the dashboard, and graduate students from the Czech Technical University for the programming heavy parts of the design process.
"We all have a similar way of thinking despite being specialists in different fields and it's made us all open to new ideas. We all brought our skills to bear to tackle a new and very real problem for the world," said Rong.
We are so happy to have 32 Clark Scholars IN PERSON for the fall 2021 semester! While we are still limited in social gatherings & events, our courses are in classrooms, and not on Zoom. We are excited to see what projects the scholars work on this academic year!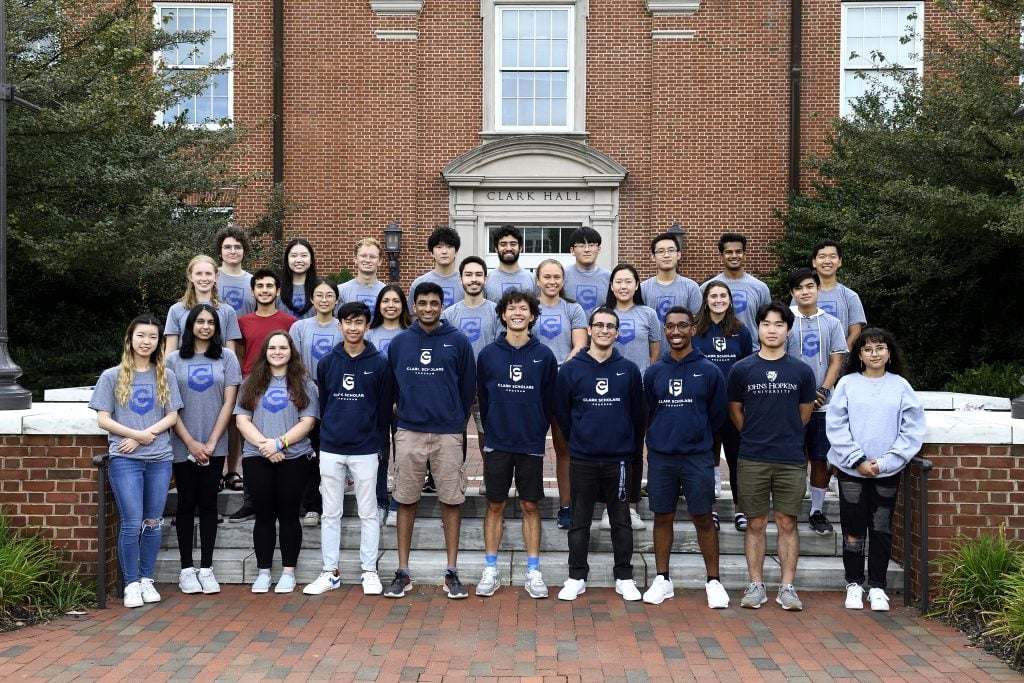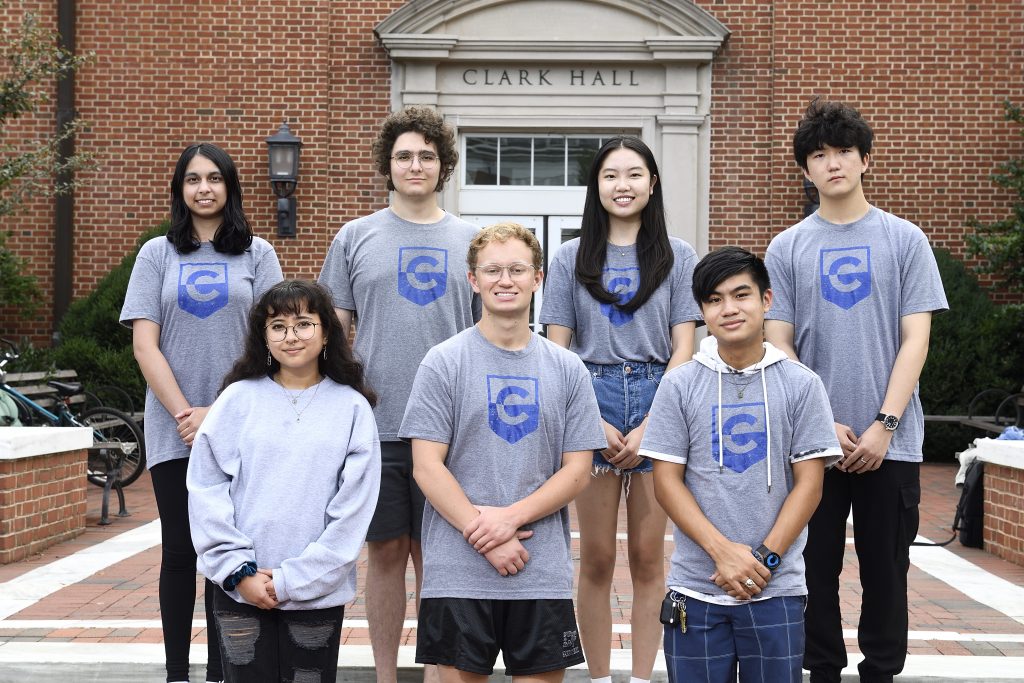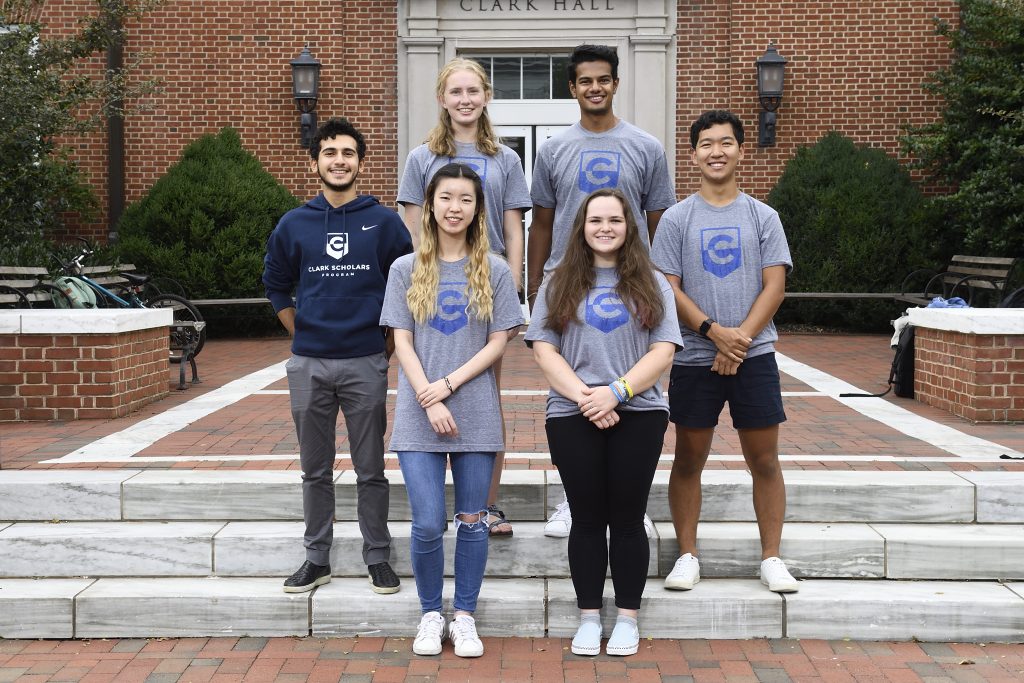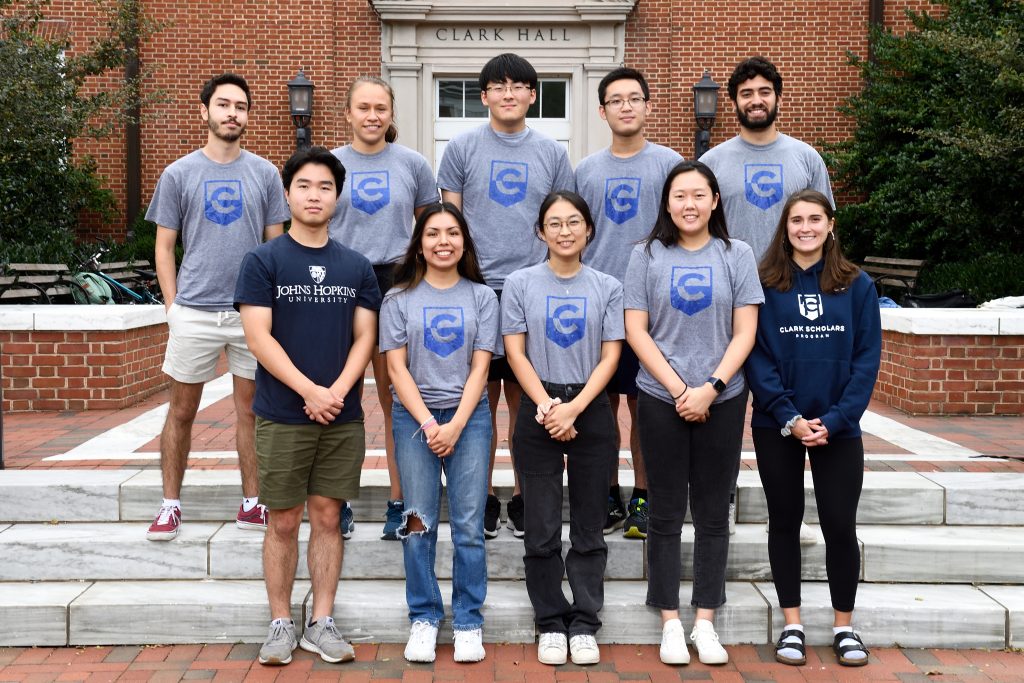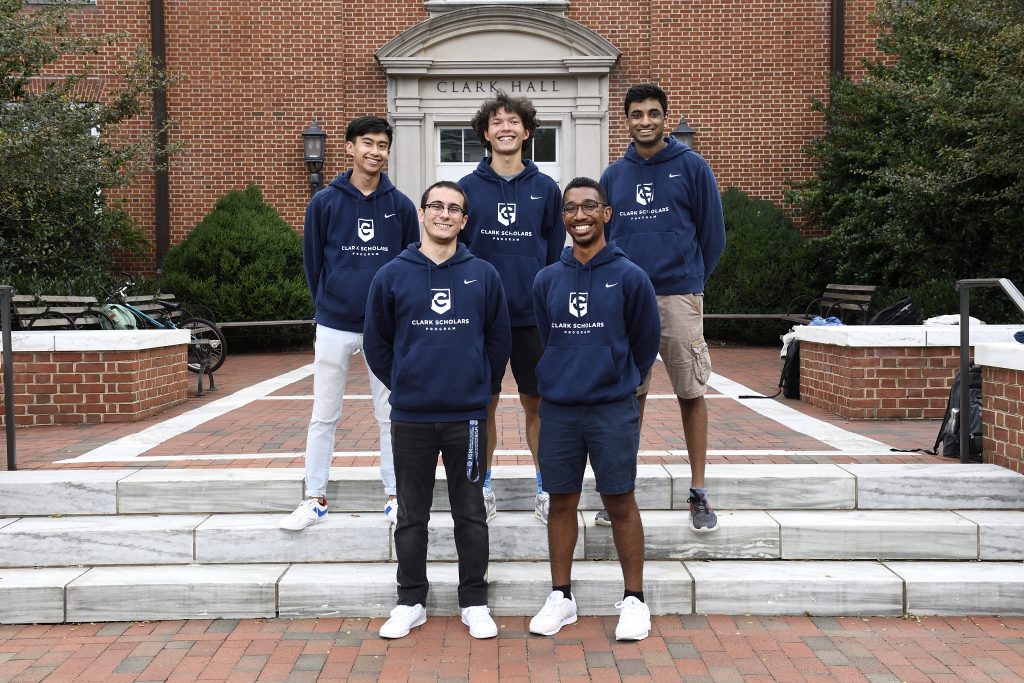 Read the post from the Clark Foundation about senior Clark Scholars graduating.
Students from the A. James Clark Scholarship program at Johns Hopkins University and a graduate team at the Czech Technical University are collaborating across the Atlantic to innovate the battlefield triage process. The NATO Allied Command Transformation Innovation Hub in Norfolk, VA advised and supported the collaboration throughout this process to provide an insider perspective. Ultimately, these efforts led to the creation of a Digital Triage Assistant (DTA) prototype that first identifies key vital parameters from wearable devices in real-time and then analyzes this information via algorithms to boost predictive capabilities for field medics. With the DTA, military field-medics will have a fast, digital tool to find the most critically wounded first, expedite the battlefield triage process, and coordinate information with MEDEVAC to increase the number of lives saved in time-sensitive situations. Additionally, beyond combat applications, the DTA shows especially strong promise in civilian use-cases as a tool to allow paramedics and emergency-care doctors to treat sudden rushes of patients in extraordinary emergencies.
CTU Published this press release yesterday in Czech! The English version will go to the websites of CTU and University of Defense. News about the DTA were featured on several Czech radios and Miroslav Bures is going to give an interview to the main public station! The release features the work the scholars have been doing with NATO and CTU:
———————-
The Czech Technical University in Prague collaborates with Johns Hopkins University, the University of Defence, the Czech Armed Forces and NATO ACT IH on an innovative system for monitoring soldiers' vital signs.
A team of researchers from the Czech Technical University in Prague (CTU) is collaborating with colleagues from Johns Hopkins University, the University of Defence, the Czech Armed Forces, the NATO Allied Command Transformation Innovation Hub and the DefSec Innovation Hub on a system to assist in the treatment of wounded soldiers in combat situations or in crisis situations in which the Armed Forces assist the First Responders. The first prototype is currently being tested and will be further expanded and deployed in field tests in cooperation with the Czech Armed Forces.
"Cooperation in the defence and security sector is very important for CTU. We have professional capacities in a number of technological and disciplinary directions and we are ready to use them within the third role of the university to effectively support the state and society. I see the newly launched project with the elite American Johns Hopkins University and other partners as an effective opportunity for synergy between the military and academia," says the Rector of CTU Assoc. Prof. Vojtěch Petráček.
In combat or during crisis situations, such as eliminating the consequences of a terrorist attack, mass casualties may occur. For field medics or members of a unit with special medical training to provide extended first aid in the field (Combat Life Saver, CLS), the situation is often confusing and makes it difficult to examine the injured soldier. "This also makes it difficult to determine the extent to which their life is at risk and to prioritise their treatment and subsequent evacuation. Soldiers wear 30 to 50 kg of equipment, they may be under fire, or there may be reduced visibility in the area for various reasons," says security consultant Kristina Soukupová from the Def Sec Innovation Hub.
"The question of the speed in providing specialist care is absolutely crucial for the wounded. First aid must be given within the first 10 minutes from the moment of injury. In the first hour (the so-called "Golden Hour"), surgical treatment should be achieved with the performance of life-saving procedures and stabilisation of the injured person for further transport. The flexibility and efficiency of the evacuation chain often determines the chance of survival of the injured soldiers. In the case of mass casualties and large numbers of wounded, it is essential to address their triage and prioritize MEDEVAC. This is the area where our research using new technologies is focused," says Colonel Hynek Schvach from the Department of Military Medical Management at the Faculty of Military Health Sciences of the University of Defence.
Effective support of this process is the focus of the Digital Triage Assistant (DTA) system. What is interesting about the DTA plan is that it started at the conceptual level as a student project at Johns Hopkins University (JHU). Gradually it has expanded into a large-scale project that is currently being collaborated on by the Department of Computer Science at the Faculty of Electrical Engineering of the CTU, the Center for Leadership Education of the Whiting School of Engineering at Johns Hopkins University, the NATO Allied Command Transformation Innovation Hub, the Def Sec Innovation Hub, the Department of Information and Communication Technologies in Medicine at the Faculty of Biomedical Engineering of the CTU, the Department of Military Medical Management at the Faculty of Military Health Sciences of the University of Defense, and the Czech Armed Forces. The findings and the basic system design have already been presented at the NATO workshop "Biosensors supporting Healthcare in Missions – Consolidating and Defining the Possibilities of implementation" in May 2021.
Simplistically, it can be said that fellow experts from JHU are currently developing a medical model of the problem and CTU is providing the technical part of the project using ongoing consultations with security experts. "Soldiers are equipped with sensors that capture information on selected vital signs that are most relevant to determining the condition of an injured soldier. This system will allow us to estimate the severity of the injury before the actual physical examination," describes the function of the system Assoc. Prof. Miroslav Bureš from the System Testing Intelligent Lab at the Department of Computer Science, Faculty of Electrical Engineering, CTU. He continues: "The microcomputer continuously evaluates the vital data of the wounded from the detected data and transmits it to the paramedic to estimate the probability of survival of the wounded soldiers. Although there is great potential for the application of artificial intelligence methods, the project does not yet have the ambition to fully automate this decision-making."
The system can operate in several modes. For example, if there is no need to keep radio silence in a particular situation, the detected data is transmitted over a network to a server, which allows for the display of the positions of soldiers, their status and other additional data on the map. The design of the sensors themselves represents a major challenge within the project. "Our Flexi Guard system is currently being used as the first prototype in the system, which allows various vital signs to be measured with great accuracy. This system has already been successfully applied in the case of difficult field conditions, for example in a pilot operation with firefighters or with field medics," says Dr. Pavel Smrčka from the Department of Information and Communication Technologies in Medicine at the Faculty of Biomedical Engineering of the CTU.
In the next phases of the DTA project, the sensors will need to be modified to be as compatible as possible with the standard equipment of military units. "For example, we will address compatibility with bulletproof vests or the lowest possible weight of the device. The project has recently received very positive feedback from NATO ACT specialists. The involvement of military experts from various fields from the beginning of the project has also contributed to this," adds Assoc. Prof. Miroslav Bureš from the Faculty of Electrical Engineering of CTU in Prague.
The Clark Scholars (Kathy Cao, Sean Glaister, Adriana Pena, Danbi Rhee, William Rong & Alexander Rovalino) were published in the NATO review: Countering Cognitive Warfare: Awareness and Resilience. Read the full article here.
The Alliance faces a range of challenges in emerging domains of conflict. These domains can arise from the introduction of new and disruptive technologies. The domains of space and cyber, for example, came out of developments in rocket, satellite, computing, telecommunications, and internetworking technologies. The increasingly widespread use of social media, social networking, social messaging, and mobile device technologies is now enabling a new domain: cognitive warfare.
Congrats to our Clark Scholar Convocation Award Recipients: We are so proud of you!
Distinguished Service Award through the Department of Biomedical Engineering: Sean Glaister
The Muly Family Undergraduate Research Award through the Department of Electrical and Computer Engineering: Eric Rong
Loy Wilkinson Award through the Department of Chemical and Biomolecular Engineering: Semira Kehnemouyi
Special Service Award through the Department of Computer Science: Mary Joseph
The Robert George Gerstymyer Award through the Department of Mechanical Engineering: Ishpreet Singh
The Best Entrepreneurship & Management Course Assistant Award through the Center for Leadership Education: Ishpreet Singh
Richard J. Johns Award through the Department of Biomedical Engineering: Ellen Wang, Jessica Kasamoto, Stephen Kyranakis, and Wally Niu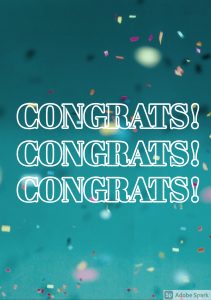 Clark Scholar Team, 'A Set of Eyes' won second place in the 'Social Enterprise' category during the annual Business Plan Competition.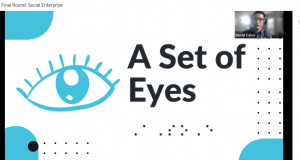 Second place team, 'A Set of Eyes' included Jada Campbell, Hannah Lynn, Kavya Tumkur, and Clark Scholar students: David Calvo & Jonathan Edwards. 'A Set of Eyes,' or ASOE, is a screen reader that uses computer vision to ensure 100% web accessibility. Our mission is to democratize screen-reader technology to empower the visually-impaired. ASOE received $3000 in prize money.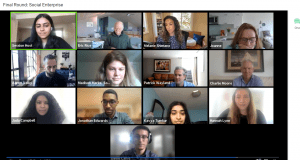 Clark Scholar juniors, Sean Glaister, Vara Mathiyalakan, David Calvo and Jonathan Edwards are presenting at the May 2021 NATO conference. The juniors will be discussing "The Digital Triage Assistant" at the Multinational Virtual Workshop. Congrats!

The Clark Scholar junior cohort were featured in a Czech Magazine for the work the Scholars have been doing with the Digital Triage Assistant. The article mentions the project and the transatlantic collaboration surrounding it. Kristina Soukupova, a defense consultant that the Scholars are working with is featured in the image, and is explaining what the Digital Triage Assistant is, how it will benefit both military and civilian medics, and how the transatlantic collaboration as a whole is exactly what NATO wants to foster.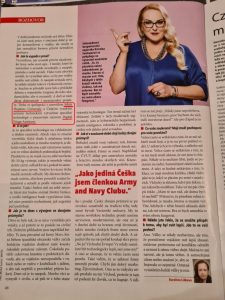 The Clark Scholars are featured on the NATO Review for the work they have been doing with Larry Aronhime & NATO: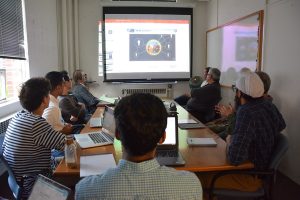 Read on the NATO review here.
At 11:15 a.m., a team of CLE students led by Clark Scholar, Ishpreet Singh (WSE '21) will pitch their policy idea for strengthening resilience against predatory economic influence at New Ideas for NATO 2030. One of only two US teams, they hope to win big with their idea crafted at the first ever NATO policy hackathon. #NATO2030 Watch them live! http://bit.ly/NewIdeasNATO2030
Team members include: David Calvo, Johnathan Edwards, Angelino Go, Vara Mathiyalakan.
The first year Clark Scholars (finally) had an in-person, socially distanced, masked meeting on campus! We can't wait for more!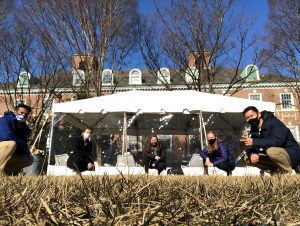 Congratulations to the two Clark Scholars teams recognized for their winning submissions to DefSec Innovations Hub's Hack the Mind Ideathon, which seeks to open a society-wide debate on cognitive warfare. Read more about the Hackathon here. (And see their video submissions linked below).
Shoutout to Jolie McDonnell, Marc Helou, Nyeli Kratz, Ricky Cheng & Tyler Shin for their work on "Circuit Breaker Approach to False Information Mitigation."
Shoutout to Kathy Cao, Adriana Pena, Danbi Rhee, William Rong, & Alexander Rovalino for their work on "Wargaming in the Cognitive Domain."
We are so proud of you!
In response to the COVID-19 crisis, Vara co-founded an independent design team—AirTight—to improve conditions for frontline healthcare workers. "After hearing pertinent problems experienced by emergency-unit doctors during this crisis," wrote Vara, "we realized that healthcare workers need a leak-proof device to provide breathing relief to COVID-19 patients while protecting themselves from viral particles."
Along with four other rising-junior biomedical students, and under the mentorship of the Johns Hopkins Respiratory and Emergency Care Departments as well as Professor Aronhime, Vara and his team worked to find a safe way to retro-fit additions made to CPAP machines and masks during the nation-wide ventilator shortage. "Our solution is a combination of viral filters and memory-foam materials," Vara states. The goal is to increase patient comfort and decrease viral transmission.

The group, which is meeting virtually, has started prototyping, written testing protocols, and initiated the process of clinical study approval to test their prototypes with the Johns Hopkins School of Medicine. Recently, the design team secured $2,000 in grant funding from the Johns Hopkins Life Design Lab and the Agara Community Biology Lab.
"Moving forward," said Vara, "we hope to present our work at several scientific conferences and have recently begun that application process."
The Clark Scholar first year cohort bonded on Sunday by participating in the remote adventures escape room! They managed to escape in 50 minutes and 34 seconds! Congrats to the newest cohort!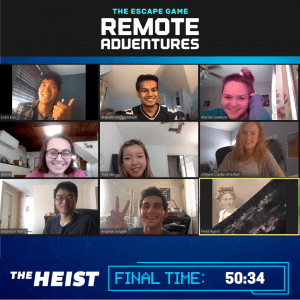 While we've all been remote this summer, we had to check in and see what our Scholars have been up to:
Jolie tries a face shield at the airport: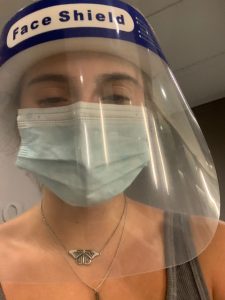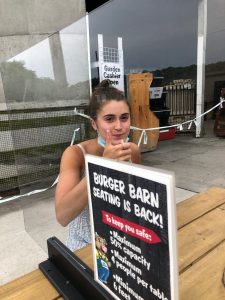 Ricky Cheng Shares the unbelievably low price of gas and gorgeous Mississippi river views: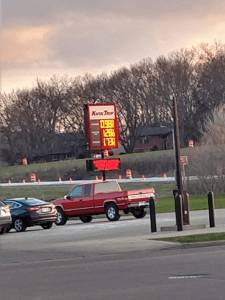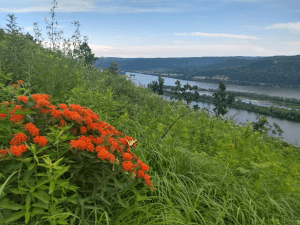 Danbi and family hike Great Falls (in masks, of course!)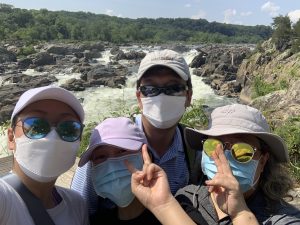 Marc gets a haircut, COVID style: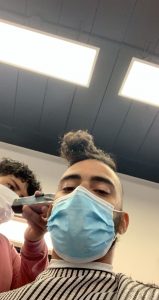 Ricky utilizes his photography skills and stays active: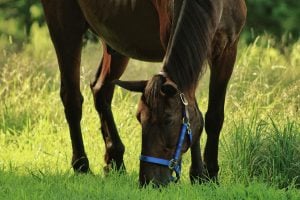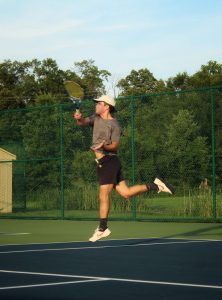 Kathy Cao, has been baking for friends and family (how cute are these bears?)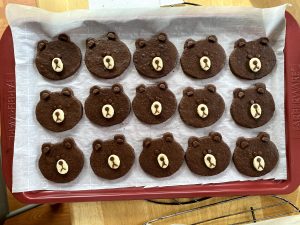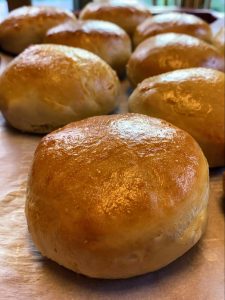 Nyeli Kratz shared this photo of a Piano Bike band.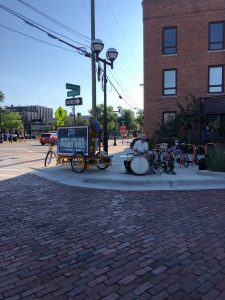 Alex Rovalino and his friends got the band back together for an art show concert on Saturday! See their practice session: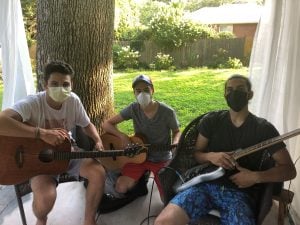 Adriana Pena has been spending time near the Chesapeake Bay and Assateague Island.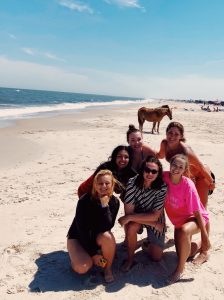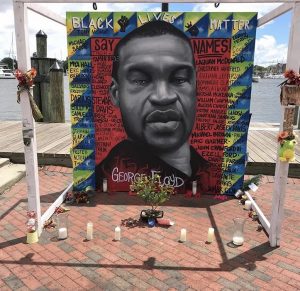 Stay tuned while we check in with more Clark Scholars and their lives during COVID. Stay safe, we miss you all!
As part of the Clark Scholars Program COVID-19 Philanthropy Challenge, Clark Scholars from Johns Hopkins University requested support from the A. James & Alice B. Clark Foundation for the Baltimore Community Foundation. Learn more about BCF Here.

BCF's mission inspired the Clark Scholars: "inspire donors to achieve their charitable goals from generation to generation and to improve the quality of life in the Baltimore Region through grantmaking, enlightened civic leadership and strategic investments."
How the Funding Will Help the COVID-19​ ​Evolving Community Needs Fund:
"BCF recognizes that the crisis not only poses problems for public health but brings financial and food security challenges as well. Baltimore uniquely faces greater challenges in the care of vulnerable populations, the education of the city's youth, and the economic development of impoverished neighborhoods. BCF acknowledges that the effects of the pandemic will disproportionately affect low-income communities and communities of color. However, they are well-equipped to offer much-needed short-term and long-term relief to affected individuals and communities. As per BCF, "one hundred percent of all donated funds will go directly to address the negative impacts of the COVID-19 pandemic on our region's communities, workforce, and vulnerable populations."
Clark Scholars Program Involvement with BCF:
Johns Hopkins University and the Clark Scholars Program have a rich tradition of civic engagement. The scholars believe that participating in community service is an important part of their education during their time at the university as it is something that can help them grow professionally with their leadership skills and personally by cultivating a deeper sense of commitment to the public good. In making this grant proposal, the JHU Clark Scholars hope to start a partnership with BCF that will extend far into the future as the scholars continue to give back to the Baltimore Community.
The freshman and sophomore Clark Scholar cohorts had a combined Zoom call over the weekend. They paired each first year scholar with a sophomore scholar to serve as a "mentor" throughout their JHU experience. They also played online games as mentor/mentee teams! They may be apart, but they are still hanging out!
A message from Natalie Grandison: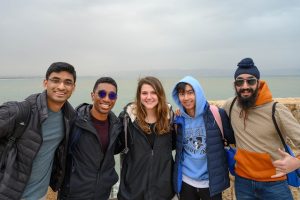 Currently, five of the seven sophomore Clark Scholars are studying abroad! Four (pictured above) are in Israel with Prof. Aronhime, and one is studying in Uganda. Course Assistant and junior scholar, Ishpreet, also joined on the Israel trip! The scholars toured the Ma'arag, a set of occupational workshops for developmentally disabled adults. They make all kinds of things there and sell them at arts and crafts fairs around Israel. They also toured Akko, walked along the old walls, and visited a traditional stonemason's workshop. They have learned all about Haifa and experienced a cooking class as well. We can't wait to hear more about their trip(s) when they get back! For now, pictures will have to suffice!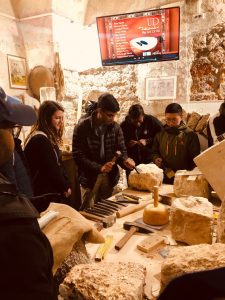 The Clark Scholars participated in the annual Barclay School eighth grade visit. On Wednesday, two of the eighth grade classes at Barclay visited the BME Design Studio where Faculty member, Elizabeth Logsdon presented to the students on the five stages of Design Thinking: Empathize, Define, Ideate, Prototype, Test. The middle school students were then tasked with 'The Zipline Challenge," using small supplies to create a design that is light, fast, and sustainable across the zipline. The Clark Scholars served as mentors to the students and helped them with their designs. The real challenge was determining the winner: Team Dons with the fastest time, or Team JJZ with the lightest design?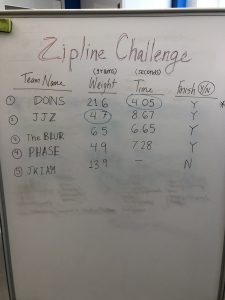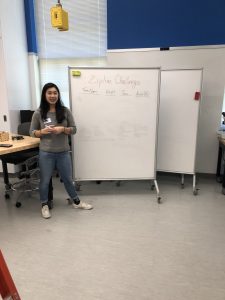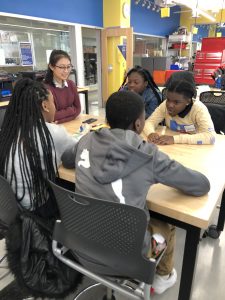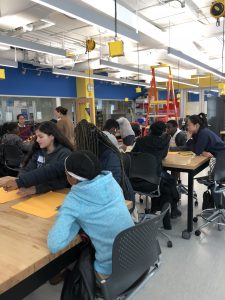 The Clark Scholars retreated to Patapsco Valley State Park on Sunday. The fall day was spent across cohorts participating in team-building activities. See pictures from the retreat below: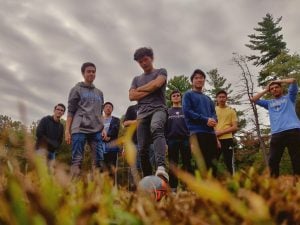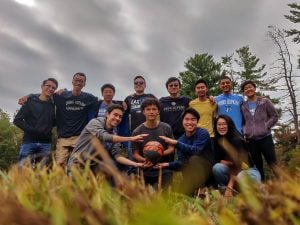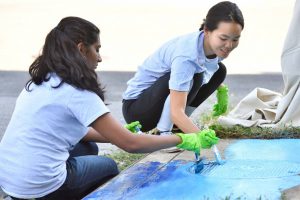 The Clark Scholars participated in the annual Presiden'ts Day of Service. Read more about the event from The Hub.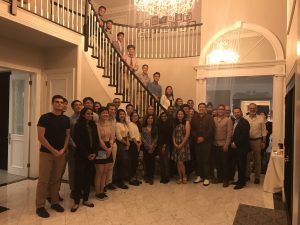 The Clark Scholars spent Sunday Evening, September 8th, having dinner with the Dean at his home! The delicious home cooked meal was cooked by his wife, Liora. Dinner was served and the scholars, as well as the faculty staff, and Dean Ed, chatted at their round tables. The Dean spoke, and encouraged a larger discussion to continue, opening the conversation to the entire room. Some of the seniors reminisced about their early Clark days, offering advice and words of wisdom, while the newest Scholars asked poignant questions, and the sophomores and juniors provided feedback and key takeaways from the program thus far. One student even acknowledged how the 'Introduction to Business' course that scholars take their first semester freshman year, taught by Professor Aronhime, changed her career path, as she never planned to take business courses! The scholars were able to engage among cohorts and chat with faculty and staff, as well as the Dean, in a small, personal setting (while eating chocolate soufflé for dessert!). Everyone left with full bellies and new friendships!
Today is the first day of school for Barclay Pre-K & Kindergarten and thanks to the work of the Clark Scholars and the BME department, the students will be enjoying a new black top! See the pictures below of their incredible work featuring sidewalk chalk, hopscotch, and games!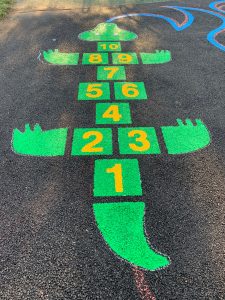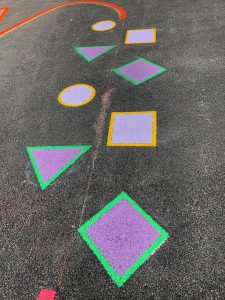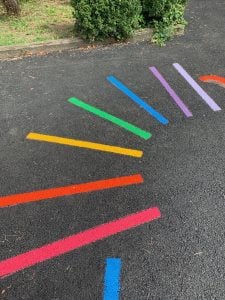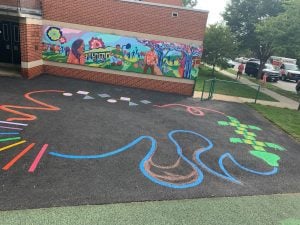 We are looking forward to more projects with the Barclay School in the future!
Welcome Clark Scholars, Class of 2023! We can't wait to meet you all! See you soon.
Kathy Cao
Year: Class of 2023
Hometown: Commack, NY
(Intended) Major: Environmental Engineering
Ricky Cheng
Year: Class of 2023
Hometown: Onalaska, WI
(Intended) Major: Computer Science
Marc Helou
Year: Class of 2023
Hometown: New York
(Intended) Major: Computer Engineering
Nyeli Grace Kratz
Year: Class of 2023
Hometown: Ann Arbor, MI
(Intended) Major: Biomedical Engineering
Jolie McDonnell
Year: Class of 2023
Hometown: Westchester, NY
(Intended) Major: Applied Mathematics
Adriana Pena
Year: Class of 2023
Hometown: Crofton, MD
(Intended) Major: Environmental Engineering
Danbi Rhee
Year: Class of 2023
Hometown: Northern Virginia
(Intended) Major: Applied Mathematics
William Rong
Year: Class of 2023
Hometown: Warrington, PA
(Intended) Major: Materials Science & Engineering
Alexander Rovalino
Year: Class of 2023
Hometown: New Jersey
(Intended) Major: Biomedical Engineering
Tyler Shin
Year: Class of 2023
Hometown: Atlanta, GA
(Intended) Major: Computer Science
By David on August 7, 2019
For the past 8 weeks, I've been working at the Department of Homeland Security Office of the Chief Information Officer helping build a tool that some would say does the equivalent of move mountains: it makes the government more efficient. My internship program (the DHS Secretary's Honors Program Cyber Student Intern Program, or the very easy acronym, DHS SHP CSIP) is focused on bringing in new cyber security talent to the government. Most of the media portrays cyber security work as hacking in basements or an equally seedy light, but there's actually a lot of governance and regulation surrounding the field, which is where I focused. I worked on something I called the "ATO Accelerator." In DHS, any major information system that could pose a cyber security risk to the government has to get something called "Authorization to Operate" or ATO. An ATO is essentially a very high-level executive (the CIO or even Secretary in some cases) saying that they accept the risk that the information system poses and acknowledge they may be held liable if anything goes wrong. Obviously, no one is going to ATO an unsecured system so the process is long and can take up to a year per information system due to having to implement hundreds of security rules.
The issue that I was helping solve was the problem of migrating government systems to the cloud; every information system on a physical server had to get ATO again in order to get onto the cloud (whether it be AWS or Microsoft Azure). With hundreds of systems, the one year timeline per ATO was unreasonable. This is where I did a deep-dive. Over the next 8 weeks, I would pour over ATO policy, cloud service provider agreements, technology stacks, and a hundred other things in order to build the ATO Accelerator. With the help of two AWS consultants, the ATO Accelerator was created as a project management tool in order to streamline and centralize the ATO process. Instead of spreadsheets and PDFs of rules being forwarded and eventually lost somewhere in Outlook, they could all be collated, organized, tracked, and collaboratively worked upon in this one tool. I'm particularly proud of this achievement because I wasn't assigned to a team: I was the team. From the beginning, I would schedule meetings with decision-makers, give presentations and technology demos, and coordinate with members across offices in order to build this tool and its documentation. The end result was an ATO Accelerator tool that is currently being shared across the department and is expected to reduce ATO times from one year down to four to eight weeks.
My time at DHS has been more fulfilling than I could have ever imagined and the relationships I've built with the people there will no doubt help me in the future.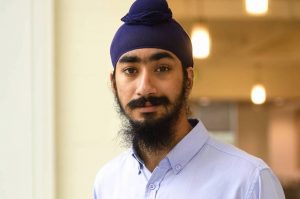 From: www.jhu.edu/profiles/ishpreet-singh
"Every day, I get to see from a different perspective and tackle problems in a new way." -Ishpreet, Class of 2021, Mechanical Engineering, Major
Ishpreet Singh didn't expect to spend so much of his time in college thinking about playground equipment, but it's been a preoccupying issue in one of his classes.
That's because Singh is a member of the A. James Clark Scholars Program at Johns Hopkins, which aims to train students in engineering, business, leadership, and community service. During the 2018-19 academic year, the Clark Scholars partnered with Barclay Elementary/Middle School in Baltimore to host science and technology expos and to improve the public school's playground.
It's an opportunity for Singh and other Clark Scholars to learn about design and business. After determining the client's needs, the scholars will devise plans for improving the tot lot, whether by replacing black top and hardscaping, replacing or repairing benches, or custom-designing playground equipment themselves. They'll pitch their proposals to the school leadership and help usher the project through completion.
"Before I came to Hopkins I thought I wasn't interested in business," Singh says. "But through the Clark Scholars Program, I got to see how engineering and business is an interconnected, flowing system. And it's great to work with the students at Barclay and see how they come up with ideas because of who they are and what they see that I never would have come up with. Every day, I get to see from a different perspective and tackle problems in a new way."
By EL on May 2, 2019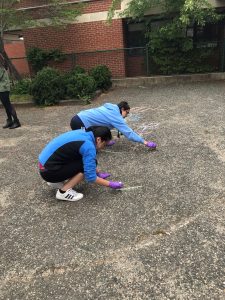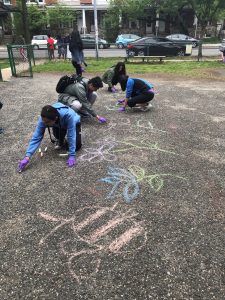 The Clark Scholars design proposals for the Barclay preschool and kindergarten were reviewed and accepted by the schools' administration! New additions to the playground coming soon! This includes a blacktop that the Clark Scholars will paint jointly with the Barclay students. See photos of the Scholars cleaning the playground and drawing with chalk of things to come.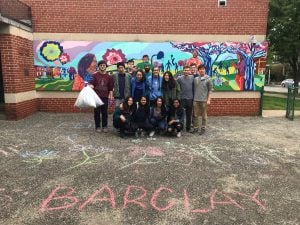 By Lindsey on February 7, 2019
"Seeing a thriving startup culture in such a small country with limited resources has greatly inspired my own entrepreneurial ambitions. In just 3 weeks, I really felt a gained a deeper connection to Israel through interacting with a wide variety of people from all around the country and of course eating delicious food! Truly a transformative experience."
By Lindsey on November 5, 2018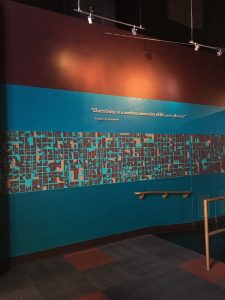 This past Saturday, 22 of the Clark Scholars visited The Franklin Institute in Philadelphia, PA. The Franklin Institute, one of the oldest centers of science education and development in America, memorializes the initiatives of Benjamin Franklin, and houses exhibits related to discovery, technology, and science. Some of these exhibits include: Your Brain, Changing Earth, Electricity, The Giant Heart, and Space Command. The Scholars were able to explore the interactive stations, expand their knowledge, and spark their curiosity! The Scholars practiced their best versions of some "throwback" songs on the bus ride back to campus (i.e. Miley Cyrus' 'Party in the U.S.A.') and maximized their time at the exhibitions by engaging with the variety of portals. One Scholars even noted that he wished there had been more time to explore all of the different levels of the institute.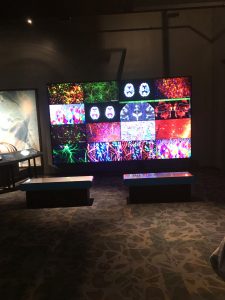 The ultimate highlight of the trip was from the request of one of the first-year scholars, Sean, who decided to take advantage of our proximity to the Philadelphia Museum of Art. Sean recreated his best version of Rocky Balboa's stair sprints. The theme song, "Gonna Fly Now," played in the background, he was dressed in his best grey sweat-suit, and he raised his arms triumphantly when he reached the top. The "Yo Adrian" reenactment made for an entertaining way to conclude the trip!
By Lindsey on October 31, 2018
The Clark Scholars class of 2022 have spent the last two months adjusting to life at JHU. In this short time, the seven first-year students have bonded as a cohort and connected with their mentor, Professor Lawrence Aronhime. Last Sunday, October 28th, "Prof. Aronhime" toured the Baltimore Museum of Art with the students, as he likes to connect artwork with his Introduction to Business slides and lectures. "Intro to Biz" is a required course for the Clark Scholars first-year curriculum, and in an auditorium of 121 students, the seven scholars sit together in the very front row. Professor Aronhime has met with the class of 2022 several times this semester to provide guidance. "Start now" is his advice, encouraging the students to think about what their interests and personal goals are, and perhaps more importantly, industries and career paths in which they know they don't want to pursue. Today, in the spirit of Halloween, the Clark Scholars played the ultimate trick and dressed up as Professor Aronhime in his typical garb: laced shoes, jeans, a rolled up flannel and glasses (see picture above). Happy Halloween…and bravo, first-year Clark Scholars!