The science that led to CPR. The ability to provide water purification to populations around the globe. The innovation of surgical gloves. The world's most cited COVID-19 tracking map. 
Since 1876, we've been creating and expanding knowledge for the benefit of humanity. Our partnerships and collaborations with commercial and government organizations, as well as our colleagues across university divisions, have enabled these and many other groundbreaking and lifesaving discoveries.
The Power of a Partnership
Working in partnership with our pioneering faculty and our driven and creative students, you have the means to address some of society's most complex and critical problems. We can help you find and develop talent, expand your reach, and build your brand story. Together we will create solutions and prepare visionary leaders ready to implement them.
Campus Collaborations
When you partner with Hopkins Engineering, you benefit from the extensive resources of Johns Hopkins University.
Hopkins Engineering works closely with researchers and clinicians at JHU's School of Medicine, Bloomberg School of Public Health, and the Applied Physics Laboratory—the largest university-affiliated research center in the United States.
Johns Hopkins Technology Ventures (JHTV) facilitates the translation and commercialization of discoveries into accessible technologies, and licenses more than 2,000 inventions that were borne at JHU.
Our global network includes dozens of partner academic institutions and R&D sites in 100+ countries—as well as our 10,000+ international alumni.
Corporate Collaborations
Industry and partner relationships bring our bold initiatives to life: They support critical research, equip our world-class facilities, provide our students with real-world capstone projects and valuable internships, and more.
Our national and global partners include:
Amazon
Bayer
Black + Decker
Bristol-Meyers Squibb
gsk
Google
Johnson & Johnson
Lockheed Martin
Microsoft
Raytheon
Toshiba
The JHU + Amazon Initiative for Interactive AI
A new collaboration will advance machine learning, computer vision, natural language understanding, and speech processing while increasing access to these technologies.
Connect. Collaborate. Innovate.
Partner with us to leverage Hopkins Engineering talent and resources to bring your ideas to life, and provide your team with training opportunities that ensure your competitive edge in the marketplace.


Talent Pipeline: Invest in Hopkins Engineers
Bringing the best and brightest to you. Our Life Design Lab connects undergraduate and graduate students with internship and career opportunities.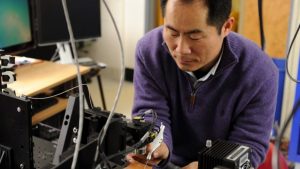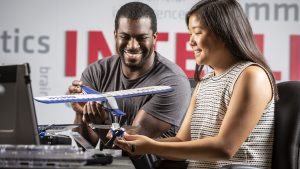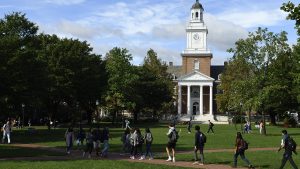 Agents of Change: Corporate Philanthropy Partners
Become part of a vibrant community of discovery as you strengthen our long-standing tradition of philanthropy. There are many ways you can support our students and inspire innovation, including:
Ideas and companies are born at JHU. As of 2020, the university's 160+ startups have created hundreds of positions and raised more than $2.3 billion. Hopkins Engineering startups include:
EtCH – energy research
Galen Robotics – surgical robotics
LifeSprout – tissue reconstruction
You can also sponsor or become a mentor for JHU's FastForward Program, a business accelerator that offers a suite of resources to help bring ideas from the startup to market.
We're proud to be one of a handful of universities that are "need-blind," meaning a student's ability to pay is not considered as part of the admissions process.
Scholarships and fellowships make Hopkins Engineering education possible for students of all backgrounds. When you partner with us in this way, you receive:
Enhanced access to top technical talent
Greater opportunities to collaborate with faculty members and student teams
Higher visibility of your company and its culture
Flexible funding mechanisms include gifts and contracts.
JHU and Hopkins Engineering is always abuzz with activities at our campus, innovation hubs, and field offices, as well as in the community. Our industry partners make educational events like these, and more, possible:
Symposiums
Lectures
Hackathons/Designations
Community outreach
Engineering student group initiatives
First in the U.S. Still Leading the Way.
1st

research institutions established in the U.S.

#1

recipient in federal research funding

#1

biomedical engineering graduate program (U.S. News & World Report)