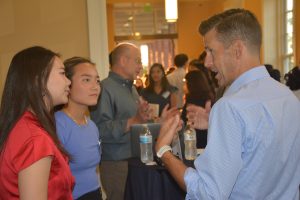 CLE Connect provides a space for Hopkins undergraduate and graduate students to connect with Hopkins alumni and other professionals in a variety of industries, including engineering, consulting, manufacturing, healthcare, marketing, finance, tech, media and more. This site will be updated regularly with the names of companies in attendance.
CLE Connect prioritizes meaningful over transactional connections. We invite representatives from companies actively seeking to fill full-time and internship positions to participate. However, we strive to create an environment that focuses on professionals sharing their experiences in their field and mentoring students, many who are entering the job market for the first time.
We hope that this annual career event allows students to make educated decisions about their career paths, to expand their knowledge about job prospects in their field, and to learn more about the hiring process in a number of industries.
2023 CLE Connect
This year's event is in person in the Great Hall, Levering Hall on the Homewood Campus, Wednesday, September 13, 6-8 p.m.
Registration is open for industry professionals. Student registration will open on August 28.
Students are encouraged to submit their resumes in advance of the event. Instructions for submitting resumes will be provided after registration.
Dress is business casual.
Parking: Parking is available in the South Garage on Wyman Park Drive (between San Martin and Art Museum Drives), underneath Mason Hall. South Garage is open 24 hours a day and staffed from 8am to 6pm. Please check in at the reception table to receive a parking validation ticket.
Attending companies and organizations will be listed below. Please check back regularly for updates.

Confirmed Industry Partners
Accenture Federal Services
ApplicationsOnline, LLC
Baltimore City Public Schools
Choputa
Cytiva
Deloitte
Gannett
Hamilton Lane
JHTV
JHU Applied Physics Lab
Thermo Fisher Scientific
T. Rowe Price
Tuscany Strategy Consulting
UPS
WR Grace & Co