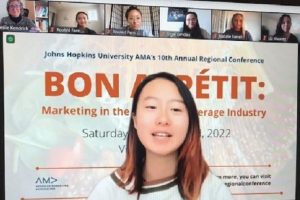 When they left for college, childhood friends Ashley Xie and Hedy Yu both experienced a disconnect from their Chinese heritage. And they weren't the only ones— 90% of the 150 Asian-Americans they interviewed on Zoom were also struggling through this experience. Ashley and Hedy created a solution: Rooted Fare, a Chinese-American snacking company that connected their two different heritages and experiences.  
Ashley and Hedy's young company was the focus of the case competition at the tenth annual Regional Conference for Johns Hopkins University's American Marketing Association (AMA), themed "Bon Appétit: Marketing in the Food and Beverage Industry". With more than 100 students and 14 teams participating in this year's conference, this case generated a number of creative marketing strategies for this small business. And fitting too—Ashley placed in the top 3 in this annual competition as a student at Johns Hopkins University. 
This year's conference was a success due to the diversity of companies represented, according to JHU AMA's Regional Conference Director Sophie Gong. "The JHU AMA Regional Conference this year [brought] together a record-high of 14 case competition teams and over 100 registrants from 18 universities across the US. We welcomed marketing practitioners from diverse backgrounds within the food and beverage industry, from well-known brands like the Kraft Heinz Company to a booming snack food startup founded by 2 Chinese-American women, with a mission to reconnect immigrants with their Asian heritage using food," Gong said. 
Leslie Kendrick, the JHU AMA's Chapter Advisor and a senior lecturer at the Center for Leadership Education, agrees with Gong regarding the success of this year's competition. "As the JHU AMA continues to integrate DEI initiatives across the organization, reflecting one of AMA's national top priorities, we were pleased to see not only the largest number of competitors but a significant number of Asian-American students on every case team," Kendrick said. 
The conference was virtually held on Saturday, October 22. Winners this year included the University of Pennsylvania (1st), Johns Hopkins University (2nd), and George Washington University (3rd). Contestants were judged by the Rooted Fare co-founders, and several marketing practitioners, including JHU AMA Past Presidents.