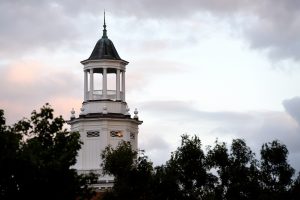 On October 28 the JHU chapter of Women in Business (WiB), sponsored by the Center for Leadership Education, attended the annual Intercollegiate Business Convention at Harvard University. The one-day event offered young women the opportunity to attend panels and workshops on topics such as developing a personal brand and the business of consulting, as well as information sessions on masters programs in business. In addition, students heard from three keynote speakers, including Sallie Krawcheck, the CEO and co-founder of Ellevest; Anne Fulenwider, the editor-in-chief of Marie Claire; and Cathy Calvin, president and CEO of the UN Foundation.
Tamara Villalon, co-president of WiB at JHU, believes that the three speakers provided Hopkins' thirteen-person delegation with valuable advice on planning for more than just the first job after graduation. "They helped us understand and see beyond just that first job, but also to see what it looks like to build a long-term career," she said.
Villalon, a senior majoring in International Studies with a Business Management Concentration, was grateful that the convention gave WiB members not only the opportunity to connect with like-minded students across the country and internationally, including a delegation from Bolivia, but also exposure to pioneers in their fields who could serve as role models. "These were women who did vastly different things and started off in similar places to where we are now as students, but all went through this shared tremendous process of growth to reach extremely high levels of success. To hear about this trajectory built confidence that one day we could undergo a similar path." The day was rounded out with a career fair, featuring more than forty companies.
WiB, Villalon said, is a young organization but is already making an impact. The organization gives members and the larger Hopkins community the opportunity to develop professionally through informational panels, networking events, and a mentorship program. "We offer development training that covers what to wear in a professional setting, how to navigate an information session, how to make connections with firms, and how to create an executive identity." This is especially important for women, she argued, as "they come [into the organization] with less confidence than they should. We want to bring out the strengths that they already have and help them brand it, so they can thrive upon leaving college and hit the ground running."
Villalon said that she and WiB co-president Alyssa Karbel are working hard to establish a community at Hopkins. "You can give as much professional development as you want, but community is the most important thing. One that you can come to and receive support for a wide variety of things, where you can get help to go wherever you want to go. We want these women to be the first in a room to raise their hands. Learning and fostering that confidence in a supportive environment is very important."
Interested individuals can find more information about membership and upcoming events on the JHU Women in Business website.