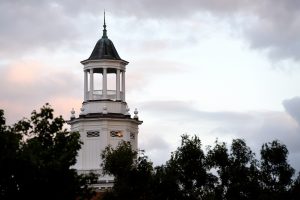 A new article in the Wall Street Journal examines the rise of teaching improv in engineering programs. In "'Oh, My God, Where Is This Going?' When Computer-Science Majors Take Improv," Sara Castellanos explores how a required improvisation course at Northwestern University, in which students sing, act, dance, study movement and even "assemble themselves into a human Rube Goldberg Machine" has the ability to transform students and better prepare them for future careers in engineering.
Improv forces students to step out from behind the screen, think on their feet, practice empathy, and work in teams, according to many of the students who have completed the Northwestern course. Though many initially found the subject matter frightening and unfamiliar, post-class the students explained that improvisation helped them to better engage audiences and collaborate with others.
The Center for Leadership Education offers several courses in improvisation, some geared specifically toward engineers, including Improvisational Techniques for Communication, Improv for Entrepreneurs and Leaders, and Improv for Science, Technology, and Industry, as well as Improvisation for Enhanced Teamwork and Communication, offered through the CLE's Professional Development Program and free to all graduate students.
CLE Instructor Michael Hartwell knows how impactful improvisation can be for engineering students. "Few things prepare a person to deal confidently and adroitly with unforeseen challenges the way improv does," Hartwell said in a 2017 article in JHU's the Hub. His students agreed that improv made them more confident and more flexible, as well as better and more empathetic listeners, which allows them to network more effectively and perform at a higher level once they are on the job.
To learn more about our improv courses, as well as all of the courses the CLE offers, visit our complete course list.