On May 7, students from the Center for Leadership Education participated in the Whiting School of Engineering's Design Day. A full day of presentations, poster sessions, and prototype demonstrations, Design Day allowed engineering students from all WSE departments an opportunity to exhibit research projects undertaken over the last academic year to industry leaders and alumni visiting the Homewood campus.
The CLE's Design Day session featured over forty students and fifteen projects from a wide range of courses, including Computer Science Innovation & Entrepreneurship I&II, Financial Statement Analysis, Innovation & Entrepreneurship I&II, and Advertising & Integrated Marketing Communication. Projects included an online platform that connects music fans to local artists, a haptic glove that allows users to passively learn to play the piano, an autonomous trash skimming vessel intended to clean waterways and monitor water quality, and a crowdsourced app that seeks to improve users dating profiles, among others.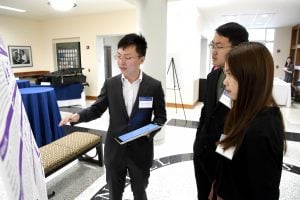 In addition to the design-centric projects featured in the CLE session, other groups' presentations demonstrated the wide scope of CLE course offerings, ranging from design and innovation to leadership, finance, and marketing and communications. The group from Advertising & Integrated Marketing Communication presented their campaign for the 2019 Acura ILX, which the class is participating in as a part of a national competition. Students from Financial Statement Analysis presented an evaluation of Ulta Beauty, explaining how the company is uniquely primed for growth in the near future when compared to similar beauty companies.
Students also presented research posters during the CLE poster session, featuring research projects conducted during Intersession study abroad excursions to Denmark and Portugal.
To read more about JHU's Design Day, visit their website.