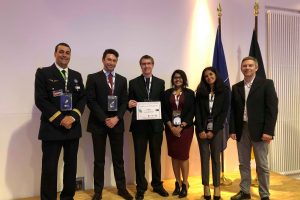 A drone-neutralizing system designed by a team of Center for Leadership Education students was among 10 such systems that competed at the 2018 NATO Countering Unmanned Systems Innovation Challenge held in Berlin, Germany, in mid-November. The event sought to bring together creative and innovative ideas for mitigating the increasing number of threats to troops and to the public caused by hostile unmanned aerial vehicles.
Team ANDROMEDA (Anti-Drone Mitigation and Defense Technologies) developed its system as part of the two-semester course "Innovation and Entrepreneurship I & II," taught by Lawrence Aronhime and Anton Dahbura. Team members Austin Granmoe, Shreya Madabhushi, Adam Peters, and Divisha Rajput comprised the only student team at the international event.
"We were thrilled to be invited to compete at this level," said Madabhushi, a Master of Science in Engineering Management student. "And though we didn't win, being part of this event was a wonderful opportunity for us."
Team members were inspired to tackle this challenge after guest speakers from the DC Air National Guard visited their class during its first semester to explain the gap that exists between detection and neutralization of terrorist drones in public spaces.
Adam Peters, an ADROMEDA team member and doctoral student in Material Science and Engineering, said his team then set out to create a classification algorithm that gauges the appropriate response to a threat based on data detected as the threat is happening. During development, team members consulted with experts from the Federal Aviation Administration, the FBI, and Booz Allen Hamilton. The goal, Peters said, was "an automated approach that can pick the best takedown method, and do it through a system in order to mitigate the risk quickly."
In mid-October, team members submitted their proposal to the NATO competition and were delighted – and surprised – when they were invited to compete in Germany.
The outcome, Peters said, was a learning experience on par with the solution the team eventually crafted.
"[Professor Aronhime] helps engineering students bridge the gap between highly scientific, abstract concepts and practical application," Peters said. "We learned that there is always a solution if you look in the right places. Initially we focused on capture devices, but we learned that it's important to choose the right problem to solve by figuring out your primary audience and understanding the value you're trying to bring to them."
Encouraged by their success so far, the team is working with FastForward to secure funding, and has plans to locate there in the near future.
"We are definitely working on taking this forward and developing it further," she said. "We are very excited to see what we can do with this."