On April 26, the Center for Leadership Education hosted the 2019 JHU Business Plan Competition on the Homewood Campus. This year's event marked the 20th anniversary of the competition. Over sixty teams across all nine divisions of the university competed for over $40,000 in prizes.
The ventures competing included a minimally invasive tool used to remove difficult-to-access brain lesions, a tool that reduces the risk of infection in at-home dialysis care, an online platform using data analytics to provide personalized career guidance to college students, a smart bartending machine, an app that connects music fans with local artists, and a smartphone case that manages the time spent using the device, among many others.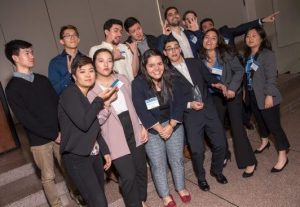 Industry leaders and Hopkins alumni served as judges, evaluating business plans and presentations over two rounds of competition. During an evening reception in Levering Hall, Hopkins alumnus Gary Laben, CEO of Dynata, delivered the keynote speech, encouraging students to foster their entrepreneurial spirits and to remain open to the diverse and unexpected opportunities. CLE Director Pam Sheff then announced the winners of the competition during the awards presentation.
A full list of this year's winners, as well as a gallery of photos from the event, can be found on the BPC website.