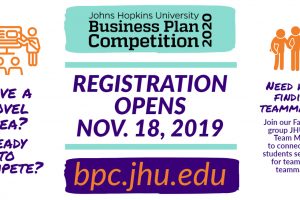 Competitor registration is now open for the 2020 JHU Business Plan Competition!
Interested competitors have until February 10, 2020 to register.
All teams must have at least one current undergraduate or graduate student or post-doctoral fellow on the venture's startup management team. For a full list of eligibility requirements, visit the JHU BPC's website.
Find us on Facebook! RSVP to the 2020 JHU BPC on Facebook for regular updates and join our Facebook group JHU BPC Team Match if you are searching for a team or additional teammates.
Learn more about the competition structure, the overall competition timeline, and the registration guidelines before registering for the event, and email [email protected] with any questions.