JHU American Marketing Association hosts 6th annual conference
November 20, 2018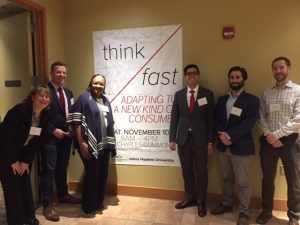 On Saturday, November 10, The JHU American Marketing Association hosted its 6th Annual Regional Conference. Titled "Think Fast: Adapting to a New Kind of Consumer," the conference featured speakers Josh Lukin, the senior director of club initiatives for Major League Baseball; JHU alum Morgan Marc, a project manager with the Grey Group; and JHU alum Hannah Kronick, a client account manager for Twitter. Attendees from Bloomsburg University of Pennsylvania, Loyola University, Shippensburg University, Stevenson University, and Coppin State University joined Hopkins students for the day's events.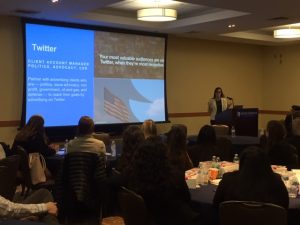 The conference's keynote speaker Jeff Knabe, a senior marketing manager with McCormick & Company, also prepared a custom oral case for AMA's annual case competition. Marketing practitioners from Go Ape USA, AARP, WebMechanix, Stanton Communications, and Slalom served as competition judges, awarding the top three case competition winners a total of $500 in prize money.
As vice president of programing for Hopkins' AMA chapter and last year's regional conference director, Andy Guo knows firsthand how important events like the conference are to students interested in entering the field of marketing. "Attendees have the opportunity to network with local professionals in marketing and learn from professionals who work in major companies," he said. Guo found particularly interesting Josh Lukin's talk regarding the large-scale changes the MLB is making to attract a new generation of fans, such as changes to the MLB All-Star voting procedures and the creation of MLB FoodFest, featuring the best offerings from stadiums across the country.
Events like these are a staple of Hopkins' AMA chapter, according to Guo. Last week, the organization hosted an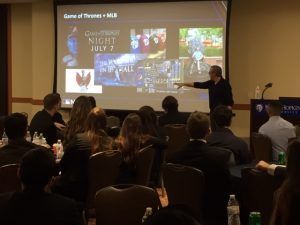 information session for the New York based Merkley + Partners, offering networking opportunities with its CEO and educating students about the inner workings of advertising agencies. These weekly events feature speakers, resume workshops, bonding and team building exercises, as well as networking opportunities for members. Interested students can visit the Facebook page or website for Nest Strategies, the consulting arm of AMA, for more information.