The Department of Chemical and Biomolecular Engineering's undergraduate program provides a diverse and supportive environment, focused on educating innovative and fundamentally-grounded engineers.

By fusing core chemical engineering principles with emerging disciplines, our undergraduates innovate new technologies and spur cross-disciplinary scientific discovery.
With the option to concentrate in Molecular and Cellular Bioengineering or Interfaces and Nanotechnology, students can tailor their studies to suit their interests, contribute to the creation of knowledge through unparalleled research opportunities, and graduate with the skills, knowledge, and experiences they need to pursue their professional goals, no matter what path they may choose.
Our graduates take a myriad paths–working in the pharmaceutical and energy industries and finance, launching their own startups, or pursuing further studies in a variety of engineering fields, as well as in medicine, law, and business.
Questions about our undergraduate academic programs?
Director of Undergraduate Studies, Lilian Lam Josephson (Spring 2023)
For more information contact the ChemBE department.
A Hands-on Approach to Learning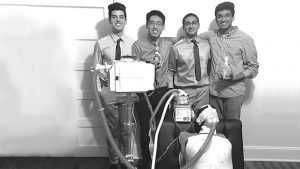 Opportunities Abound
Our students graduate prepared to lead.

Through academic concentrations, electives, entering the concurrent BS/MS program, research activities, career networking, and internships, as well as through the support and mentorship of our faculty, Chemical and Biomolecular Engineering undergraduates have ample opportunity to explore their interests and define their professional goals--along with strategies to achieve them.