Note: This is an ongoing project. While the students who began this are graduating, younger ChemBE students will be carrying on their work: Jaila Acevado, Cassie Eckert, Sabira Hassan, Ishika Kaushik, Yaya Ma, and Himanshi Sharma. 
Helena Hall-Thomsen and Callie Jones, both seniors in the Department of Chemical and Biomolecular Engineering, began a project in 2021 to document the experiences of underrepresented groups and minorities. After extensive interviews they summarized their findings as follows:
There was no additional support for marginalized ChemBE students who experienced unique challenges compared to their peers. 

Scattered faculty were passionate about initiatives (e.g. improving student support) whereas others remained apathetic, creating a rift between students and professors. 

While allyship is prevalent now within the Hopkins community, in the past, it was lacking–even among students–and hindered progress among marginalized students.

The few people from similar backgrounds weren't as unified as they should've been and fell victim to the competitive space of Hopkins and industry. 
Their introduction and summations of their interviews are included below.
The JHU Department of Chemical and Biomolecular Engineering owes much of its international prestige and contributions to various fields of scientific research to the many BIPOC, LGBTQ+ people, women, and other minorities that have made up its extensive history. Using alumni and faculty testimony, past population statistics, and demographic research in Baltimore and beyond, this project aims to illuminate the efforts of these esteemed individuals, as well as their roles in the ever-changing history of ChemBE. In building a database whereby one can explore the history of diversity within this major, we hope to provide a reflection of the leaps and bounds that the department has made since its establishment, as well as retrospective insight into future trends of the ChemBE population. Thus far, we have had the privilege to interview six outstanding ChemBE alumni: Michelle Moore, Jaconda Wagner, Tonya Peeples, Quincy Jones, Jarel Gandhi, and Teno Boone.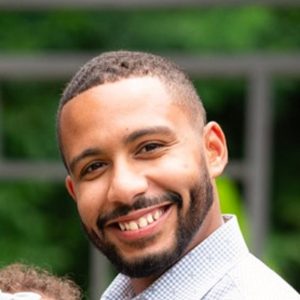 By majoring in ChemBE at Hopkins, Teno Boone spearheaded his family's engineering lineage.
Teno was born as the eldest child of four in the Echodale neighborhood of Baltimore. He grew up in the public school system, and later tested into the Ingenuity Project at Roland Park Middle School. Every morning he took the city bus at 5 AM to get there. As a product of his early morning journeys, Teno learned a math and science-focused accelerated curriculum, which inspired him to apply to Baltimore Polytechnic Institute (BPI) for high school. 
The BPI education exposed Teno to a research practicum where he did lab work at various institutes across Baltimore, including Johns Hopkins, which was right down the road. During his trip to Hopkins, Teno met his long-time mentor, Dr. Joelle Frechette. Teno described his inclination towards Hopkins and ChemBE as "a more of a stumbling upon it type of thing," catalyzed by his relationship with Dr. Frechette. 
Teno entered his freshman year on the Hopkins wrestling team, for which he won the regional championship in the latter half of high school, and lived in Wolman with one of his teammates. He took on leadership in H.O.M.E.S. to mentor children in Baltimore in engineering disciplines. He also began researching for Dr. Frechette on electrowetting. 
After his freshman year, Teno quit wrestling in order to focus on academics and his other passions. By junior year, he became president of the Black Student Union (BSU). As president, Teno sought to forge allyship within the Hopkins community and in Baltimore. He started canned food drives, cook-a-thons, and campus-wide meetings to brainstorm how to improve Homewood's relations with the community. He also earned co-authorship on the research paper, "Effect of Contact Angle Hysteresis on Electrowetting Performance," in 2011. 
On top of academics, research, and BSU, Teno was also involved in the National Organization for the Professional Advancement of Black Chemists and Chemical Engineers (NOBCChE), the Mentoring Assistance Peer Program, the Alumni Ambassadors Program, and the Sustainable Hopkins Infrastructure Program. 
When asked to reflect on his favorite memories and relationships, Teno cited certain faculty members as his support system–Dr. Bill Smedick, Dr. Frechette, and Dr. Irene Ferguson. He also treasures the time he had with his friends and dates he went on with his wife, Kelli Boone ('12), whom he met at Hopkins. A decade later, Teno is now a proud father of two girls. 
After graduation, Teno began as an engineer for Procter & Gamble (P&G) where he realized his problem-solving and independent thinking cultivated from his Hopkins career allowed him to flourish. Since his first job, Teno has accelerated to top management positions at Owens Corning where he is a Research & Development Leader for the Manufacturing Automation & Composites Process Transformation division. He attributes his industry success to the plethora of opportunities provided by Hopkins: club involvement and research experience. More specifically, Teno found his leadership roles from college gave him a competitive edge, and even resulted in getting him his first job at P&G through networking at a NSBE conference. 
One of his younger brothers and his younger sister also pursued engineering in part due to Teno's accomplishments.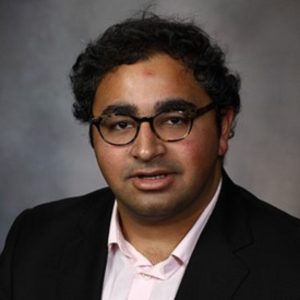 Jarel Gandhi achieved exactly what he set out for upon arriving at Johns Hopkins.
Jarel was born and raised in the central valley of Modesto, California. His parents grew up in India and migrated over to the United States just before his older sister was born. As firm believers in the American dream, Jarel was raised under the household values of hard work and education. At an early age, he was placed into an International Baccalaureate (IB) program at Modesto High School that was well known for getting students into top schools. Gravitating toward math and science, Jarel wanted to attend a college that catered to these interests and provided a new experience outside of California. In 2004, Jarel received an acceptance from Johns Hopkins. After convincing his mom he would not be too far away, he began his trek from the west to east coast.
Upon arriving on campus, Jarel was less overwhelmed socially and more overwhelmed academically. He was used to being at the top of his class; at Hopkins, he was just another fish in the pond–everyone here was the valedictorian, too. The competitive atmosphere combined with difficult courses was certainly a challenge. The first semester covered grades policy was super helpful in giving Jarel time to adapt academically. He was appreciative of this grace given by the university; it felt like a level of support.
The chemical engineering (CheE) department was renamed to chemical and biomolecular engineering (ChemBE) in order to reflect the growing application of chemical engineering approaches in biology. Jarel was the second class to graduate ChemBE, having been part of the degree for all four years. He was very interested in pursuing ChemBE because of the broad nature of the major. He could investigate a variety of industries before deciding on his area of expertise. As someone who was set on going to grad school from the moment he stepped foot on campus, Jarel saw this flexibility as helpful for his career path.
His exposure to research at Hopkins was certainly one of the most amazing aspects of his collegiate career. Landing at the Wilmer Eye Institute within Dr. Stan Vinores' lab in the Ophthalmology Department, Jarel found a passion for working in the lab and with this specific subject, foreshadowing his later focus on eye disease.
Overall, Jarel felt supported as an Indian American in ChemBE. For him, a lot of the diversity challenges he faced were amongst his peers. Everyone comes from so many places around the world that it presents difficulties in creating a cohesive student body. Individuals react differently to being exposed to new groups. While Jarel realizes the university cannot predict how the students will support one another, the importance of establishing a community can at least begin to facilitate a healthy environment. To make Hopkins a safer space, the school should creatively find solutions to break barriers between students.
Jarel felt that there were several spaces he was part of where he noticed support of diversity. In one example, Jarel joined a Hindi acapella group where he made some of his lifelong friends. While they were a small organization, Hopkins always provided them with funds for the best practice and performance opportunities. His favorite concert was when they sang in Bloomberg Hall where he said that the acoustics were amazing. In another example, Jarel was a residential advisor on a floor with all international students. During Thanksgiving break, while most of the United States residents went home for the week, Jarel and the freshman on his floor made their own potluck Thanksgiving dinner. It was a really neat moment to be sharing that day with people from all around the world–most of whom had never celebrated Thanksgiving before.
Jarel graduated with his ChemBE degree in 2008. He continued his passion for research, pursuing his master's degree at Tufts University in biomedical sciences. Eventually achieving the dream he started off his freshman year of college with, Jarel received his Ph.D. in biomedical engineering in 2016 from the Illinois Institute of Technology. As a current senior biological research scientist at AbbVie, Jarel continues working on eye disease therapeutics and is an astoundingly accomplished Indian American ChemBE that has certainly made his family proud.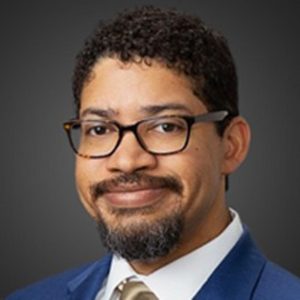 Prioritizing surrounding himself with the right people, Quincy Jones successfully navigated the intricate Johns Hopkins maze as a first generation, Black man studying chemical engineering.
Quincy dreamed of going to college, but as the first member in his immediate family to pursue this endeavor, he struggled to conveniently access guidance. Despite this unfamiliarity, he was confident in his passion for math and chemistry. His brightness in these areas quickly directed him toward schools with a heavy STEM focus.
To his talented nature, Quincy found himself with an acceptance from Johns Hopkins University in 1993. His curiosity quickly prompted him to focus beyond the academic reputation and more on student experiences. The collegiate rating book he had purchased to proceed in his investigation described Johns Hopkins as notoriously cutt-throat and challenging. The horror stories of competitive pre-med students prompted him to believe he would endure a toxic space solely focused on academic performance.
The thought of being a minority individual in unfamiliar territory with the additional layer of Hopkins' competitive pressure scared him. However, Quincy's resilient nature overpowered this fear. Hopkins also offered a summer program for new black and Hispanic students. He took a chance on the institution, deciding to pursue his studies in chemical engineering with little knowledge of what that exactly entailed. From his independent research, Quincy found two key takeaways regarding this degree: 1) the content involved subjects he enjoyed most in school; 2) this degree brought home a good salary. Just like that, Quincy and his collegiate rating book began their Baltimore journey.
Quincy prioritized surrounding himself with people that found joy in the heat of the challenge. He stayed true to this value even to the point of meeting his wife, Mona Kapadia (BA 1997), during his freshman year. Ultimately, Quincy's community cultivated a space that gave him the confidence and strength to be successful at Hopkins. In fact, he had a great college experience. His positivity radiated throughout the interview as he expressed his gratitude for receiving an incredible education alongside wonderful people. He had not only avoided the stereotypical environment written in books, but he succeeded despite being one of the few Black chemical engineering students at the school.
Nonetheless, Quincy acknowledged the need for growth in diversity and equity work at the time of his enrollment. While his overall experience was positive, he knew that there was plenty of room for making the school a more inclusive, safe place to learn. Quincy was able to make lasting friendships and obtain his degree, but being a minority in the community made this effort more difficult. He identifies this journey in terms of the student and the university perspective.
From the student perspective, the lack of mentors and safe spaces for minority groups to exist prohibited diverse students from easily accessing a familiar community. From the university perspective, Quincy found that while there was not an issue with finding diverse students, there was an issue with the university fostering the support and comfort necessary to help them to achieve success. He attributes some of this retention problem to minority students not feeling comfortable enough to ask for help. They suffered in silence, afraid to approach professors–especially because the majority of faculty did not share their identity or background.
"For a lot of students, you are doing something and you feel like you are the first. It is like an invisible pressure. I feel like if you didn't have it, it would reduce your level of stress."
This "invisible pressure" is what Quincy strongly believes needs to be solved. At the heart of the solution is the necessity for direct support. Students in minority groups can more efficiently find the confidence and strength to succeed throughout their undergraduate experience at Johns Hopkins if they are aware of and provided with resources. From the start to the end of the interview, Quincy highlighted the theme of community the most. A huge step towards a more equitable environment is surrounding each unique individual with people who will support and love them.
Quincy is currently a senior managing director at FTI Consulting with over 25 years of experience in the chemical and petroleum refining industries and serves on the Johns Hopkins Chemical and Biomolecular Engineering Advisory Board. Originally starting his career as a process engineer, Quincy received his M.B.A. in Finance from Rutgers and pivoted towards management consulting. Through it all, Quincy has worked closely in alignment with his chemical engineering degree, all beginning with his fearless nature to pave a path at Johns Hopkins University.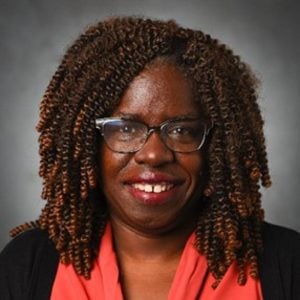 When Dr. Tonya Peeples became an Associate Professor of Chemical Engineering at the University of Iowa in 1995, only five other African American women in the country shared that title with her. 
Like many Hopkins students, Tonya came from a unique background. She was born in Germany where her father was stationed at the time, who was a World War II, Korean, and Vietnam veteran. She spent her early years there with her mom, dad, and younger brother, and then moved to Fayetteville, North Carolina as a toddler. 
Because Fayetteville was a military-oriented community, Tonya went to integrated schools throughout her PreK-12 education, and became the first person in her family to do so. She also lived in a racially-diverse neighborhood. Yet, there were still monuments in her town memorializing slavery such as the Market House. 
During her adolescence, Tonya aspired to become a journalist and was editor of the high school paper. It was not until she visited N.C. State University's engineering outreach program she realized she "gravitated towards chemical engineering and those demonstrations." At the time, her father was attending college under the G.I. Bill and was one of the biggest advocates for Tonya to pursue post-secondary education. 
Tonya decided to attend N.C. State in 1984 where she enjoyed her ChemE curriculum, involved herself in the college paper, was a member of the university's choir, and gained entrance to Tau Beta Pi, a prestigious engineering honor society. She felt unified with the other women in her major, many of which collaborated with her on design projects. During Tonya's undergraduate experience, she experimented with different summer internships like interning at Dow Corning and participating in a Research Experience for Undergraduates (REUs) program. Her exposure to biotechnology research encouraged her to pursue graduate school. With support from faculty members including Dr. Carol Hall and Dr. Steven Peretti, she applied to multiple Ph.D. programs. 
After a road trip with her friend from Raleigh to Baltimore, Tonya hit it off with a few Hopkins professors and ultimately chose to pursue her doctorate here. Under the advice of Dr. Robert Kelly, she conducted research on extremophiles and how to engineer stability in other biological systems from their properties. She also worked with collaborators from the Department of Energy, the Center for Marine Biotechnology, and the Electric Power Research Institute. 
Tonya found most of her support within her research community. Meetings with the other biology-focused ChemE students and lunches with other African American women in her discipline interlaced her within a kind network of individuals at Hopkins. This network became increasingly necessary when she lost family members while pursuing her degree. 
Unlike her undergraduate experience, Tonya felt less institutional support as an African American woman. She remembers sitting down at tables and getting weird looks, but never seeing the same for people of other identities like the Italian international students. However, she always appreciated the "other African Americans in the [Hopkins] community [who] often were the cheerleaders" like the custodians or cafeteria workers, who encouraged her to complete her degree. When she graduated in 1994, Tonya was, to our knowledge, the first African American woman to earn her Chemical Engineering Ph.D. from Hopkins. 
After completing her postdoctoral fellowship at the California Institute of Technology, Tonya accepted a tenure-track position at the University of Iowa. She did research within the Center for Biocatalysis and Bioprocessing. As time went on, she became more involved with diversity and inclusion work and accepted a position as Associate Dean for Diversity & Outreach for the College of Engineering. She felt inspired by her ChemE community and how they prioritized supporting students and peers from marginalized backgrounds. Recently, she saw one of the first graders she met through a University of Iowa outreach program graduate with her Ph.D. in Biomedical Engineering. Outside of the Iowa faculty, Tonya remembers finding middle schools near every AIChE conference to demonstrate fun science experiments to children with other professors.
Tonya emphasized how the chemical engineering community "had something special" in the Minority Affairs Committee (MAC). She met with other Black female chemical engineering professors at every AIChE conference, helped mentor student recipients of the AIChE MAC Scholarship, and promoted a travel award created to fund student transportation to conferences in honor of UMBC colleague Dr. Janice Lumpkin's passing. 
In 2018, Penn State University recruited Tonya for their Associate Dean for Equity & Inclusion position. When first joining, one of the senior associate deans told her "an engineering degree changes the trajectory of families," a sentiment Tonya embodies with her work today. She believes in extending STEM's accessibility to marginalized communities and fostering their success. Currently, Tonya is assisting on NSF-funded projects surrounding the generation of equity action plans for higher education. By teaching students and staff how to engage with and support equity-based initiatives, universities can effectively recruit and train students from all backgrounds to become accomplished working professionals. As of July 1, 2023, Tonya Peeples has been appointed the interim Harold and Inge Marcus Dean of Engineering at Penn State. 
Without a doubt, Tonya's leadership journey in higher education will continue. As a pioneer for institutional change, she will help improve everyone's experience at university. She even remains involved at Hopkins, serving as a member of the ChemBE Departmental Advisory Council.