A Tough Tolerance for "No's"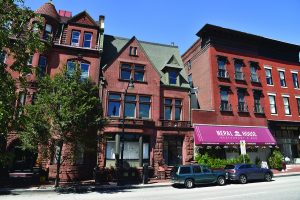 The second floor of the repurposed Blakeslee Building on Charles Street in Baltimore's Mount Vernon neighborhood has been a bare-walled hatchery of world-changing ideas, equipped with a supply of Keurig cups, one small dog, and half a dozen dreamers. Here, things are moving so fast that the corporate name on the doorbell already is obsolete.
This is the headquarters of a startup called FactoryFour, formerly Fusiform, initially a Johns Hopkins engineering student's "wacky, wake-up-in-the-middle-of-the-night idea" that mobility devices and prosthetic appliances should be so easy to manufacture and re-manufacture, even in remote areas, that they could virtually "grow" along with the patients who wear them.
The senior undergrad putting nearly all of his energy into what he calls "an opportunity to disrupt everything in manufacturing," is Param Shah, 21, an engineer's son from Irvine, California. Five years ago, during a high-school service trip to the Himalayas, Shah witnessed the plight of young people with disabilities whose precious leg braces and replacement limbs already were too small by the time they arrived—if they arrived at all.
"The core problem was that every device was made by hand, the orders came in by fax, the software was archaic, and none of the parts of the manufacturing and distribution system talked to each other," Shah recalls. In response, Shah and his co-founder, biomedical engineering grad Alex Mathews '17 began to tinker with the
concept that—in an age of wireless communication, cheap data, and 3-D printing—even the Himalayas could be conquered in real time.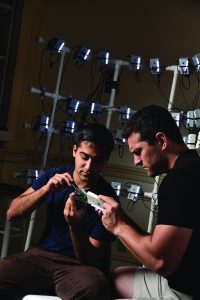 It took them less than eight months to design and build a prototype leg brace. The process, Shah says, "was 70 percent guts and 30 percent Google, a high tolerance for risk and an even tougher tolerance for 'No's.'"
And this breakthrough was followed by a potentially even more important idea: FactoryFour coders, including upward of 20 Johns Hopkins undergrads and alums, are busy writing software in the startup's Mount Vernon digs that could streamline and modernize the way all manufacturing is done, in every country.
"Digital manufacturing is the future, but nearly every manufacturer still suffers from manual processes that don't let them take advantage of new technology," Shah says. "We want to create the Internet of Manufacturing, making it easy to connect every component of the manufacturing process with software so that manufacturers can keep up with the digital revolution."
It's hard to imagine a bigger dream than that.
"I have a firm belief that when I see a company come along because they only see an opportunity to make money, they almost always fail," Shah says. "But if there is a person behind it who has a [true] 'this is real' moment —and if that moment comes from pure passion—that company will succeed.
"We can rely on the quality of education that Hopkins provides to gather us the talent that we need for our company," Shah says, looking toward the future, balancing the prospects of success with the risks of failure. "If I go down at this time, I have my family to support me, and I have my school to support me. There's not a better time in my life to do this."
---
Started a startup? Share your startup stories with other Whiting School alumni. Click here to submit your story.