Past the Tipping Point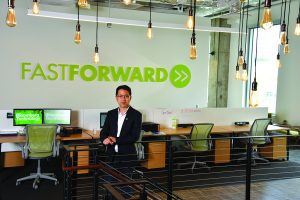 Nothing in Hai-Quan Mao's distinguished CV nurtured him to be a businessman. To prepare him and other new-age entrepreneurs at Johns Hopkins for an initial public offering —should the demand for LifeSprout's discoveries prove strong enough—the FastForward enterprise includes intensive mentoring and assistance from experts such as Brian Stansky.
Stansky spent nearly 30 years at T. Rowe Price and as managing director at Integral Capital Partners. He knows that a successful startup needs more than whiteboards and coffee bars.
"People focus on the space, but it isn't just space," Stansky says. "What kills startups is not that their technology doesn't work but that you're making stuff that no one wants to buy." To remedy this, FastForward has 15 mentors-in-residence—business leaders who confidentially advise fledgling JHTV entrepreneurs on balance sheets, profit-and-loss, personnel management, going public, and meeting a payroll.
"JHU does not invest in the startups," Stansky notes. "We provide early-stage grants for prototyping, early study, proof-of-concept, and so on. Also, FastForward has a person dedicated to building relationships with investors and connecting our startups with them.
"It's not enough to say you have a plan," says Stansky. "The really important thing is the team you build around you. I'll always take a 'B' idea if it has 'A' management."
Ed Schlesinger, Benjamin T. Rome Dean of the Whiting School, is an enthusiastic proponent of this push toward commercialization of engineering research. "In the not-too-distant past, you graduated with your degree and you went to work for one of a few big companies," he says. "But the world has changed.
"At Johns Hopkins Engineering, we are working to create an environment that is conducive to the broad range of careers our students are pursuing, including entrepreneurial activities. We also are working to give our faculty the economic resources and support they need to be successful in this area. I think we are past the tipping point now, and I am going to continue to push this forward."