"Would You Like to Start a Company?"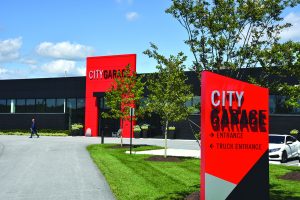 Beside Interstate 95, a cavernous warehouse, once the maintenance center for Baltimore City buses, is now City Garage, a techie idea factory turning out everything from skateboards to glass chandeliers. It is operated in partnership with Plank Industries (i.e. Under Armour's Kevin Plank) and Sagamore Development.
In the center of the building is a burgeoning community of robots—not the ambulatory humanoids of fiction, but sturdy metal arms that can cut, clamp, squeeze, and manhandle a tool or a product without actually being a man.
"We've created technology that makes it drastically easier for manufacturers to deploy robots to the factory floor," says Kel Guerin MS '12, PhD '15, co-founder and chief technology officer of READY Robotics Corp., the Hopkins-nurtured startup that leases space here. "While robots are fairly ubiquitous at places like Ford and General Motors, there are many manufacturing companies that have yet to adopt them. Our initial question was: How do we make it faster and simpler for a factory to leverage robotic automation?"
Guerin's answer, first formulated when he was a Johns Hopkins PhD student and postdoc studying computer science under Greg Hager, executive director of the Malone Center for Engineering in Healthcare, was to design what he calls "a Swiss Army knife for robots." It is a combination of hardware and software that makes it fast and straightforward to kit out a mechanical arm with grippers, cameras, and other peripherals—and more importantly to furnish clients with a patented user interface that allows even a novice to program a robot in minutes.
Today, the company's product is called the TaskMate: a mobile stand that combines READY's proprietary hardware with a third-party collaborative robot arm and a selection of grippers. The system can operate any number of tools, including mills, lathes, and injection molding systems. It is portable and adaptable enough to meet the shorter production cycles of smaller companies.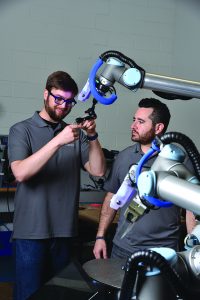 Guerin was well on the way to developing the viability of TaskMate before he left campus to found READY Robotics in 2016. Already, the company has attracted nearly $4 million in venture capital from New York, with a workforce at City Garage that grew from four to 14 in less than a year and that could well expand to 30 before the spring.
"Hopkins as an institution cultivated our ability to think about this as a commercially viable venture," says Guerin. "Once I got my PhD, it's not like Hopkins said, 'Have a nice day.' Their approach was to say 'Hey, Kel, you've got these great ideas: Would you like to start a company?'" Johns Hopkins even encouraged Guerin to consider the City Garage space because it would best suit the company's needs.
Ben Gibbs, A&S '05, an economics grad, spent the last several years working at Johns Hopkins Technology Ventures before joining READY Robotics, where he is now CEO. "Many years ago, it was not nearly as easy for researchers to commercialize discoveries," Gibbs says. "But today, if you have a good idea, there are any number of resources available to you in the Hopkins ecosystem, from educational courses on entrepreneurship to translational funds and office space at JHTV's FastForward startup incubators."
Instead of graduates migrating en masse to the corporate workforce, or to other high-tech hubs such as Boston or Silicon Valley, promising startups such as READY Robotics are becoming the workforce, observes Gibbs.
Guerin himself turned down several offers with top tech companies to help jumpstart Baltimore's high-tech scene with READY Robotics. "We're very close to declaring success," he says. "The trick now is to keep all our ducks in a row to be able to grow really fast."