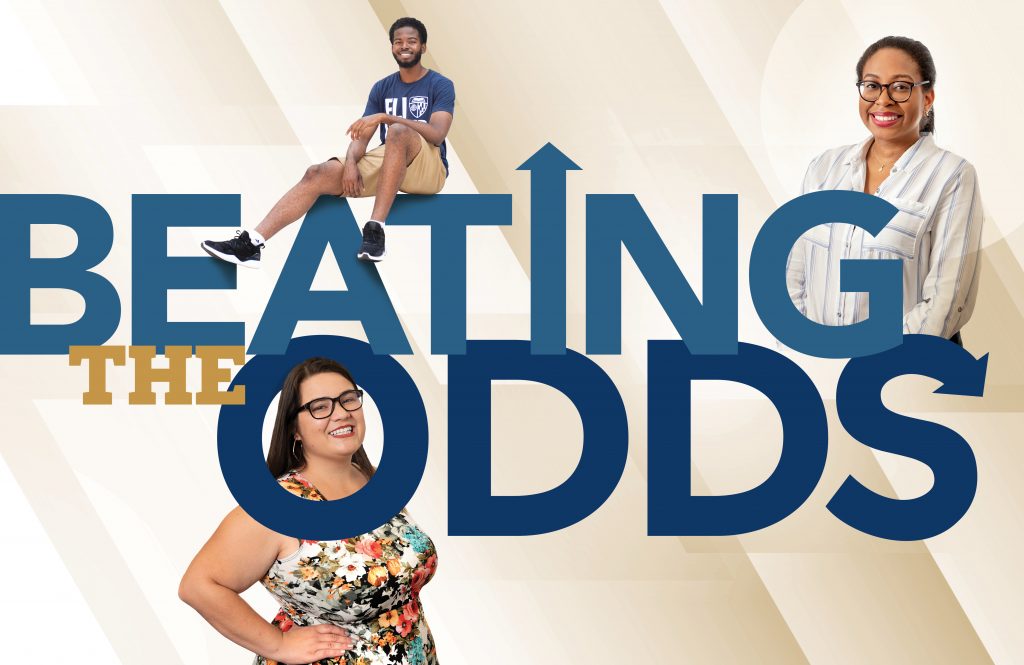 When Ebuka Ezekwesili began his college search, his first consideration was whether the school offered the mechanical engineering major he wanted. The second was the cost. The oldest of six siblings, he knew his single mother couldn't afford to pay his tuition with the salary she made as a home health nurse, and he didn't want to leave college buried in debt.
After learning that Johns Hopkins was among a handful of schools that pledge to cover 100 percent of students' financial need, he applied. A few months later, his mother tore open the mail at their Houston home to discover that her son had been accepted with a full ride.
"It showed that all the hard work I did in high school paid off," says Ezekwesili, who graduated with a 4.2 GPA. "It felt really good."
With his college costs covered, he found himself facing a new set of worries. He didn't know what to expect in Baltimore, an unfamiliar city 1,400 miles away from his family and friends. Neither of his parents had attended a four-year university, so they weren't able to offer guidance on what campus life would be like. He thought it might be hard to make new friends, and he was nervous about keeping up with college-level coursework.
Fortunately, Johns Hopkins has a program designed to help students exactly like Ezekwesili.
Hopping into JHU
Launched in the summer of 2015, the Hop-In program invites 40 first-generation and limited-income students to live on campus for five weeks before the start of their freshman year. They spend that time taking summer courses, learning about the resources available at Johns Hopkins, and discovering Baltimore through off-campus field trips. With the university paying for travel, food, and housing, it's a hard offer to pass up.
In addition to their regular academic advisers, Hop-In students are assigned success coaches for extra guidance on things like goal setting, connecting with faculty members, financial literacy, stress management, and seeking out internships. Hop-In coaches meet with students at least twice a month during their first and second years, and third- and fourth-year students meet with coaches about once a month. Participants are also paired with student mentors—usually first-generation third- and fourth-year students who went through Hop-In themselves—who can offer advice on everything from work-study opportunities to what to bring on the first day of class.
A growing number of colleges are adopting similar programs to help first-generation and limited-income students succeed in academia. Only 17 percent of first-generation students obtain a bachelor's degree 10 years after their sophomore year of high school, compared to 42 percent of students who have at least one college-educated parent, according to a 2017 report from the National Center for Education Statistics.
Among these students who do make it to college, many feel pressure to drop out and enter the workforce so they can help their families financially.
"For limited-income students, finances are really a barrier," says Hop-In Director Candice Baldwin. "These students often work extra hours to pay their tuition, which in turn leaves less hours for them to focus on their academics. If their grades slip as a result, their families may question why they are at an expensive private school. Their families may say 'Well, if you're not doing well in the class, why are you there? Maybe you should go to a community college or take some time off.'"
Baldwin, who was a first-generation student herself, says many of the students she works with also struggle with imposter syndrome. Whenever they encounter a stumbling block, they feel like they did something wrong and question whether they really belong at Johns Hopkins.
"Hop-In students are highly motivated and among the best and the brightest at Hopkins. They have the capability to be successful but are often saddled with feelings of fear and doubt about their abilities," she says.
The inaugural cohort of Hop-In students graduated last spring, and by all measures, the program has been a success. All 31 students either earned a bachelor's degree or are still enrolled for the fall semester.   
We spoke to Ezekwesili and two of his fellow engineering majors about the unique challenges they faced and how the Hop-In program helped them to overcome the odds.
Ebuka Ezekwesili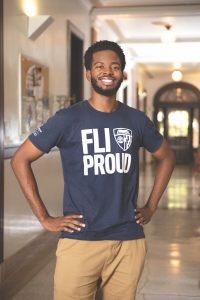 Ezekwesili remembers feeling lost on Homewood's sprawling campus when he arrived for Hop-In in the summer of 2017. The brick buildings all looked the same to him, but upperclass mentors were happy to act as guides. All 40 Hop-In students were assigned to live on the sixth and seventh floors of Wolman Hall, where they shared a communal living space.
"I'm not a super outgoing person, so I thought it would be hard to make new friends, but the icebreaker activities made it easy," says Ezekwesili, who remains close with many of the classmates he met that summer. "I knew I would at least be able to see 39 familiar faces in the fall."
His schedule for the next five weeks was intense, but he enjoyed the fast pace of the program. In the mornings, he took three hours of calculus, followed by lunch and group study hours. In the afternoons, campus offices took turns hosting workshops to familiarize students with everything from financial aid to mental health services.
"They told me every single facet about Hopkins. We learned things that many people might not hear," says Ezekwesili. When it was time to relax, they went to Hershey Park in Pennsylvania, attended Baltimore's Caribbean Carnival, and watched the Fourth of July fireworks from Federal Hill.
"It was so much stuff that I never would have done if I was sitting back home in Houston," he says. "I feel like we had a really good advantage. We just had way more time to settle in and get ready for college."
Before the summer program ended, his mentor prepped him on the ins and outs of dorm life and told him what to pack when he returned in the fall. Looking back, Ezekwesili says the most useful advice he received was to keep his course load light that first semester. Easing in with a manageable schedule ultimately made the transition to college smoother.    
"I was worried that it would be too hard, but that gave me the confidence I needed to take on college," he says.
He enjoyed Hop-In so much that he decided to return the following summer to mentor the incoming first-year students. He viewed it as a way to give back to the program while also earning extra income over the break. To his surprise, he found that taking on a leadership role with the younger students also helped to boost his confidence and made him more outgoing. Now he's working as a fitness monitor at the Ralph S. O'Connor Recreation Center and tutors engineering students for the university's Center for Student Success.
Last summer, Ezekwesili landed a paid internship working as a piping field engineer for Bechtel in Richland, Washington. He credits his Hop-In coach—who pushed him to apply early and fine-tuned his resume—for helping him land the job. Someday he hopes to become a design engineer, possibly improving the design of commercial planes or increasing the efficiency of turbines in power plants. He's on track to graduate with his BS in mechanical engineering in 2021.
"Most limited-income students, like me, don't know what to expect of college," says Ezekwesili. "I think programs like these are really helpful, just because they show you're not the only person at college who is first-gen, limited income. And it just helps level the playing field."
Peyton Adair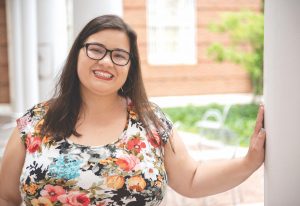 Despite graduating high school with near perfect grades, Peyton Adair says no one encouraged her to apply to a top college. Neither of her parents' education had continued past high school. Her father, who works as a factory foreman for a sugar company, suggested she attend the community college near her home in Oakley, California. Her high school guidance counselor pushed her to apply to a low-ranked state school.
"I thought, 'Are you saying that I'm not good enough?'" remembers Adair, who had her heart set on a more prestigious university.
The summer before her senior year, she received an email inviting her to apply for the Hopkins Overnight Multicultural Experience program, which invites prospective students from traditionally underrepresented backgrounds to spend a weekend living on campus with a current Johns Hopkins student. She applied on a whim, was accepted, and enjoyed the weekend so much that she applied for early admission to Johns Hopkins.
"I told my parents, and they looked it up and saw it was almost $75,000 a year. They were like, 'What the hell are you talking about?'" remembers Adair. "Nobody had ever told me how financial aid worked. I knew that people got scholarships, but I didn't know that you could get financial aid grants from your school."
She found financial aid forms online and completed the paperwork on her own. A few weeks later, she learned she was accepted to Johns Hopkins, but her financial aid award was delayed because she had accidentally submitted documents for the wrong academic year. When her correct aid package finally arrived, it covered the bulk of her costs, but she would still need to take out a modest loan. She took the deal.
"My parents were really proud that I got in, but they weren't really sure that they wanted me to go," says Adair, whose father was still nudging her toward community college. Her parents had always lived in Northern California, and it never occurred to them that their only daughter might leave the state for college. "Me moving across the country was weird and definitely not supposed to happen."
Like Ezekwesili, she was accepted into the summer Hop-In program and jumped at the chance to take Calculus 1 before the semester began. Her high school hadn't offered many of the high-level math and science courses she knew she would need as a chemical and biomolecular engineering major, and this was a chance to catch up. The group outings around Baltimore also helped her get comfortable. By the time the school year started, she was riding the Circulator bus like a pro.
But after a few months, she began to doubt herself. A lingering case of bronchitis took a toll on her studies, and she ended the fall semester with a 2.98 GPA. By the spring, she was struggling to stay afloat in Calculus 3, and she did so poorly on a physics exam that the professor called her into his office for a meeting.
"It's a shocker for somebody who's used to a 4.0," she says. "I felt like, I don't want to do this. This isn't for me."
In a moment of desperation, she filled out a transfer application to a California state university but stopped short of sending it in. She thought of her grandmother, who grew up poor and left home to work as a nanny at the age of 13. "My grandma would tell anybody and everybody that I was at Johns Hopkins. I think it would have been really embarrassing to be the first in my family to have gone to college, and moved all the way across the country … and have given up after a year."
In an effort to get back up to speed, she enrolled in a Differential Equations course over the summer with the help of Hop-In. The class helped, and she eventually brought her GPA up from a 2.5 to a 3.25. She also learned that she would no longer need student loans thanks to Michael Bloomberg's historic $1.8 billion gift in support of financial aid at Johns Hopkins—the largest-ever single contribution to a college or university.
Now, Adair believes she has finally hit her stride. She's landed internships at the Applied Physics Lab and Johnson & Johnson, and has worked as a lab researcher for two years at Johns Hopkins' Center for Nanomedicine. She's also a member of Hop-In's student advisory board, works multiple on-campus jobs, and serves as president of the Johns Hopkins chapter of the Society of Hispanic Professional Engineers—activities that she says have helped her feel more at home at Johns Hopkins. She's on track to get her master's degree at the end of 2020.
She credits her parents with giving her the work ethic that led her to succeed at Johns Hopkins. "Neither of them went to college, but they both make good money for not having gone to school, and they both work really hard at what they do," she says. "My parents instilled in me that you should always be working and trying your hardest."
Alina Andrews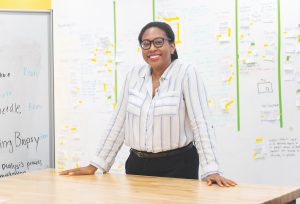 There was never any doubt that Alina Andrews was going to college. She was a straight-A student and valedictorian of her high school class—an achievement shared by three of her older sisters. "My parents really stressed education. I was always very focused. No nonsense," says Andrews, whose family emigrated from Trinidad to Miami before she was born. Her parents co-own a small computer tech company, but neither attended college. "I think that was one of their regrets, not going. My mom always says, 'You need to outdo your parents.'"
Despite having four college-educated sisters who she could turn to for advice on university life, she still faced many of the challenges that come with being a first-generation, limited-income student. The first hiccup happened when she received her acceptance to Johns Hopkins' Biomedical Engineering program and discovered that she didn't receive any financial aid. She was told her paperwork had not been submitted on time—though she was sure it had been—and there was nothing the university could do.
"I was devastated because there was no way I could afford to come here," she remembers. "Just filling out those financial aid forms, I saw we could not afford it."
Rather than decline the offer, she decided to go to Johns Hopkins for the Admitted Student Day and visit the financial aid office in person. She walked into the office of her adviser, Albertha Mellerson, and unexpectedly burst into tears.
Desperate to help, Mellerson discovered that Andrews had, in fact, submitted her paperwork. The error had been caused by a technical glitch, and the office was able to resolve the issue and offer Andrews a financial aid package: a full ride to Johns Hopkins.
Andrews joined the first cohort of Hop-In in the summer of 2015. Four years later, she still gushes about how the program changed her life for the better.
"If I didn't have Hop-In, I would go crazy. I wouldn't know what to do," she says."I don't think I would have been successful at Hopkins without it."
When she wanted to earn extra credits over the summer, Hop-In paid for two courses at universities in Florida. When she needed work experience, Hop-In helped her land an internship researching genetic deafness at a lab in Maine. And when she had problems in her personal life, Hop-In administrators were there to offer moral support.
She says the former director, Kristina Nance, was like a mother to her and the other students. "She had our numbers. She would check in on us. It's nice to know there's someone on campus who has your back."
As an incoming first-year student, the summer program was her first chance to connect with students of different backgrounds and religions—an opportunity she didn't have as the only black student at her small Christian high school.
"One of my best friends from Hop-In is Muslim; I had no interaction with [Muslim people] before," she says. In fact, Andrews says all of her closest friends are people she met through the program. "There's a bond that all Hop-In people have," she says. "Because you went through similar experiences, you click."
Andrews graduated with a BS in biomedical engineering last spring and is staying to earn her master's. In August, she traveled to Hyderabad, India, with fellow biomedical engineering students to observe clinical procedures in hospitals and villages. Someday, she dreams of becoming the clinical director of innovation for South America and the Caribbean, an imagined job where she could use her skills to develop innovative health care solutions for underserved populations.
She believes programs like Hop-In are crucial for first- generation and limited-income students like herself, who simply need a little extra support.
"We're fully capable, but we don't have the resources that other people might have," she explains. "I feel proud of myself that, despite all of these things working against me, I could still be successful and graduate with honors and go on to get my master's.
"The odds are against me, yet I'm still here."