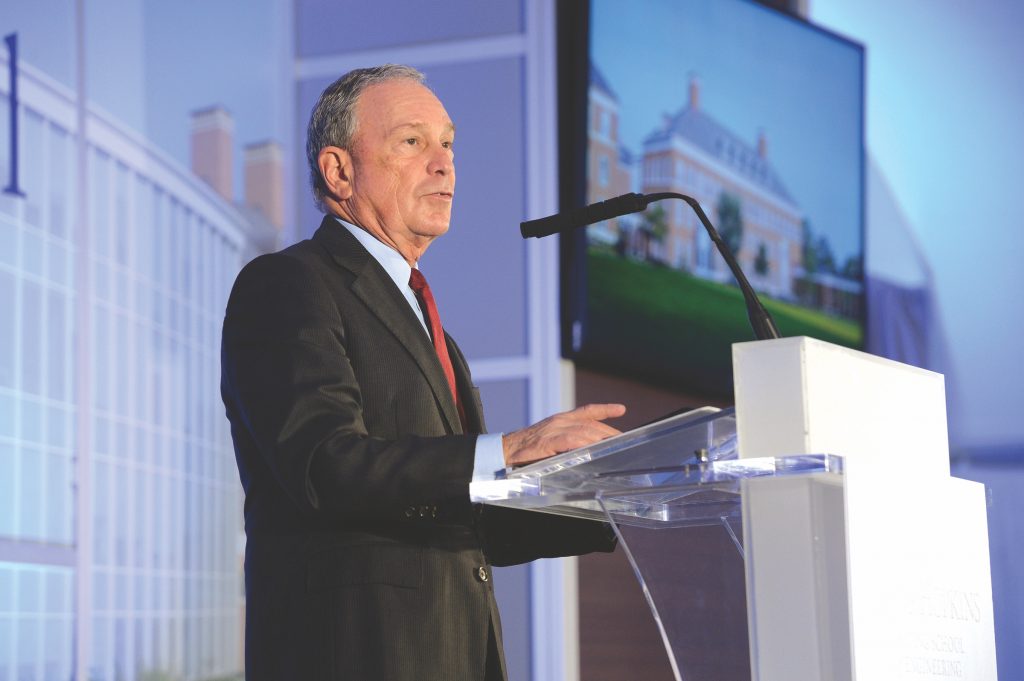 From a $5 contribution made soon after he graduated to a historic $1.8 billion gift in support of undergraduate financial aid announced last November, alumnus Michael R. Bloomberg's steadfast support, unrivaled generosity, and leadership have touched every corner of Johns Hopkins University over the past half-century —its facilities and infrastructure, its research and academic endeavors, and the quality and diversity of its student body.
To date, Bloomberg '64 has now given Johns Hopkins University more than $3.35 billion—by far the most ever by an individual to an American college or university.
Bloomberg's recent $1.8 billion gift will allow Johns Hopkins to significantly enhance its financial aid packages, and become permanently need-blind and loan-free.
The unprecedented commitment, President Ronald J. Daniels wrote in a message to the university community, "echoes and honors the example forged by Johns Hopkins almost 150 years ago." Johns Hopkins' $7 million bequest—at the time the largest philanthropic gift in U.S. history—founded the university and the Johns Hopkins Hospital.
"This historic gift reflects Mike Bloomberg's deep belief in the transformative power of higher education and his insistence that it be accessible to all qualified students, regardless of financial means," Daniels said. "It also affirms Mike's profound devotion to this university for the role that it played in enriching his life."
"I want to be sure the school that gave me a chance will be able to permanently open that same door of opportunity for generations of talented students, regardless of their ability to pay," Bloomberg said in a New York Times op-ed announcing his gift. Making admissions at Johns Hopkins forever need-blind, he said, "will allow the school to offer more generous scholarships. It will ease the burden of student debt for many graduates. And it will help open up the American dream to more young people."
In his message, Daniels expressed heartfelt gratitude and appreciation to Bloomberg and reaffirmed the university's "sincere determination, in word and in deed, to vindicate the very substantial trust he has reposed in us. We are profoundly grateful. We are truly blessed."