An assignment of an undergraduate academic advisor is your most important source of guidance for your journey through electrical and computer engineering. Your advisor is also your primary source of information with regard to the curriculum. They will aid you in your selection of technical and non-technical electives, as well as provide general advice about careers and graduate school in electrical and computer engineering.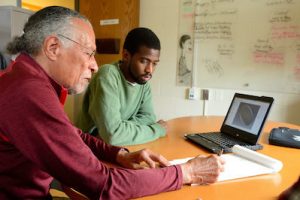 Learn more about your relationship with your advisor below, and what steps you can take to ensure you take full advantage of the dynamic.
Prior to, and as a condition for enrollment in classes each semester, you will meet with your academic advisor. Before meeting with your advisor, you should…
Take a look at the Degree Checklist Forms provided below. This form provides all key information regarding the engineering degree and should be studied closely by students.
Be sure that you are using the appropriate form based on the year you began at JHU as the degree requirements have changed over the last couple of years.
Using the Degree Checklist Form as a guide, develop a preliminary plan of classes.
During the meeting with your advisor…
Your preliminary plan of classes will be reviewed and potentially modified.
Your progress towards degree will be reviewed using the online degree audit system in SIS.
After meeting with you, your advisor will…
Record that the meeting was conducted and then "release your hold" on SIS so that you may complete your online registration.
Speaking of "releasing your hold" on SIS…
Students should be aware that no faculty member in the Department of Electrical and Computer Engineering may release a hold on SIS unless they have had a face-to-face discussion with the student regarding course planning and the progress towards their degree as represented in the Degree Checklist Form.
A couple more notes…
Your advisor is the only person who may initiate

waivers. Waivers must be approved by your advisor, as well as the Department and/or the Engineering School as appropriate.
It is useful to also meet with the engineering school-wide academic advisors. These professional staff advisors, unlike your academic advisors, are more connected to some of the broader school services available for health and wellness, tutoring, extra-curricular programs outside of the department, and direct help with the registrar. Additional information is available at

WSE Engineering Academic Advising.