The Department of Electrical and Computer Engineering (ECE) continues to provide a rigorous educational experience that prepares students for further study and to professionally and ethically practice engineering in a competitive global environment.
To achieve this, the ECE department – led by its 36-person faculty, which includes the Whiting School of Engineering Benjamin T. Rome Dean T.E. Schlesinger – provides an environment that encourages pursuing all areas of electrical and computer engineering. Our department offers five areas of research, in which our faculty are considered global experts. The research culture of the ECE department encourages collaboration, both within the department and other areas at Hopkins, to ensure the work being performed is fully capable of addressing global challenges.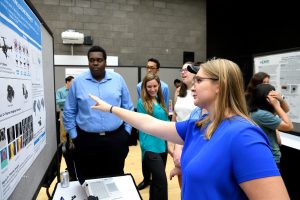 We offer degrees at the undergraduate, master's and PhD level. The undergraduate curriculum – which offers three degree options, as well as two combined bachelor's/master's tracks – focuses on teaching the fundamentals of electrical, computer and digital systems, data structures, and circuits, with an emphasis on the hands-on experiences needed to turn theory into practice. Every May, our undergraduate students also participate in Design Day, a Whiting School of Engineering event that showcases student innovation and creativity at Hopkins.
Our master's program is designed to be comprehensive and flexible, that includes courses from several areas of ECE. The department also offers 10 specialized MSE focus areas, including Computer & Neuromorphic Engineering; Image Processing and Analysis; and Control Systems, among others.
The PhD program focuses heavily on the advisor-graduate relationship. All new PhD candidates carefully matched with faculty advisors, based on mutual research interests. The duo will work closely and share in the excitement of discovery as they perform cutting-edge research.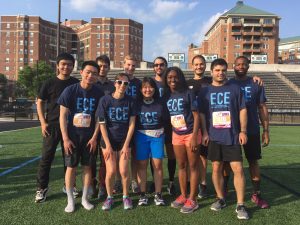 The ECE department is also a close knit community that values wellness away from the classroom as much as success within it. Students are encouraged to get involved with groups within the department – as well clubs outside of it – to build friendships that will last long after leaving the Homewood campus. Our students also pursue interests away from engineering, including athletics and volunteering in the surrounding Baltimore community.