A combined bachelor's/master's degree provides students with a number of distinct advantages:
Students graduate with a competitive edge in the job market.
Master's degrees can usually be completed in one year instead of two as undergraduate courses may be counted toward the master's degree.
After a Johns Hopkins student completes eight semesters and earns a bachelor's degree, the Whiting School of Engineering will pay 50% of the student's tuition every semester while he or she is a graduate student.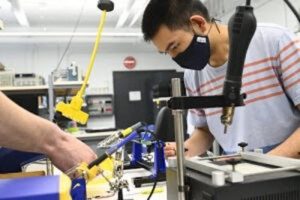 Eligibility and Application Process
This program is available to any WSE undergraduate.
Students are encouraged to discuss interest in the combined program with their advisor during the junior year to make sure they are well positioned to gain maximum benefit from the program.
The application can be submitted anytime, from the first semester of your junior year until the end end of the first semester of your senior year. If the first semester of your senior year is the fall semester, you should submit your application no later than November 15th at 11:59 PM. If the first semester of your senior year is in spring, the last day to apply is May 31st at 11:59PM. If you have missed the deadline, please talk to the academic program coordinator about alternate entry into the program.
Admission decisions are made on academic performance that includes undergraduate GPA. Students are required to submit a statement of purpose and two letters of recommendation, as well as have a 3.5 GPA.
ECE Graduate Policy on Double-Counting Courses: WSE policy allows Bachelors-Masters students to double-count two courses (400 level or higher), but also states that "If an individual program adopts double-counting policies more strict than these, the program's policies override the school-wide policies."

 

ECE does not allow double-counting undergrad courses towards a Masters Degree.

Credits can only be used to fulfill requirements under one degree, not both.
Undergraduate students can use 400 level courses to fulfill Master's level requirements while they are still registered as undergraduates, but once their undergraduate degree has been conferred, they must register for 600+ level courses.
Please note that the four-year degree program and the combined BS/MSE program have identical requirements for the BS portion of the degree.
Graduate Admissions Deadlines
| | | |
| --- | --- | --- |
| Degree Type | Date | Admission |
| PhD | December 22 | Fall Admission |
| MSE | December 22 | Fall Admission |
| MSE | September 15 | Spring Admission |
| BS/MSE | May 31 | Fall Admission |
| BS/MSE | November 15 | Spring Admission |
Inquiries about the application process should be directed to [email protected]