The Johns Hopkins University Student Chapter of the American Institute of Chemical Engineers was chartered in 1984, and serves as the primary connection between the department's undergraduate students and their future in Chemical Engineering. It is an entirely student-run organization that promotes student-faculty, student-student, and student-professional relationships through a wide range of social mixers, panel discussions, and career information sessions. Most notably, our chapter hosted the 2010 AIChE Mid-Atlantic Student Regional Conference.
For more information, please contact the Chapter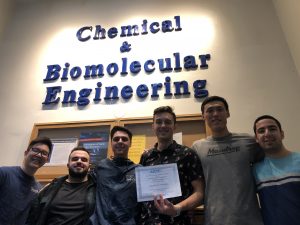 AIChE Orlando Meeting Nov. 2019 flier
Jeopardy team winners (2019), left to right: Christopher Lin, Juan Sanfield (Department of Chemistry), James Wilcox (Department of Chemistry), Christopher Domalewski. [Image: Leah Bracey / Johns Hopkins University]
The winning team beat U Penn and Pitts in the final round.   
The second team Dan Xenes, Chris Lin, Gayatri Pillai and Julian Jackson went to the semifinals but lost to U Penn.
Gayatri and Julian are going to be the team leaders for ChemE car for 2020.
On April 5, 2019 a team of eight students packed into two HopVans and headed north to Penn State University for the Mid-Atlantic Regional Chemical Car Competition hosted by AIChE. This year, the team won 1st place in the Jeopardy Competition as students were challenged with questions on the fundamentals of chemical engineering including concepts on separations, kinetics, and process safety. The curriculum prepared them for this success, along with their hobbies, as the winning team stole the board on Basketball Nicknames. The team is excited to continue their journey to the AIChE Chem-E-Car International Competition in the AIChE Annual Conference, held in Orlando, Florida this November.
Julian Jackson and Gayatri Pillai, Co-Presidents of JHU Chem-E-Car
About the co-presidents
The new presidents of chem-E-car, Gayatri and Julian, are both junior ChemBEs who have been friends since freshman year. They joined chem-E-car the fall of sophomore year where they were members of the propulsion team and helped build a propulsion mechanism using a thermoelectric generator. Gayatri took the class because her advisor, Dr. Goffin recommended it to her as a fun elective that provided an opportunity to apply principles learned in the classroom. Julian joined because his friend Juan Sanfiel recommended the class. This year, both students took leadership roles as Gayatri became the chassis team leader, while Julian lead the propulsion team. As co-presidents they look forward to leading to team to the national competition.