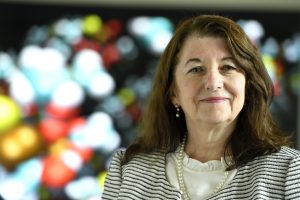 Dear Alumni, Friends, and Students:
As we move towards the holiday season, it seems like a perfect time to reflect on the past year's accomplishments. This is a very special letter for me, since it completes my first year at Hopkins and the first year as the inaugural Department Head. It has been an exciting time for ChemBE as you'll see in this newsletter with so much happening on every front: faculty additions, new staff, research accomplishments by faculty and students, and teaching-related changes and initiatives. Of special note, two of our faculty were elected to National Academies of Medicine this year, Sharon Gerecht and Denis Wirtz, an incredible achievement, bringing our national academy members to three.
As I arrived, we were fortunate to add three new faculty: Drs. Michael Tsapatsis, Efie Kokkoli, and Sakul Ratanalert. Bloomberg Distinguished Professor Tsapatsis is an NAE member, known for his research on reaction engineering, catalysis, separations, etc., and focusing on energy efficiency and process intensification. Dr. Kokkoli specializes in targeted drug delivery, creating innovative biomaterials for tissue engineering and delivery of therapeutics for new cancer treatments. Dr. Ratanalert is a Lecturer with chemical engineering degrees from MIT and Cornell. He is specializing in advancing teaching pedagogy to improve the education of our students.
It has been a pleasure to learn the hallmarks of the undergraduate Blue Jays and see how self-driven and talented they are. In fact, USN&WR ranks the high school-related metrics of the matriculating undergraduates as #2 in the country. And we have lots of these wonderful students, over 350 of them. This ranks us in the top 6 largest producers of BS chemical engineers from private schools and, with Cornell, the only two Tier 1 research schools. Our graduate programs are also burgeoning, with around 100 Masters degree candidates and over 120 PhD students.
Our research productivity is incredibly impressive (overall, Hopkins is #1 in research funding nationwide), especially since we are still just 20 faculty. But we are growing there too: We have two openings for teaching specialists and two that we are just announcing to add exciting new areas to our research faculty.
I am so honored to be leading this wonderful group of faculty, staff and students. I hope you enjoy this newsletter and that you come and visit us soon. Our doors are always open.
Happy Holidays!
Paulette Clancy