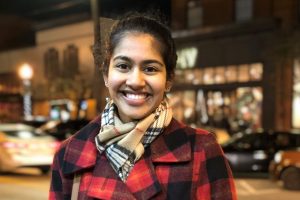 This project is a collaboration between Dr. Vicky Nguyen's lab in the Department of Mechanical Engineering and Dr. Mostafa Borahay's group in the Department of Gynecology and Obstetrics at JHMI. The overall goal is to understand if the drug simvastatin is effective at reducing the stiffness of uterine fibroid tissue. Manasi's role in this project involves creating a protocol and conducting compression tests to characterize and assess the tissues' mechanical properties (like stress, strain, and fiber anisotropy) in response to simvastatin. Though uterine fibroids are a very common disease, there are only a few non-surgical options for reducing the symptoms.
"Through this project, my hope is that simvastatin can be a safe and effective pharmacological treatment, which could be monumental in accessibility to treatment and the comfort of the patient" Manasi says.
Please join us in congratulating Manasi on her impressive recognition!