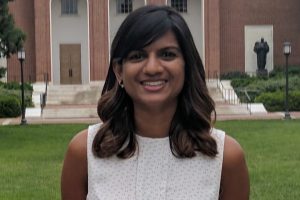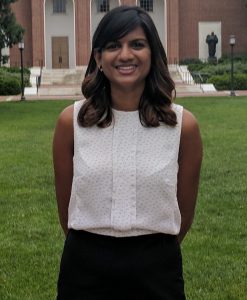 In the spring of 2017, Hasini Jayatilaka (BS '13, PhD '16) and colleagues published a paper describing a discovery that could help stop the spread of cancer.
They found that when cancer cells reach a certain density within a tumor, a biochemical signaling process causes them to break away from the tumor and metastasize to other parts of the body. They also found that two existing medications, used in combination, can interrupt that process and slow metastasis, the phenomenon responsible for 90 percent of cancer deaths.
The findings—sparked by an idea Jayatilaka had in class during her sophomore year— have made waves nationally and internationally. Their paper is one of the most read in Nature Communications. Jayatilaka has been interviewed by multiple news sources around the globe, is scheduled to deliver a TEDx talk in the fall of 2017, is nominated for Forbes 30 under 30, and has her own hashtag: #hasinieffect.
But as the Colombo, Sri Lanka native completes her post-doctoral fellowship in the lab where she made the discovery and earned her PhD, and transitions into a career in academia, she says that what she will carry with her from the ChemBE department is the people—both students and faculty.
"The professors are very friendly; always very willing to help you figure out a research problem, or what internship to do, or what your career should look like," Jayatilaka says.
In particular, Jayatilaka says the women in the department have become role models both professionally and personally, showing her how to be a great teacher and a strong woman in a competitive field. "I used to wonder, 'do I have to pick between family and a career?' But here are women who are doing both, and doing an amazing job," she says. "Ages ago I would have wondered what people could want to know from me. Being around these women has really pushed me not to be afraid to voice my opinions and sit at the table and really contribute."
Jayatilaka was attracted to Hopkins on the strength of its research and medical breakthroughs, but it wasn't until the end of her freshman year that her interests in biology, physics, chemistry, and math coalesced into a ChemBE major. She stayed in the department for her doctoral studies, slowly developing her initial theory into the work described in the paper. "It was a huge collective effort of professors, undergrads, master's and PhD students, and post-docs," she says.
While the accolades keep flowing, Jayatilaka is already looking toward the next step in her research. She plans to continue to investigate the metastatic cascade, and to expand those studies to include tumor growth. One long-term result could be a second drug cocktail, this one taking a two-pronged approach to target the growth as well as the spread of cancer.
Academia, she adds, feels like the right venue to continue the work. "When this started, this was a crazy idea I had," she says of her research. "I want to be in a space where I'm able to pursue similar crazy ideas, and mentor students who come up with crazy ideas."
Outside of the lab, Jayatilaka travels with friends or family, having visited China, Vietnam, Alaska, Mexico, and Iceland, among other destinations. She used to volunteer at Baltimore's animal shelter, and now shares her home with two former residents: her cats, Boots and Stella. And she practices yoga, replacing the activity that once seemed likely to become her full-time life: while in high school, she won medals for Sri Lanka playing tennis on the national squad.