Student Profile

Leaving a comfort zone, finding a family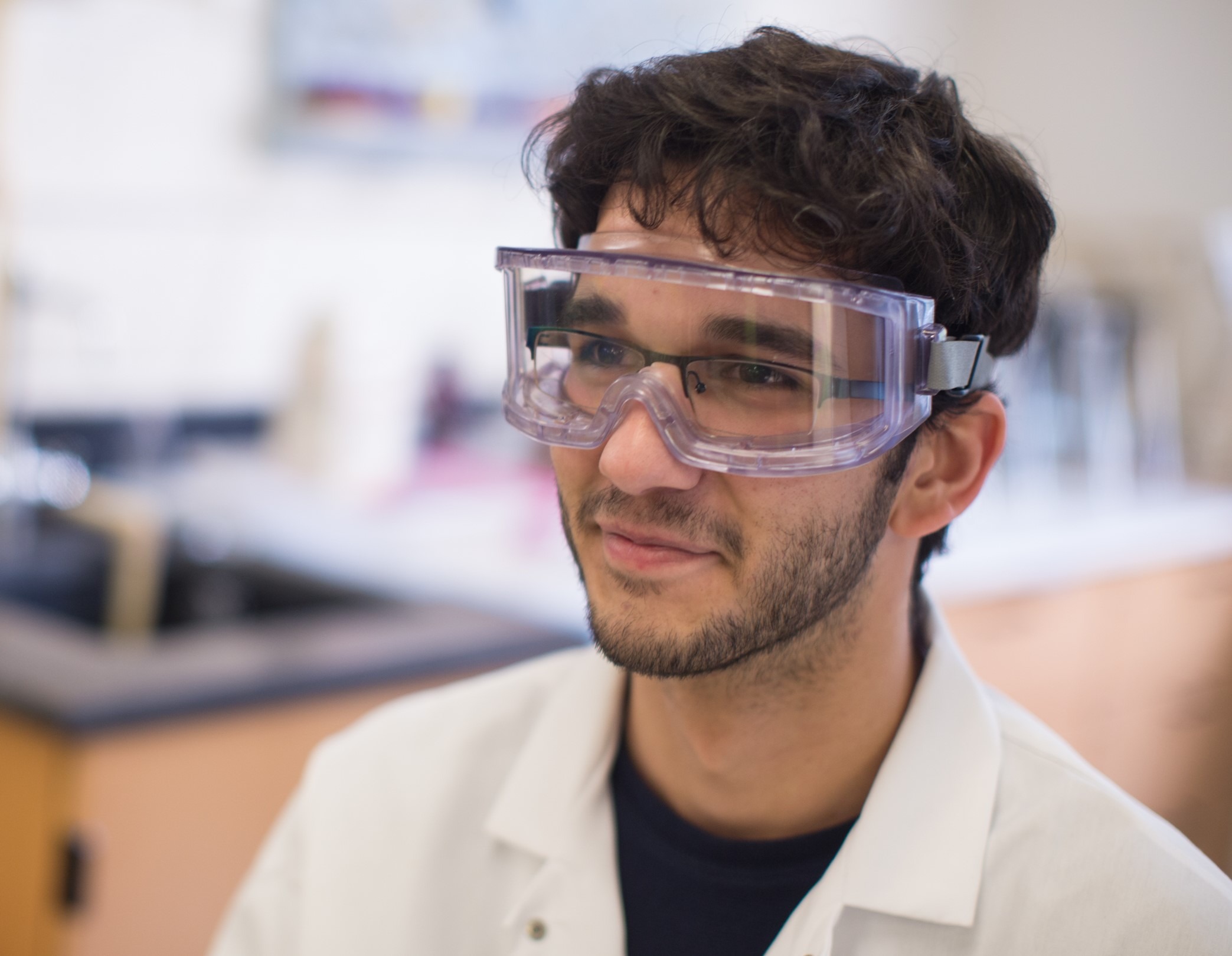 A funny thing happened when Luis Rodriguez '18 was asked about his favorite experience in the ChemBE department. His answer, which came as a surprise even to him, was… homework.
"Every time I've gotten to work in a team with friends, I've gotten closer to them and it's made engineering easier," Rodriguez says. "I guess my favorite times were all the hard homework assignments, because even though they were hard and sometimes you really don't know what to do, it is amazing when you figure it out together. It's so hard, but then the level of stress that you had, becomes that same level of satisfaction.
"Thinking about it now, that means that all those times I've been stressed about homework, I've also had fun and hadn't realized it."
Rodriguez, who was born in Cuba and moved to Miami at age 11, first saw Johns Hopkins on a "fly-in," a free visit for under-represented first-generation college students. He connected with some engineering professors, decided to apply, and was so excited when he learned he'd been accepted that he never got around to eating dinner that night.
During his first semester, he took a class in chemistry, which he'd never studied in high school, and realized how much he liked it. But he was torn, because he wanted to stay in the engineering school. That's when he learned about ChemBE, which has been his major ever since.
Also in his first semester, Rodriguez signed up for Chem E Car, a student-run project team in which undergrads from all majors work together to design and build model cars powered and stopped purely by chemical reactions. The experience epitomizes his time at Johns Hopkins, Rodriguez says. Arriving as a self-described timid freshman, he was happily forced from his comfort zone by the need to interact with his teammates. He also embraced the chance for some hands-on learning.
"Hopkins makes you change in that way," Rodriguez says. "I was introduced to a lot of teams—the car, and my research team, and class projects—and you get pushed into being an engineer who doesn't just do things for yourself, but with other people."
Rodriguez's research team also helped set him on the path he expects to follow after graduation. A transport class got him excited about microfluidics, so he started working in the professor's lab, assisting with a NASA project. "Chemical engineering principles are often abstract, but in microfluidics, you see exactly what you're doing, you have a product that you want to accomplish a goal, and you work toward that," he says.
While working in the lab, Rodriguez realized he was interested in microfluidics' computational aspects. That led to a series of internships at the Johns Hopkins University Applied Physics Laboratory (JHUAPL), where he got hooked on software engineering. He's planning to follow this passion by working at APL after graduation, earning a master's degree, and pursuing a software engineering position in the pharmaceutical industry.
And Rodriguez hopes that working in pharmaceuticals will bring him full circle to the moment his commitment to science began, when he was in high school and his father had heart failure. He doesn't necessarily plan to focus on cardiology, but says he wants to make his father—now 75—proud by graduating from college, doing things no one in his family has yet done, and contributing to medicine one way or another.
"I'd like to help give people more years to be with someone and to lower the number of scares that families have with conditions like heart failure or diabetes attacks," Rodriguez says. "At the end of the day, I want to come back to that; to what I was thinking the day it happened to my father, and afterward."
Meanwhile, Rodriguez is putting to work the pharmaceutical connections he's already made by launching a Johns Hopkins chapter of the International Society for Pharmaceutical Engineering, which will bring speakers from companies like AstraZeneca, Merck, and Genentech to campus, and help future students network and land internships and jobs.
When he graduates in the spring, Rodriguez says he will be leaving behind a family that he's grown to depend on. "The ChemBE community is close-knit and not competitive whatsoever; we all want the best for each other," he says. "When anybody in our class gets an interview or a job, it's like we all get a job."