Student Profile

Harnessing the power of the particle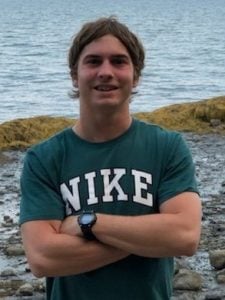 If you can get tiny particles to self-assemble into crystal structures, there's no end to the products you can create: cosmetics, petroleum products, and solar panels, for example.
ChemBE major Zachary Schmidt, a junior, explores this process in the lab. Under microscopes, he and his undergrad and graduate colleagues apply electrical fields to nanoparticles to learn the ways they form crystal structures—a type of fundamental research that is contributing to knowledge of how the particles behave under certain conditions. Their findings will shed light on how the particles' properties might be manipulated to make products work better; for example, helping cosmetic foundation stick to faces and not to clothing, or retaining the "just-washed" scent of shampoo in hair.
"There are not a lot of labs combining electricity and nanoparticles," Schmidt says. "If you're able to configure the particles in a certain way, the material will be different, so you can create novel materials."
Schmidt, a native of St. Louis, knew he wanted to enter a field related to chemistry, and chose Johns Hopkins for the reputation of its engineering program and the hardworking and committed vibe he got from students during a campus visit. With an interest in renewable energy, he chose ChemBE as a "versatile" major. In the future, he hopes to work on renewable applications like solar panels or fuel cells.
"I'd like to contribute to energy solutions from a chemical engineering point of view," he says.
Outside of the classroom and the lab, Schmidt is a near-daily practitioner of CrossFit, continuing an athletic career he began in high school. "Being an athlete really complements being a student," he says.
After graduation, Schmidt anticipates bringing with him new skills in time management and a new appreciation for collaborative effort. "The research experience and collaborating with other people is really beneficial," Schmidt says. "I'll find little tricks to improve the processes we do and my lab mates will do the same, and we kind of feed off each other. It's more true to an actual engineering environment."