Student Profile

Embracing the impossible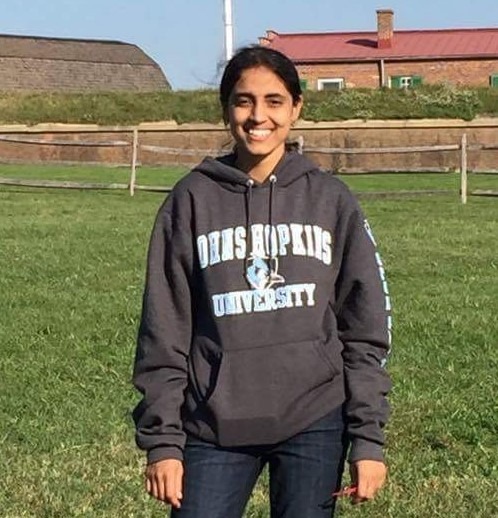 Gayatri Dhara
, First year
Hyderabad, India
When Gayatri Dhara came to ChemBE at Johns Hopkins, she found a whole new approach to research.
A native of Hyderabad, India, Dhara earned her bachelor's degree in chemical engineering at Birla Institute of Technology and Science, Pilani, Hyderabad and then worked in the bioprocess division of Dr. Reddy's Laboratories Ltd, also in Hyderabad. Now embarking on the first year of her PhD in the ChemBE department after completing her master's degree here in 2017, she says her perspective toward research methodology has transformed into one where just about anything is possible.
"Here, even if a problem does not look achievable, we pursue it and at least take the first step," Dhara says. "I will definitely be a more intellectually advanced person. I can take the liberty to dream better."
Dhara spends her days focused on bioprocessing in a lab devoted to using molecular biology techniques to make genetic modifications to mammalian cells, which are used to produce biopharmaceuticals. In the future, she anticipates a career in industry, using the ideas and techniques she is learning now to develop better processes for developing or improving cancer drugs.
Meanwhile, she is thriving in a lab characterized by its teamwork and collaboration. "When a discussion starts, it goes on and on and a lot of information is exchanged," she says. "That increases your knowledge base; you get a new angle to target." The PI makes no distinction between master's and doctoral students, she says; he invests in everyone equally, takes everyone seriously, and holds everyone to the same high standards. "That really helps motivate people to do well," Dhara says.
Coming to Hopkins was something of a leap of faith for Dhara and her family, who made significant financial sacrifices to send her here. Dhara soon found a source of income as a teaching assistant, and believes she is exactly where she needs to be to build the innovative, interdisciplinary career she envisions for herself.
"I thought coming to Hopkins would be the greatest risk of my life, but it turned out to be the best decision I ever made," she says.