Student Profile

Doctoral student uses grants to build gender equity in the sciences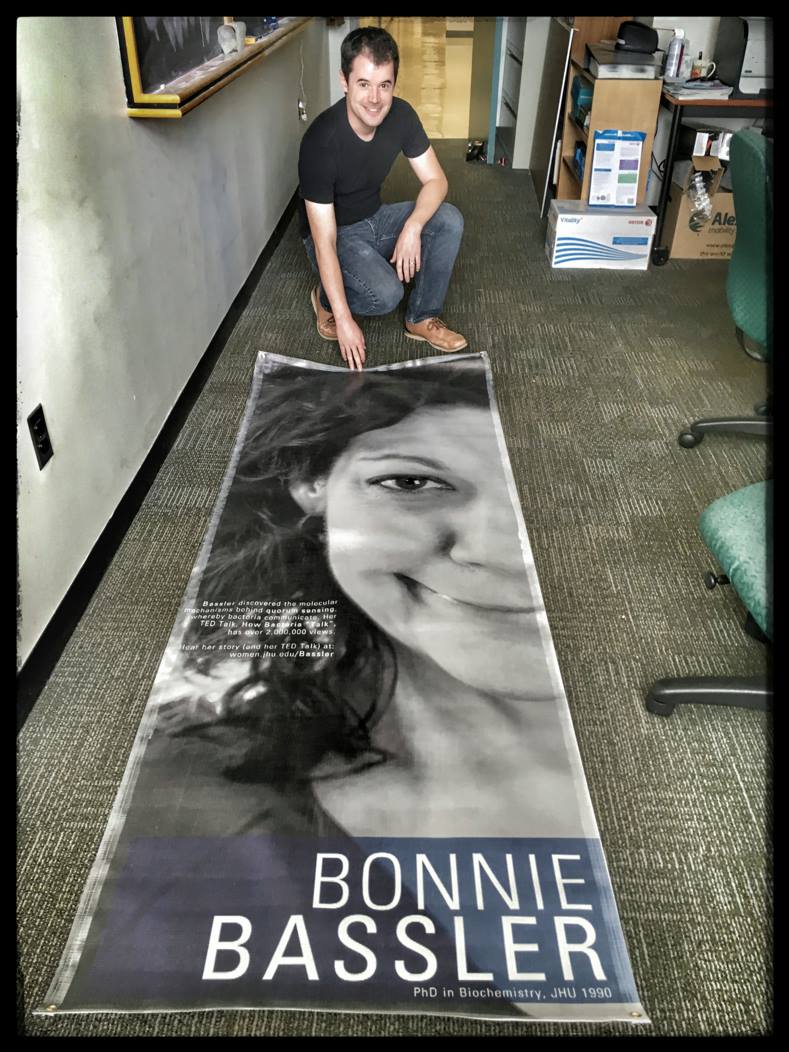 Dominic Scalise has a 75-year plan. That's how long he believes it will take to create the chemical computer he's developing as a ChemBE PhD candidate.
But he's hoping that a project he's working on to battle gender disparity in the sciences and to bring more women into STEM fields will translate into shorter wait times for new developments like his. The gender gap in science, technology, engineering, and math fields reflects both injustice against people aspiring to be scientists, and untold missed opportunities for discovery and innovation, Scalise says.
"If we aren't trying to solve gender equity problems, if we aren't trying to break down gender barriers, we're not just doing the wrong thing, but we're losing our ability to innovate at the fastest rate possible," he says.
Scalise is part of a Johns Hopkins grassroots effort called Achieving Gender Equity in Sciences, which holds seminars and workshops to explore and address barriers women face in STEM careers. In October 2016, the group mounted "The Women of Hopkins," a Mattin Center exhibit comprising 23 giant photos of women who served as trailblazers during or after their Hopkins careers in fields ranging from government to arts to science. The 3- by 8-foot photos, printed on mesh screens currently filling the tall windows surrounding the courtyard, serve as tangible balance to the numerous male portraits around the Homewood campus and the stories they tell—both of Hopkins itself and of who its current students might become.
Scalise became aware of this gender imbalance while earning his BS in mechanical engineering at UC Berkeley, where just 12 percent of students in his major were women. Research backs up his concerns: One 2014 study found that large business offices of just one gender produced 41 percent less revenue on average than gender-diverse offices. In a 2012 study, investigators sent CVs to university labs around the country seeking lab managers—the CVs were identical except that the applicant in half of them was named "Jennifer," while the other half represented "John." Faculty of both genders rated "John" more hirable, and would have offered him a higher salary and more mentoring opportunities.
Once aware of these inequities, Scalise says he couldn't sit on the sidelines while scientific potential kept draining away. "If we took some other random attribute, and said we'll throw away all the scientists whose names start with a certain letter, we might go back and we wouldn't have Einstein, for example. We'd have huge losses. So we can look forward and say we don't want more losses, or we can look back and say there are huge discoveries that haven't been made, or were made later than necessary," Scalise says. As a member of Achieving Gender Equity in Sciences, he applied for and received two $2,500 grants from the Johns Hopkins University Diversity Leadership Council: one for the portrait gallery and the other to hold diversity-related reading groups within ChemBE.
The photo exhibit is the most public of the group's projects to date, but it will be far from the last, Scalise says. Group members—including founder Karen Fleming, professor of biophysics in the Krieger School of Arts and Sciences; ChemBE professor Jeffrey Gray; Jeannine Heynes, director of the Office of Gender Equity; and Scalise's fellow ChemBE PhD candidate Anna Coughlan—hope to make some form of the exhibit permanent and to bring some of its honorees to speak on campus, along with continuing departmental workshops discussing gender equity research.
"Once the issue comes to the attention of a scientist or engineer who prides himself or herself on a lifetime of looking at data, evaluating it objectively, and finding solutions—when they see heroines at Hopkins who've done incredible things—I hope they start addressing changes in everyday life," Scalise says. "The goal is culture change. These problems would stop instantly if we stopped doing them."
"Culture does not make people. People make culture. If it is true that the full humanity of women is not our culture, then we can and must make it our culture."
—Author Chimamanda Ngozi Adichie
MA, Writing Seminars, 2003