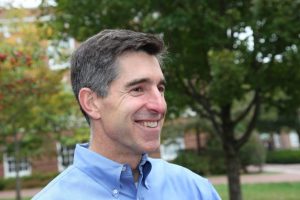 The U.S. Department of Defense has selected Johns Hopkins University to lead an alliance of major research institutions in an effort to understand, predict, and control the behavior of materials in extreme conditions caused by weapons of mass destruction.
The urgency of developing more efficient materials to defeat such weapons has been amplified by the worldwide health and economic damage inflicted in just a few weeks by COVID-19.
The Defense Threat Reduction Agency (DTRA) is awarding nearly $30 million over five years to establish the Materials Science in Extreme Environments University Research Alliance (MSEE URA), a center directed by Tim Weihs, a professor of materials science and engineering in the Whiting School of Engineering. Weihs is an expert in developing novel materials to defeat chemical warfare agents such as sarin gas and biological agents such as Bacillus anthracis that causes anthrax.
The alliance of 18 institutions includes four permanent universities, each with a technical expert who will work collaboratively with Weihs to manage the consortium. They include Todd Hufnagel, also from Johns Hopkins, an expert in material properties and failure; Michael Zachariah, a leader in materials synthesis from the University of California at Riverside; Nick Glumac, an authority in the chemistry of combustion events from the University of Illinois at Urbana-Champaign; and Farhat Beg, an expert in photon-material interactions from the University of California at San Diego.
The award creates the second major university consortium based at Johns Hopkins and funded by the Department of Defense in recent years. The University Research Alliance will be a center within the Hopkins Extreme Materials Institute (HEMI), an institute which bridges the Whiting School of Engineering, the Krieger School of Arts and Sciences, and Johns Hopkins Applied Physics Laboratory.
Such cooperative efforts enable researchers from across the nation to collaborate more effectively, to deliver results faster, and "to train, mentor, and inspire a new generation of students, many of whom will go on to work at federal laboratories and agencies," Weihs said.
The University Research Alliance will "advance the fundamental understanding of materials and chemistries under extreme conditions of pressure, temperature, and radiation." The consortium's work will produce diagnostic tools, advanced materials, and models that the team will help transition into applied research programs at DTRA.
"We cannot fully understand that which we cannot observe," Hufnagel said.
The group will use and enhance "innovative experimental facilities and diagnostics that permit critical, as-yet-unachievable observations of materials under extreme conditions" common when countering weapons of mass destruction. Such facilities include the Johns Hopkins University's Hypervelocity Facility for Impact Research Experiments (HyFIRE) with x-ray, laser, hyperspectral, and video diagnostics; the University of Rochester's Omega Laser Facility with x-ray and particle diagnostics tools; and the University of Illinois' blast chamber with high-resolution infrared transmission spectroscopy.
"We aim to understand and predict how materials behave in two extreme environments of relevance to the Defense Threat Reduction Agency's mission: an explosive fireball intended to defeat chemical and biological warfare agents and a mid-phase nuclear fireball interacting with its surroundings," Weihs said.
The contract, which could extend to nine years, also includes an effort to devise materials capable of protecting strategic systems from being rendered inoperable by a nuclear explosion in space.