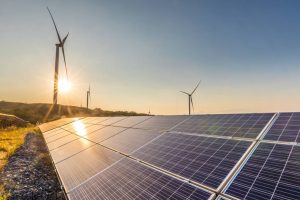 Johns Hopkins University's Whiting School of Engineering announces the creation of the Ralph O'Connor Sustainable Energy Institute (ROSEI), a major university-wide research initiative focused on advancing renewable, and sustainable energy technologies, educating future energy leaders, and supporting the implementation, markets, and polices that promote an affordable and equitable green energy future for a more resilient world.
Based in the Whiting School of Engineering and led by Benjamin Schafer, the Willard and Lillian Hackerman Professor of Civil and Systems Engineering, the institute's affiliated faculty members come from multiple engineering disciplines and university divisions, including Johns Hopkins' Krieger School of Arts and Sciences, Bloomberg School of Public Health, School of Advanced International Studies, and Applied Physics Laboratory.
Launched with a $20 million gift from the estate of trustee emeritus and alumnus Ralph S. O'Connor '51, this ambitious and wide-ranging effort will serve as the catalyst of a new $75 million, 10-year investment in energy-related research and education by the Whiting School and the university.