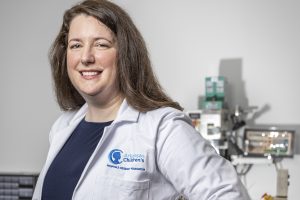 This Q&A is part of a series with the 2021 cohort of the Hopkins Engineering Alumni Spotlight Recognition Program.
---
Tara Johnson is a child neurologist and assistant professor of pediatrics at the University of Arkansas for Medical Sciences and Arkansas Children's Hospital, with special interests in neurodevelopmental disorders in infants and children. After graduating with a BS in Biomedical Engineering from the Johns Hopkins University and a BM in Horn Performance from the Peabody Conservatory, she earned her medical degree from the Johns Hopkins University School of Medicine. She completed her pediatrics residency at St. Christopher's Hospital for Children and her neurodevelopmental disabilities residency at Kennedy Krieger Institute and the Johns Hopkins Hospital. She is board certified in pediatrics and is board eligible in child neurology. Integrating her biomedical engineering research background with her clinical knowledge of neurodevelopmental medicine, she aims to identify and evaluate high-risk children at an early age to provide more effective treatment and rehabilitative alternatives for those with neurodevelopmental disorders.
What does your Hopkins education mean to you? How did it help you in your career?
Johns Hopkins provided me with a strong educational background, both in engineering and music. I was able to diversify academically in college, and I thoroughly enjoyed my experiences at WSE and at Peabody.  My coursework was challenging, and my professors, teaching assistants, and fellow students all wanted me to succeed.  As an early career faculty member, I recognize the value of my training.  As a student, I learned the material in my classes, and I applied my knowledge to a variety of real-world problems, working as a team member and team leader on various projects. I learned to think creatively to develop solutions to challenging problems.  My passion for life-long learning was encouraged, and as an early career academic, I continue to challenge myself every day.
What is one piece of advice you have for current Whiting School students and/or other WSE alumni?
Take advantage of the many opportunities at Johns Hopkins. You are already on your way to building an amazing network of friends and colleagues. Participate in student clubs, engage in volunteer activities, and explore career options by doing research or taking part in internships. Your connections will last a lifetime.
What is your favorite memory from your time at Johns Hopkins. Either inside or outside of the classroom?
It is hard to pinpoint just one favorite memory, as I enjoyed so many experiences both inside and outside of the classroom. In class, I learned from professors who were passionate about research and teaching. Outside of class, I engaged in student activities and developed friendships which have lasted beyond my college years.
Hopkins Engineering Alumni Spotlight Recognition Program
The Spotlight Recognition Program is an annual program that helps identify WSE alumni doing impactful and innovative work in their chosen fields and celebrates their accomplishments and connects them back with the institution and greater engineering community.