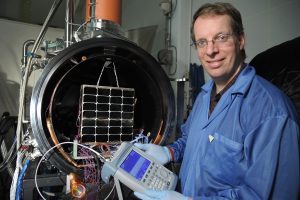 This Q&A is part of a series with the 2021 cohort of the Hopkins Engineering Alumni Spotlight Recognition Program.
---
Paul Jaffe is an electronics engineer and researcher with more than 25 years of experience at the U.S. Naval Research Laboratory (NRL). He has led or held major roles on dozens of space missions and on breakthrough technology development projects for civilian, defense, and intelligence community sponsors, including SSULI, STEREO, TacSat-1, TacSat-4, ORS, MIS, PRAM, CARINA, RSGS, PTROL, S2FOBs, and LEctenna. He was responsible for electrical system and spacecraft computer hardware development. He served as coordinator and editor of two seminal solar power satellite study reports and was the principal investigator for a ground-breaking space solar research effort. His current roles include program management and systems engineering of a portfolio of projects. He serves as a lecturer for the Department of Aerospace Engineering at the University of Maryland. He has more than 50 journal, conference, and patent publications, and is the recipient of numerous awards. Jaffe has made many international speaking and media appearances, including as a TEDx speaker, on MSNBC, CuriosityStream, and the Science Channel's "Through the Wormhole with Morgan Freeman." He is also active in educational and STEM outreach.
What does your Hopkins education mean to you? How did it help you in your career?
My Hopkins education unlocked new horizons for me personally and professionally, both because of the quality of the program and the opportunity to interact with world-class practicing engineers. My career benefited not only from the knowledge and experience I gained, but also from connecting to a vibrant network of expertise and opportunities. I still interact with many of the instructors and students I connected with during my time at Hopkins over fifteen years ago.
What is one piece of advice you have for current Whiting School students and/or other WSE alumni?
Step back, try to see things in context, and ask yourself "Why am I doing this?" Most of us constantly strive to balance our efforts in trying to save or savor the world, and the Whiting School offers the opportunity to enhance our abilities to do both.
What is your favorite memory from your time at Johns Hopkins. Either inside or outside of the classroom?
While I don't have a specific moment that stands out as a favorite memory, I found my time spent in courses taught by Dan Jablonski to be absolutely transformative. He enlarged and diversified my perspective on education and life in profound ways and set me on a trajectory that led to my pursuing a doctorate and teaching at the graduate level myself.
Hopkins Engineering Alumni Spotlight Recognition Program
The Spotlight Recognition Program is an annual program that helps identify WSE alumni doing impactful and innovative work in their chosen fields and celebrates their accomplishments and connects them back with the institution and greater engineering community.