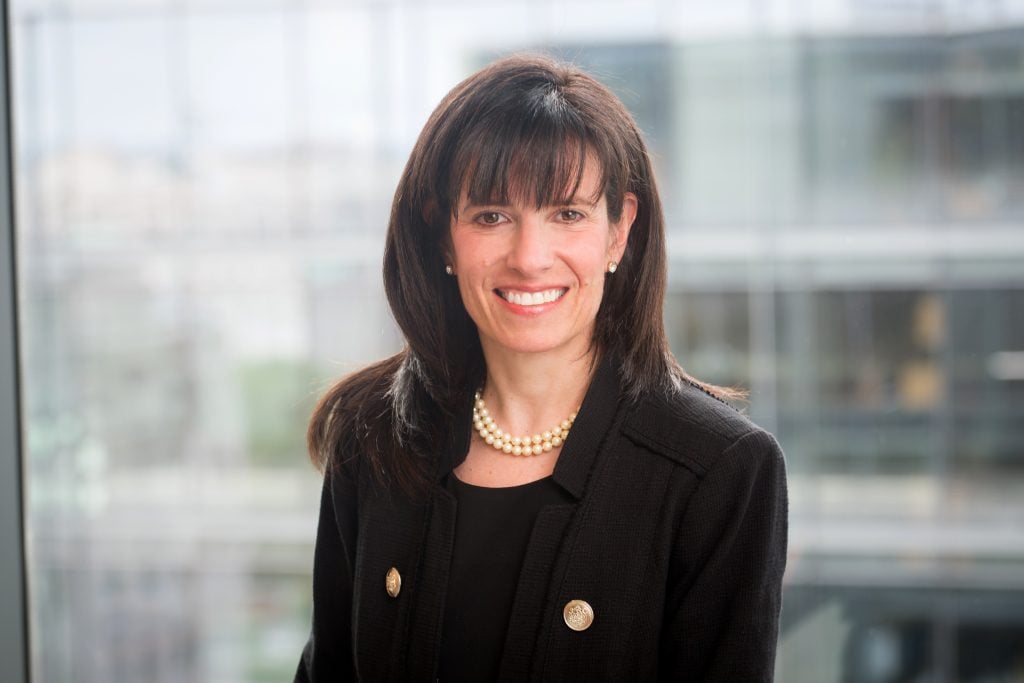 One day in March of 2013, Phyllis Schneck '92, MS '93, was sitting at her desk at McAfee Inc., where she served as the chief technology officer for the global public sector, when her phone rang. It was Suzanne Spaulding, soon-to-be undersecretary of the National Protection and Programs Directorate at the Department of Homeland Security, with a question: Would Schneck serve as her deputy undersecretary for cybersecurity and communications?
Fast forward through many interviews to the moment a few months later when Schneck learned she'd been selected for the nomination. Her close family members—some of the very few people with whom she was permitted to share this news while she began the blur of vetting and onboarding—questioned whether it was in her best interest to proceed. But for her, serving was the honor of her career, and she was a natural fit for the job.
Schneck started her journey in computer science in 1988 as an undergraduate at Johns Hopkins. As a senior, she worked with computer science professor Steven Salzberg on a project developing machine-learning algorithms to distinguish faraway stars and galaxies using Hubble Space Telescope data—work still being applied today.
After being recruited into a doctoral program at Georgia Tech, Schneck found herself drawn into the budding field of cybersecurity, becoming the school's first cybersecurity PhD student. She developed new high-performance computing techniques to mitigate the delays caused by encryption algorithms and patented this work to start a new company, Avalon Communications, eventually selling it to the company now known as Secureworks.
Schneck served in leadership roles at other information security companies, in addition to McAfee, before becoming the chief cybersecurity official at the Department of Homeland Security.
"It was a different and amazing experience," she says. "In a normal job, you figure out where things are, meet people, and you build a plan and a vision. But every day in the government, there's a new fire to get under control from technology, national security, and global policy perspectives."
After leaving the DHS, she took a position leading cybersecurity efforts for Promontory Financial Group, an IBM company, where she remains today. There, her team works hard and plays hard—just like her former fellow Johns Hopkins students, she says. Promontory is working to manage risk and enable resilience within some of the top companies worldwide, protecting them from cybercrime, money laundering, fraud, and information theft.
"I have no idea what my career will look like in 20 years, and that's by design. I've never planned where I've ended up," she says. "But exciting things find me, as I found Johns Hopkins."