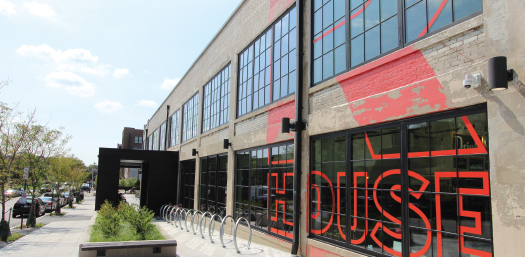 Just a few blocks from tree-lined Homewood campus, in Baltimore's trendy Remington neighborhood, Johns Hopkins University has opened FastForward R. House, its second major innovation space in six months.
With 9,000 square feet of office, meeting, and lab space, FastForward R. House will provide facilities for innovators developing software, devices, and other technologies across an array of industries, including health care, cybersecurity, and manufacturing. FastForward 1812 opened on the medical campus in April 2017. These are the latest endeavors to support the burgeoning entrepreneurial ecosystem at Johns Hopkins.
"FastForward R. House is purpose-built—combining affordable space, state-of-the-art equipment, and support services to spur the development of promising ventures into sustainable businesses," says Brian Stansky, Johns Hopkins Technology Ventures' senior director of FastForward.
The renovated warehouse supports startups at all stages—whether they need an individual desk, a whole office suite, or a full Biosafety Level-2 wet lab. It features conferencing and meeting spaces, full-time lab and office managers, shared scientific instruments, a makerspace with 3-D printers, free Wi-Fi, and unlimited coffee.
Many scientific instruments at FastForward R. House originated at FastForward Homewood, the university's first innovation hub opened by the Whiting School of Engineering in Baltimore's historic Stieff Silver Building in 2013. "We're grateful that the Whiting School of Engineering had the vision to create FastForward," says JHTV Head Christy Wyskiel. "We hope to continue building on their foundation."
Johns Hopkins is among the top 10 institutions worldwide to receive U.S. patents, according to the National Academy of Inventors and the Intellectual Property Owners Association.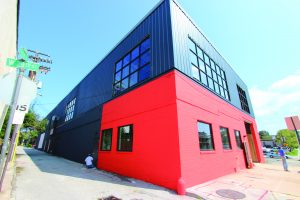 In 2018, Johns Hopkins will open its second student-dedicated innovation hub, FastForward U, across from FastForward R. House. FastForward East, now known as FastForward U-East, transitioned to a student space on the Johns Hopkins medical campus earlier this year.
"We want to ensure the brilliant minds at Johns Hopkins and across Baltimore have the resources they need to build the solutions of tomorrow, today," Wyskiel says. "If they start, stay, and grow here, it will benefit our university, our city, and people around the world."