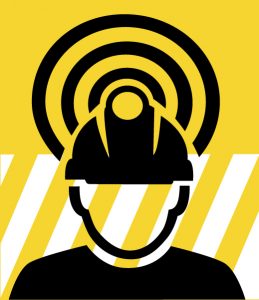 High-Tech Hardhats
Tony Dahbura, MS '82, PhD '84, executive director of the Johns Hopkins University Information Security Institute, was talking shop with his son when the younger Dahbura, owner of a demolition company, expressed concern about employee safety. His worry: Large cranes or trucks might accidently crush a worker because it is so difficult for heavy equipment operators to "see" blind spots on a job site.
Seeking a solution, the elder Dahbura turned to several students in his Computer Science Innovation and Entrepreneurship class, who already were working on Bluetooth-enabled beacon technology. The team—Dahbura, Sunyan Lee '16, and Stanley Ho '16—sketched out a concept and worked on a patent disclosure. Their idea: Beacons embedded in workers' hardhats (moving around on the job site) transmit data to stationary sensors on equipment. This enables the hardhats to "beam" their locations to computer screens mounted in the cabs of heavy equipment.
After receiving a grant from the Whiting School's Cohen Translational Engineering Fund, set up by Neil Cohen '83 and his wife, Sherry, to fund translational research, the undergraduates are working with co-mentors Sathappan Ramesh and Philippe Pouliquen to design a prototype to be tested this year.
— MARY BETH REGAN
---
On Your Feet!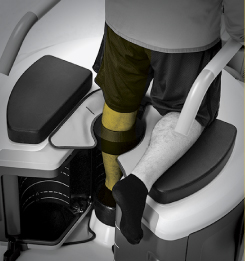 A new type of CT scanner, the product of research from a team led by biomedical engineering professor Jeffrey Siewerdsen, has been approved for commercial use by the U.S. Food and Drug Administration. The scanner allows patients to stand (rather than lie flat) as it examines the joints of their feet, ankles, or knees. Because those joints are bearing weight when the standing patient is being scanned, health care practitioners can detect issues that might not otherwise be evident.
Developed in part with Carestream Health of Rochester, New York, the new scanner also provides higher-quality images at lower radiation levels. Compared to a conventional CT scanner, the new scanner is able to show not just fine bone details, but also cartilage, tendons, and ligaments. Because of the negligible radiation issues, clinics can install them without a need for shielded rooms, as is standard with conventional CT scanners.
The product was invented through an academic-industry partnership and translated to clinical trials at the Johns Hopkins Hospital. The exclusive licensing deal was handled by Johns Hopkins Technology Ventures.
— MICHAEL BLUMFIELD
---
Toward Better Tissue Repair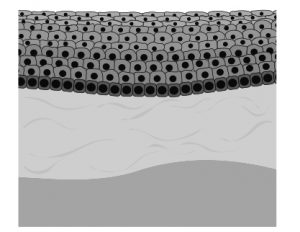 Patients with soft tissue damage will experience dramatic improvements when treated with LifeSprout Tissue Regenerative Matrix, made from biodegradable materials. Materials science professor Hai-Quan Mao, associate director of the Institute for NanoBioTechnology, collaborating with Johns Hopkins School of Medicine faculty members Justin Sacks and Sashank Reddy, developed the technology that combines a tissue-plumping hydrogel with a cell-supporting nanofiber framework.
The nanofibers are composed of surgical sutures already commonly used in the clinic, and the hydrogel is made of a popular dermal filler. The injectable material provides instant volume to the damaged area while creating a fertile environment for tissue growth. The resulting tissue repairs—which could be life-altering for cancer patients, wounded soldiers, or diabetics, the researchers say—are individualized and have a reduced chance of scarring. Over time, the nanofibers disintegrate, and patients are left with fresh, new tissue made of their own cells, with little or no risk of inflammation or rejection.
The Louis B. Thalheimer Fund will move LifeSprout TRM from prototype to preclinical testing and FDA approval.
— MARY SPIRO