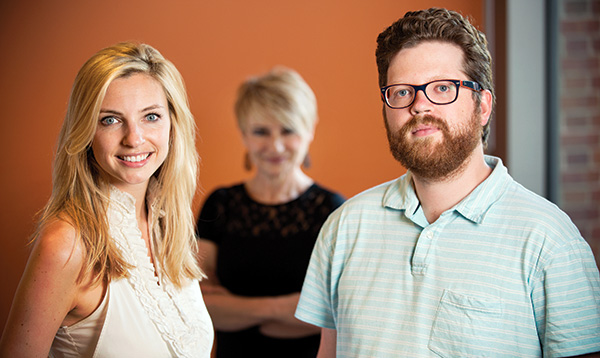 What's life like in a lab as prolific as the Computational Cardiology Lab (CCL)? One thing graduate student Kathleen McDowell learned early on is that there's a trick to scheduling practice sessions for upcoming conference presentations.
"If your talk is going to be 30 minutes long, you'd better schedule the room for two or three hours," she says.
CCL Director Natalia Trayanova wouldn't have it any other way. She prides herself on pushing graduate students and postdoctoral researchers to reach their full potential when it comes to presenting findings and defending arguments.
"It's very important to me that they're not just good at science but that they can stand on their own and deliver answers when they need to," she says. "The whole lab participates in practice presentations. It's grueling. If they can survive that, they'll be fine."
Trayanova takes the same approach to grant-writing skills. Five researchers in CCL receive their own grant funding, and pretty much everyone is submitting for grants during their very first year in the lab. The most recent grant that Trayanova herself submitted received the highest score possible from the National Institutes of Health.
"Students write our own papers and our own grants in this lab," McDowell says. "Her editing process is that she never takes over and rewrites anything—everything is done by comments. So let's just say there are a lot of iterations involved."
Postdoctoral researcher Patrick Boyle regards the grant-writing ordeals he's been through with Trayanova as the experience that might turn out to be most critical to his future success.
"She's a very demanding person, but what it always comes down to is she wants you to put your best foot forward," he says. "No matter how much stress she puts you through, it's about making sure that you're presenting the true quality of your work and living up to the standards of this lab."
As the Murray B. Sachs Professor, Trayanova is the only woman to hold an endowed chair in the School of Engineering.
"I'm very big into being a role model in that way," she says. "I want my girls to be cognizant of the challenges that lie ahead. You should see my girls—let me tell you, these are tough girls, and they can defend their opinions."
And yet for all the talk of how challenging and arduous the work at CCL can be, graduate students and postdocs rave about the collegial, empowering atmosphere. At some point they all seem to pick the word "family" in searching for a way to describe the place.
"One of the things that sets this place apart is that we're all such very good friends," McDowell says. "That goes for Natalia, too. She's definitely been a little bit of a mother to all of us."