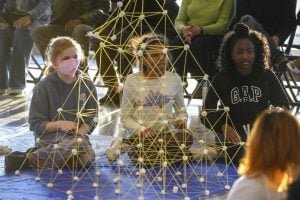 (Scroll down for more Tower of Power '23 photos!)
Bulldozers, cranes, and hardhats are familiar sights around the Homewood campus these days. But inside the Glass Pavilion, another construction project—this one involving dry spaghetti and bags of marshmallows—unfolded earlier this week: the Tower of Power competition.
The signature event of National Engineers Week, this annual contest challenges teams of university undergraduate and graduate students, faculty, and staff, as well as students from area middle schools, to construct the tallest tower possible out of dry spaghetti and marshmallows. This year's contest was hosted by the Society of Women Engineers (SWE), and 17 teams competed.
Before the event began, Ed Schlesinger, dean of the Whiting School of Engineering, gave a short talk in which he referenced Tastee Tape, a biodegradable adhesive invented by Johns Hopkins engineering students to keep burritos from spilling their contents. "It helps you avoid the catastrophe of it falling apart," he said. A few of the teams taking part in the event may have liked to avail themselves of that invention, as more than one promising-looking edifice succumbed to gravity and met a premature end during the competition.
In fact, the team that won SWE's Choice Award, dubbing themselves the Leaning Tower of Erikeeeeeza, saw its 31-inch high creation collapse just minutes after the clock stopped. It wasn't the only one: A particularly promising-looking edifice broke its architects' hearts when it crumbled moments before it was officially measured.
With only 10 minutes left, three teams were neck-and-neck for the top spot. But when the clock stopped, a team comprising three students from the Waldorf School of Baltimore came away with the victory at 53 inches.
"Our strategy was 6 by 6," said team member Kayden, alluding to the hexagonal design the team employed. It worked for them in the qualifying match, she said, and again at the main event. Post-victory, her teammates Ala and Elia were short on words but long on prizes, as each team member received a gift bag containing a variety of items from Barnes & Noble Johns Hopkins.
Second place went to a team of middle schoolers from Our Lady of Hope/Saint Luke School, whose tower measured 50 inches. Height decided the winner, but style was a factor as well, with the team from The Summit School earning the coveted Dean's Choice award for most creative design.