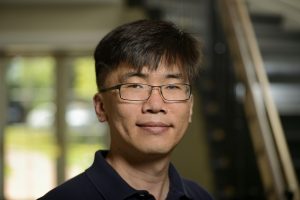 Taekjip Ha, Bloomberg Distinguished Professor of Biophysics and Biophysical Chemistry, Biophysics, and Biomedical Engineering, has been elected to the National Academy of Medicine.
Membership recognizes individuals who exemplify outstanding professional achievement and commitment to service in the medical sciences, health care, and public health. It is considered one of the health and medicine fields' highest honors.
Ha's research focuses on visualizing the way single molecules behave in complex biological systems, such as proteins and DNA. He and his team bring together cutting-edge biophysical techniques with fluorescence imaging to see and manipulate DNA, RNA, and protein molecules. This close-up view of allows scientists to understand, for example, how cells maintain the genome.
Ha completed his undergraduate studies in physics at Seoul National University, Korea, and his doctorate in physics at the University of California, Berkeley. He is a member of the National Academy of Sciences, a fellow of the American Academy of Arts and Sciences and an investigator with the Howard Hughes Medical Institute.