Back in January, as Rebecca Rosenberg, '22 (MSE), was planning her schedule for CES, the annual consumer technology event in Las Vegas, she received an email from a reporter at BBC Click. The news organization's technology website wanted to talk to her about her young company, ReBokeh, which she'd founded as an undergraduate at Bucknell University and continued to build as a Johns Hopkins graduate student.
The BBC team spent two hours with Rosenberg at the trade show, learning about the smartphone application she built to help those with moderate vision impairment, like her, see the world around them.
Roughly a week later, ReBokeh's website analytics spiked. BBC World News had picked up the story, and it wasn't long before a friend was sending Rosenberg a picture of herself on TV— in Qatar.
As an infant, Rosenberg was diagnosed with oculocutaneous albinisim, an inherited disorder that inhibits the body's production of melanin pigment and causes sensitivity to light. At 17 and college-bound, she learned that assistive devices for individuals with vision impairments cost thousands of dollars—and the idea for ReBokeh was born. A few years later, her story was airing around the world.
Rosenberg is one of hundreds of Johns Hopkins student entrepreneurs who have nurtured their idea for a new company at FastForward U, the university's startup accelerator founded five years ago to foster those "from the curious to the committed," according to Josh Ambrose, director of student ventures. "We'll work with someone who's raised their first funds, or we'll work with someone who just came up with an idea while they were waiting in line at the cafeteria."
At a time when as many as 60% of recently minted college graduates nationwide plan to start their own business, and with startups assisted by university-based accelerators faring better than those getting a start elsewhere, FastForward U plays a vital role in helping young entrepreneurs know what it takes to succeed.
"I spent my entire junior and senior years essentially living in that building. I spent more time there than the people who worked there. They looked it up."
Lauren Choi, '20
Founder, The New Norm
Interest in entrepreneurship on the Johns Hopkins campus is growing. When Ambrose took up his role back in 2020, 67 startups applied to join a FastForward U accelerator. This year, 154 applied, and more than 100 will go through accelerators as part of FastForward U or Johns Hopkins Technology Ventures' Social Innovation Lab, he says.
"Our students are motivated to change the world for the better," says Christy Wyskiel, executive director of JHTV, which oversees FastFoward U.
Motivated as they are, they also need help getting started. How and where do you meet potential co-founders, learn how to build a business from scratch, and secure enough funding to get through the early stages? FastForward U has that covered. And while in our Zoom-ready world, learning programs and networking events can be held online, "our physical space is at the heart of what we do," Ambrose says.
FastForward U occupies more than 10,000 square feet in a bright, lofty industrial space in Baltimore's Remington neighborhood. There are shared kitchens, meeting rooms, lockers, and workspaces. There's also a 2,000-square-foot makerspace run by the Whiting School of Engineering outfitted with a metal shop, a wood shop, a laser cutter, and just about anything else students or faculty may need to create a prototype product, such as a prosthetic hand or custom-made chess set.
The space is open 12 hours a day, seven days a week. The building—dedicated to Johns Hopkins University trustee Ethan D. Leder, A&S '84, and his wife, Karen—is a short walk from the Homewood campus. There's a daily ebb and flow here. A dozen students may get together in the afternoon for an impromptu hackathon around a table or brainstorming session at the whiteboard, while a networking mixer featuring a successful startup alum as the guest speaker could attract 70 or more attendees.
Some participants in FastForward U programs do the bulk of their work remotely, visiting the space only a few times a year. Others, such as Lauren Choi, Engr '20, become familiar faces. Choi founded the New Norm, which makes fabric from recycled plastic.
Choi first stepped into FastForward U in the fall of her junior year (2018) for advice and resources. Initially, she built an extruder machine in her garage over one summer. Her aim: Heat the plastic polymer until it melts, process it, and extrude it through a nozzle to reshape the fiber. But she couldn't quite get it to work. FastForward U let her roll the DIY extruder into a corner of the makerspace, where Choi and a team of mechanical engineers had access to the right metalworking tools to get the machine humming. Choi was later part of the spring 2020 Fuel accelerator cohort. "I spent my entire junior and senior years essentially living in that building," she says. "I spent more time there than the people who worked there. They looked it up."
Choi's time at FastForward U wasn't limited to the makerspace. She also received guidance in writing grants and practicing her business pitch of transforming plastic that cannot be recycled into sustainable yarn and fabric. This experience was vital. "Each time I had to make a pitch or write some type of application, it was a time for the business model to evolve," says Choi, who estimated that she made more than two dozen tweaks to her business model over that two-year period. "I needed to be able to fail in a safe space before jumping into the real world."
The persistence paid off: Choi participated in the VentureWell and Halcyon startup accelerators after leaving Johns Hopkins, was one of 20 recipients (out of 11,000 applicants) of a $50,000 grant from Tiger Global Impact Ventures, has been featured in Vogue Business, and partnered with fellow alum-run startup Taara Projects to produce a line of tote bags made from the sustainable fabric. The initial run sold out.
In 2015, researchers from the University of Central Florida wanted to compare common types of startup accelerators: Those based in higher education, those hosted within a large company, and those that operated independently. What they found, after looking into more than 150 university-based incubators, was that businesses originating from a higher education setting generated more jobs and more sales in the long run than startups incubated at corporate or independent accelerators. Additional research has shown that accelerator graduates generate 171% more funding and survive at twice the rate of startups that don't participate in an incubator.
"Today, graduating from college and starting a technology business is a viable career path," says Yury Yakubchyk, A&S '13, the founder and CEO of online behavioral health startup Elemy, which reached unicorn status (a valuation of at least $1 billion) in 2021. "There's been this broad institutionalization of funding for innovation that didn't exist at a meaningful level even 10 years ago."
Yakubchyk is one of FastForward U's many mentors, individuals who have achieved success as startup founders and provide both remote and in-person guidance to young entrepreneurs. His origin story began with a role as a judge on an accelerator panel at FastForward U, and he has since helped students prepare pitches to potential donors before the hub's Fuel Demo Day.
"I didn't have something like this when I was a student," he says. "I had a tricky time understanding how to be an entrepreneur, and I think a lot of students were in the same boat. It's cool to see Johns Hopkins get the program up and running so future students don't have the same trouble."
Mentorship is one of many forms of support available through FastForward U. The early-stage accelerator program, Spark, helps students confirm their instincts on their business ideas while learning the basics of market research and venture capital. Fuel, for later-stage companies, focuses on getting ready to build a team, acquire customers, develop a marketing plan, and get funding. There's also a range of workshops and pitch competitions, along with opportunities to connect with mentors or experts in accounting, patent law, or grant-writing.
"Entrepreneurship attracts students who look at problems as opportunities in the world and want to do something about them," Ambrose says. "As long as you have some veracity to your intention, we can help you at any stage of the process."
ReBokeh's Rosenberg says knowing what FastForward U could provide—and that students at Johns Hopkins generally retain intellectual property associated with their startups—helped her decide where to take her studies after Bucknell. "I wanted the resources to be able to do graduate school work and also work on my company. FastForward U gave me the opportunity to do that."
Tristan Ford, Engr '18 (MSE), the chief executive officer of Vectech, is another accidental entrepreneur. Through his graduate work in the Whiting School's Center for Bioengineering Innovation and Design at the height of the Zika epidemic in 2016 and 2017, he developed technology to gather and produce more accurate data about infectious diseases caused by mosquitoes and ticks. Then he wondered if their work had a place outside the laboratory setting.
"Having FastForward U there as a resource for helping test whether the idea was viable helped me make the decision for myself," Ford says. "Being able to de-risk the idea led me to have some comfort that I could actually start this company. It made me realize it was a risk I'd be willing to take and work on it for at least a year." As Vectech has grown, the company has inked partnerships with organizations such as the Thomson Reuters Foundation and Microsoft for Startups, and this year Vectech converted to a public benefit corporation.
---
Access to mentors and experts is valuable for young entrepreneurs, but so is money. All told, FastForward U awards more than $500,000 to students annually through numerous programs. These range from $1,000 grants to cover software licenses or travel costs to the recently announced President's Venture Fellowship, which will provide up to two full-time Johns Hopkins students with a $100,000 award, including a $40,000 salary stipend for the venture leader to remain in Baltimore and build their company here after graduation.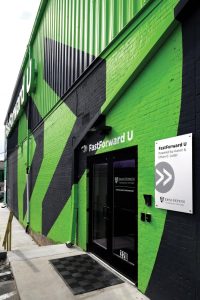 Wyskiel says she's particularly proud of the resources FastForward U offers to keep entrepreneurs on campus during the summer. Along with the President's Venture Fellowship, these resources include the Singhal Family Entrepreneurship Award, which gives later-stage companies up to $30,000 to work through the summer, and the six-week FastForward U Summer Incubator.
"This way, students don't feel a need to take a summer internship. They can stay on campus and in Baltimore and focus on building what's really important to them," Wyskiel says. "This will help us galvanize the Baltimore startup ecosystem."
Yakubchyk agrees: "The venture funding system in Baltimore is nascent. It's not like Boston or San Francisco. If you don't have the support at the university level, then you might not have a fallback."
In the eyes of Colleen Cutcliffe, BSPH '03 (PhD), the focus on building entrepreneurship and community development in Baltimore is a critical differentiator between FastForward U and other university-led incubators. It also helps highlight the innovation that happens in the academic setting. Johns Hopkins spent a record $3.181 billion on research and development in 2021, leading all universities for the 43rd consecutive year. But that doesn't always translate to entrepreneurship and commercial products.
"Johns Hopkins students are hard workers. They're driven and they're curious," says Cutcliffe, a FastForward U mentor and the co-founder and CEO of Pendulum Therapeutics, a probiotics company that recently received an equity investment from actor Halle Berry. "They're looking at the world around them and inspired to think about how to make it a better place. I'm proud to be associated with the school and excited to donate my time to help this next generation of entrepreneurs."
ReBokeh and Vectech retain their base in Baltimore, as both were members of the Techstars Equitech Accelerator Class of 2023. Alum-run companies such as Kubanda Cryotherapy and Eyedea Medical have remained in the city as well, as has Tastee Tape, the maker of edible tape that received national attention from The Tonight Show and Michael Bloomberg.
Similarly, FastForward U has forged close ties with UpSurge Baltimore, a startup accelerator that aims to keep entrepreneurial talent in the city as a way to attract new companies and future investment. (Its chief operating officer, Madeleine Stokes, is the former director of innovation initiatives and corporate relations for JHTV.) "We're trying to become a tech city that lifts everybody up," ReBokeh's Rosenberg says.
This approach has caught the eye of other higher education institutions. Katherine Harmon, executive director of the University of Cincinnati Venture Lab, says she's been following the growth of FastForward U both in her current role and in a previous position with the University of Oregon.
Like FastForward U, the Venture Lab works with budding entrepreneurs "who literally wake up with an idea," Harmon says, helping them build their business, think through a go-to-market strategy, and connect with the right ecosystem partners within Cincinnati. "We have structured our model to be inclusive of different types of audiences, to work together and learn from each other, and to build a startup community."
---
Ambrose estimates that 300 to 400 startups originating from FastForward U are still active and that these startups have collectively raised more than $140 million. For him, though, success isn't necessarily measured in dollars raised or companies still active.
"We're here as educators and advocates, as someone to empower the students. We don't look at every startup and say, 'You're the next unicorn,'" he says. "By doing experiential learning, students are gaining a whole new set of tools to brighten what they learn in the classroom or what they do five years down the road."
One of the most critical experiences is learning how to fail. It's a harsh but necessary lesson for any company founder. According to the Bureau of Labor Statistics, more than 20% of businesses fail within their first year, nearly half fail within five years, and only 35% make it to the 10-year mark.
Common reasons that startups fail include lack of financing, poor planning to launch, and an unwillingness to pivot. Failure may be disappointing, but according to Ambrose, it puts students ahead of the curve. That's because developing an entrepreneurial mindset can help students succeed whether they take a risk launching another company, starting a nonprofit organization, serving on a board of directors, or landing a corporate job.
"I like to think that, if you show up to work on time and do what you say you'll do, you're in the top 10% of workers. But if you show up, recognize a problem, advance a creative solution, and deliver on it, now you're in the top 1% of workers," Ambrose says. "That's what the best teams are learning how to do. If the students we work with can do that, then the world is their oyster."
---
Want to start your own company? Here's what you need.
A business plan.
When FastForward U first engages with startups, would-be founders are encouraged to answer questions about their product's use case, value proposition, and target customer, among other things. Tristan Ford, Engr '18 (MSE), the CEO of Vectech, says the best way to know whether people will buy what you sell is to talk to them. "It's one thing to hear a business adviser say, 'I could see someone buying this,' but it didn't hit me until I talked to potential customers that this could be a real business."
The right team.
"You can start a team with five engineers," says Christy Wyskiel, executive director of Johns Hopkins Technology Ventures, "but you also need to know who will write your business plan, who will crunch the numbers, and who will do your marketing." Networking with classmates, colleagues, and the community can help identify like-minded individuals with different skill sets.
The pitch deck.
Every startup should have an elevator pitch that a founder can recite from memory. A good pitch is useful not just for competitions but also for meeting potential investors. This pitch will evolve over time—Lauren Choi, Engr '20, estimates that she went through two dozen revisions for the New Norm—and each iteration should help strengthen the business case for the company.
A path forward.
Founders need to think about how long they're willing to take the risk of running their own company. This means looking at pitch competitions, accelerator programs, and funding opportunities. It also means being realistic about how long to commit to the company; both Choi and Ford gave themselves a year to see if their respective companies would work.