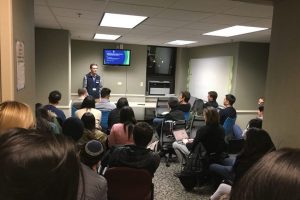 These FastForward U Spark Grants, which range between $500 and $1,000, provide relatively small amounts of funding that could pay huge dividends as the six undergraduate and four graduate student recipients aspire to increase access to clean water, provide better medical care, introduce a stress-relieving beverage to the marketplace and more.
"Student interest in innovation and entrepreneurship is multiples of where it was just a few years ago," says Darius Graham, Johns Hopkins Technology Ventures' director of student ventures and head of FastForward U.
"These microgrants, along with the mentorship and space FastForward U provides, enable these students to pursue their passion, learn about business and, hopefully, change the world in a meaningful way."
FastForward U has a rolling monthly deadline for students to apply for a Spark Grant, and decisions are made the following month. To apply, students must attend FastForward U's "Intro to Entrepreneurship: Where and How to Begin" workshop.
"Often times great ideas are left on the whiteboard due to a lack of support and funding," says Paarth Sharma, a sophomore biomedical engineering major leading Aquatas. "Unlike large competitions which require a refined business plan and product, Spark Grants support ventures at even the ideation stage. Without requiring extensive groundwork from the entrepreneur, the grants provide a necessary financial foundation when innovators might not have many other avenues available."
The first call for applications in February attracted 20 applications. Of the 10 awards totaling $6,950, six went to Whiting School of Engineering students. The students and their ventures are:
Aquatas (Awarded $1,000)
Paarth Sharma (Undergraduate Student, Department of Biomedical Engineering)
Aquatas aims to address the ever-growing problem of clean water shortages that plague developing regions. It aims to provide an efficient and affordable water purification system that promotes the health and societal well-being of low income individuals around the world.
Braegen (Awarded $500)
Victor Dadfar (Undergraduate Student, Department of Biomedical Engineering)
 Braegen is a medical device startup company focused on advancing drug delivery techniques for brain disease patients with the greatest unmet need.
EntriFeed (Awarded $750)
Annabeth Rodriguez (Undergraduate Student, Department of Biomedical Engineering)
 EntriFeed aims to design a new type of enteral feeding tube that minimizes dislodgement and reduces patient readmission for replacement procedures.
ProgKnowsis (Awarded $500)
Arjun Vachhani (Undergraduate Student, Department of Biomedical Engineering)
 ProgKnowsis is developing medical prediction algorithms to mitigate respiratory failure.
Quira (Awarded $500)
Rutvi Shah (Graduate Student, Engineering Management)
Quira is an online community designed to help people find the right fashion for any occasion at an affordable price.
Rume (Awarded $1,000)
James Shamul (Graduate Student, Engineering Management)
Rume uses motion sensing hardware and a mobile application to maximize space utilization on campus, providing real-time information to help students find an open study or meeting room.
---
Article originally adapted and excerpted from Johns Hopkins Technology Ventures.