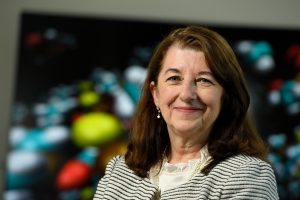 Paulette Clancy, head of the Department of Chemical and Biomolecular Engineering, has been elected to serve on the Board of Directors of the American Institute of Chemical Engineers (AIChE), chemical engineering's professional society.
Comprising in excess of 60,000 members in more than 110 countries, AIChE's members work in corporations, universities, and government agencies to develop safe and useful products for the benefit of society. Elected by the group's membership, the Board of Directors is charged with maintaining AIChE's vitality.
Clancy, who came to Johns Hopkins in 2018 from Cornell University and leads one of the nation's top groups studying atomic- and molecular-scale modeling of semiconductor materials, plans to help the organization continue its efforts to improve diversity, equity, and inclusion – an area in which she has been active for more than three decades.
A fierce advocate for increased representation of women in engineering and the physical sciences, she was the first woman director of Cornell's School of Chemical and Biomolecular Engineering (2002-2010) and founding chair of Women in Science and Engineering (WISE) faculty in Cornell's College of Engineering. Among her awards for that advocacy are the AIChE National Women's Initiatives Mentoring Award (2011); the Alice Cook Award for services promoting women in science at Cornell (2005); and the Zellman Warhaft award for the promotion of diversity at the College of Engineering (2007).
"I will represent the voices of those who want to see improved representation at all levels and who have been traditionally under-represented in the profession. We still face challenges in this regard," she said.
Clancy also is interested in "catalyzing discussion" of an updated chemical engineering curriculum, and representing the areas of machine learning and computation.