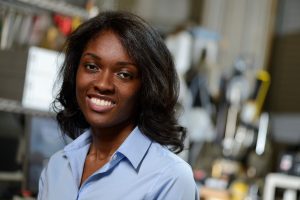 Muyinatu A. Lediju Bell, assistant professor of electrical and computer engineering, has been selected to receive the 2021 SPIE Early Career Achievement Award-Academic Focus. Presented by SPIE, the International Society for Optics and Photonics, this award recognizes significant and innovative technical contributions in the engineering and scientific fields of relevance to SPIE.
Bell was recognized for her "pioneering contributions to photoacoustic imaging for surgical guidance, including innovative technology designs, novel deep learning applications, informative spatial coherence beamforming theory, and visionary clinical possibilities."
Director of the Photoacoustic and Ultrasonic Stems Engineering (PULSE) Lab, Bell is recognized internationally for her pioneering work in medical imaging technology, specifically ultrasound and photoacoustic imaging, photoacoustic-guided surgery, robot-assisted imaging, machine learning for image formation, and other cutting-edge techniques created to significantly advance healthcare interventions and diagnosis.