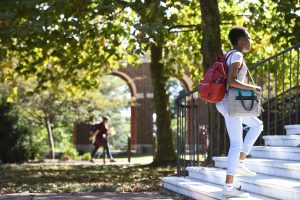 The following message from Dean Ed Schlesinger was shared with the Whiting School community on June 15, 2020.
---
Dear WSE Community,
No words can adequately capture the gravity of this moment and the anguish, despair, and outrage felt by so many of us, and particularly by members of our Black communities, who carry the heavy burden of injustice in their everyday lives. While many of us, including me, take for granted fundamental freedoms, like being able to go for a run without being treated with suspicion—or far worse—our Black colleagues navigate life in ways that are inextricably linked to their race. I condemn racism, hatred, and injustice in all its forms and I and all members of the WSE community have a moral and ethical obligation to take action and to work to address these problems that are so deeply rooted in our society.
I know that many of you have wondered why, until now, I have not shared with you a more detailed communication addressing the killing of George Floyd and the persistence of racism and inequality in our society. In truth, I've been trying to compose such a note for some time and have found it difficult, mainly because I knew that words would not suffice. The challenge for me was to move beyond words and identify meaningful actions that we, as a school, can take in order to bring about real and sustainable change.
If we are to confront the realities of systemic racism and how it manifests in our behaviors and throughout our organization, we must acknowledge that our understanding of the world has been shaped by our own experiences, and that for many of us, these experiences are defined by a perspective of privilege. Our current approach to problem solving has not and will not suffice if we are to enact long-term culture change and make WSE a place that truly values and honors the contributions and talents of our Black staff members, students, faculty, and colleagues, who so often have been overlooked, dismissed, and ignored.
How do we change our culture? This is the real challenge we are facing. It requires specific immediate and long-term actions, which must be sustainable and must engage all members of our community. These actions must be rooted in all that we do, be clearly defined, and include ways that we can measure progress and ensure accountability.
While the list of actions below is by no means meant to be exhaustive, here are some changes that will be made at WSE.
We commit to:
Increase the racial diversity of the WSE leadership team and advisory board.
Implement immediate measures so that when department heads, center directors, administrative managers, and other school leaders are evaluated, this annual process will take into consideration their contributions to making progress toward equality and diversity.
This fall, establish a faculty committee in WSE to review the content and structure of our general education requirements across WSE and to make recommendations for a uniform set of requirements for all majors that includes specific recommendations on content related to the history and practice of racism, discrimination, and social justice in the United States.
Identify specific and meaningful ways to value and recognize the input, ideas, and contributions of our Black staff members, including increasing opportunities for Black staff members to engage with higher levels of our organization.
Engage non-Black faculty and departmental chairs in ongoing dialogue about what it means to be an ally and anti-racist.
Provide tools/resources for interrupting bias addressing immediately inappropriate behaviors.
Incorporate, in faculty and graduate student orientation, content and tools aimed at increasing understanding of racism and working toward justice, in both the JHU community and in society at large.
Provide yearly updates related to our progress towards achieving racial diversity in WSE students, faculty, and staff, which will complement the university's annual Roadmap on Diversity and Inclusion Progress Report.
This is just a start and I would like to hear from those members of our community who have been impacted by anti-Black racism. I plan to meet one-on-one with every Black faculty member at WSE, and hold discussions with our Black staff members and engineering students, as well as with anyone else who wants to meet with me, to talk about their experiences at WSE and to learn from them about what WSE needs to do better. I also am asking the entire school leadership team to take on the same commitment and meet with the individual staff members they supervise and with whom they work.
I commit to completing as many of these meetings as can be arranged by August 15 and I am asking that the WSE leadership team attempt to complete as many of their meetings by August 15 as is possible. My office will be in touch soon with details about scheduling these meetings. Of course, these conversations will be ongoing. Informed by these conversations, by September 15, I will share with all of you any additional actions we will be taking.
Changing our culture requires us to look critically at ourselves and be honest about what is revealed. It requires our commitment to standing up for racial equality, under any circumstances, and speaking up when we witness behaviors/practices that, whether they are intentional or not, diminish or degrade any group or individual on the basis of their race.
This Friday is Juneteenth, a holiday that commemorates the abolishment of slavery and for many in the U.S. is a day of both celebration and of reflection. It's important for all of us to reflect on the full history of racial equality in our country, to educate ourselves about the policies, systems, and structures that define the experience of Black Americans, and identify the ways that we each can contribute to combatting racism.
I want to thank you in advance for the role you will play in helping build a community that is compassionate and dedicated to racial equality and to creating an equitable world.
Sincerely,
Ed Schlesinger
Benjamin T. Rome Dean