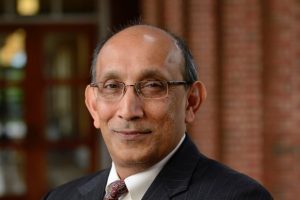 KT Ramesh, Alonzo G. Decker Jr. Professor of Science and Engineering, director of the Hopkins Extreme Materials Institute, and professor in the Department of Mechanical Engineering, has been named a 2017 Fellow by the American Academy of Mechanics.
An honor society, AAM is home to all disciplines engaged in the study of the response of inanimate and animate matter to forces and environmental effects. New AAM Fellows are elected by current Fellows from among the organization's members in good standing on the basis of their significant contributions to the field of mechanics. A single new fellow is selected each year.
Ramesh's current investigations focus on protection materials, the massive failure of brittle solids, impact processes in planetary science, and impact biomechanics.