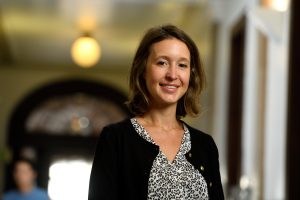 Lauren Gardner, associate professor of civil and systems engineering, has been named the inaugural Alton and Sandra Cleveland Professor.
This endowed professorship, established this year by Sandra and Alton B. Cleveland, Jr., supports exceptional faculty with a preference for those whose research focuses on sustainability and resiliency of the built environment and the multiple human systems it supports. Preference is also given to faculty members within the Department of Civil and Systems Engineering. Alton "Buddy" Cleveland received his bachelor's degree in industrial engineering from the Whiting School of Engineering in 1972. He is also a long-time member of the department's advisory board and recently served as the chair.
Gardner is the director of the Whiting School's Center for Systems Science and Engineering (CSSE), a program which has played a critical role in our efforts to track the impact of COVID-19. The Johns Hopkins COVID-19 Dashboard and Map, developed and led by CSSE, has been utilized by public health authorities, researchers, and the general public and has been cited by major media outlets since January 2020, as well as used by public health and government officials around the world. Gardner was also one of six Johns Hopkins experts who briefed Congress about the novel coronavirus outbreak in March 2020 and was named one of TIME's 100 Most Influential People of 2020 for her and her team's efforts.
She leads interdisciplinary research efforts that utilize network optimization and mathematical modeling to improve our understanding of disease spreading patterns and risk as a function of mobility, land use, climate, population demographics and human behavior. She is also jointly appointed in the Johns Hopkins Bloomberg School of Public Health.