Khusro Kidwai will join the Whiting School of Engineering as the inaugural associate dean for lifelong learning, effective June 1.
Kidwai has worked in professional, continuing, and online education at public and private universities for more than 15 years, where he has successfully implemented strategies focused on audience growth, developing industry and on-campus partnerships, and creating successful industry-relevant, non-degree educational programs. He is a founding director and managing partner with Tarragona Associates, a public-benefit lifelong learning consulting firm. Prior to that he was the inaugural associate dean for lifelong learning at the University of Maine, where he launched the university's UMaineGOLD initiative, focused on increasing enrollments in graduate professional programs.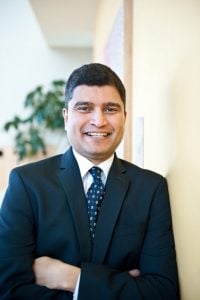 Before that, Kidwai was the inaugural assistant dean of distance learning at Northwestern University's School of Professional Studies, where he made a significant impact on improving teaching and learning experiences for students and faculty and the quality of online courses. Kidwai received his master's in physics from the University of Delhi and doctorate in instructional systems from the Pennsylvania State University.