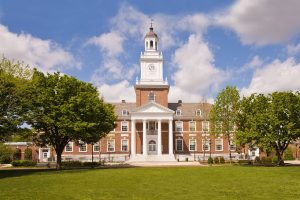 Johns Hopkins University celebrated its newest members of the Edward Alexander Bouchet Graduate Honor Society with a virtual ceremony on May 13. The five PhD candidates are the second cohort of scholars from Johns Hopkins to be recognized by the Bouchet Society for their outstanding scholarly achievement and demonstrated commitment to promoting diversity in doctoral education.
Established in 2005 by Yale University and Howard University, the Bouchet Society seeks to recognize and continue the contributions to doctoral education made by Edward Alexander Bouchet, a physicist who in 1876 became the first African-American doctoral recipient in the United States. The Bouchet Society now includes chapters at 17 American universities, with Johns Hopkins joining as an institutional member in 2018.
"These scholars were chosen through a very competitive process for their embodiment of the five Bouchet honor society qualities of scholarship, character, service, leadership, and advocacy for those traditionally underrepresented in the academy," said Nancy Kass, vice provost for graduate and professional education. "The university is better for their contributions—certainly in terms of their scholarship but also in the endless hours they have devoted to committee work, mentoring of younger students, and volunteering in the Baltimore community, all in the service of others."
The online ceremony included remarks from Kass, faculty mentors, and university President Ronald J. Daniels, who said that although racism ultimately blocked Bouchet from becoming a research scientist, he carried on the spirit of inquiry and analytic rigor in his career as a high school teacher and administrator.
"He infused his students with the belief that a life of the mind was not only achievable but was also worthy of serious pursuit," Daniels said. "Thanks to pioneers like Bouchet, American graduate education is a far more diverse place than it once was. But even as institutions like ours have made great strides in diversifying the ranks of our graduate students, we still have a long way to go. We recognize that we must continue our efforts not only to recruit and admit the most excellent and diverse students, but to ensure that they are supported in ways—from fellowships to mentoring programs—that will set them on a trajectory for success here and throughout their lives."
This year's honorees with ties to the Whiting School of Engineering are:
Phillip James Dorsey
Chemical & Biomolecular Engineering
Phillip James Dorsey recently completed his doctoral studies in chemical and biomolecular engineering. His research focuses on the development of stimuli-responsive DNA-programmable biomaterials for applications including molecular diagnostics, biodefense, and drug delivery. Dorsey has been recognized as a Graduate Education for Minorities Fellow and a Whiting School of Engineering Diversity Fellow. He is passionate about mentoring young scientists and encouraging students from underrepresented minority backgrounds to pursue careers in STEM research. During his graduate studies, he has mentored and trained students who have gone on to pursue doctoral degrees and has served as a campus tour guide and panelist for prospective graduate student groups. Dorsey received a bachelor's degree in chemical and biological engineering from Princeton University in 2014.
Dorsey's mentor is Rebecca Schulman, an associate professor in the Department of Chemical and Biomolecular Engineering.
Bria L. Macklin
Chemical & Biomolecular Engineering
Bria L. Macklin is a candidate for a PhD in chemical and biomolecular engineering. She received her bachelor's degree in bioengineering from North Carolina Agricultural and Technical State University. Her current research focuses on using stem cells to understand vascular regeneration. Toward this effort, Macklin has received the National Institutes of Health Ruth L. Kirschstein Predoctoral Award (F31). She is passionate about outreach and service and has held many positions during her time at Johns Hopkins. Macklin has been a member of the JHU Graduate Representative Organization, the Homewood Graduate Board, and the Vice Provost for Graduate Education Student Advisory Committee. She has also been involved in many efforts to increase diversity among graduate students, JHU, and the academy overall, including serving as co-chair of the Black Graduate Student Association and member of the Diversity Leadership Council and the Homewood Council for Inclusive Excellence, and as a Graduate Diversity Fellow. Macklin says she hopes to continue her career in research and make meaningful contributions to science.
Macklin's mentor is Sharon Gerecht, a professor in the Department of Chemical and Biomolecular Engineering at the Whiting School of Engineering and director of the Institute for NanoBioTechnology.
Elmer A. Zapata-Mercado
Biophysics
Elmer A. Zapata-Mercado is currently a PhD candidate in the Program in Molecular Biophysics at Johns Hopkins University. His research focuses on the thermodynamics of lateral interactions of receptor proteins in the plasma membrane of the cell by employing fluorescence-based techniques. Zapata-Mercado was the recipient of the Francis D. "Spike" Carlson fellowship, given to outstanding students in molecular biophysics. He also completed the requirements to receive the certificate from the Teaching Academy for Preparing Future Faculty. He graduated with honors in chemical engineering and chemistry from the University of Puerto Rico, Mayagüez Campus. Zapata-Mercado has always been interested in obtaining a faculty position, where he could encourage other minority students to pursue graduate degrees. He also aspires to help bridge the gap between the scientific community and the government through science policy work.
Zapata-Mercado's mentor is Kalina Hristova, a professor of materials science and engineering in the Whiting School of Engineering.
---
This article has been adapted from The Hub. View the full list of honorees.