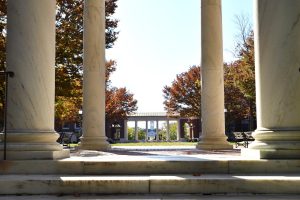 Johns Hopkins University has once again been recognized as one of the nation's top national universities for engineering in the annual U.S. News & World Report Best Colleges rankings, the longest-running and most widely cited assessment of U.S. colleges and universities.
The 2023 rankings, released September 12, place Johns Hopkins Engineering at No. 13 among all undergraduate engineering programs where a doctorate is offered, tied with Texas A & M and the University of Wisconsin–Madison.
In individual program rankings, Johns Hopkins remained No. 1 overall in biomedical engineering and six programs ranked in the top 20. The rankings highlight the university's strength in a broad range of engineering disciplines and include the following:
14 in environmental engineering (tie)
16 in computer science (tie)
17 in materials engineering
18 in mechanical engineering
20 in computer engineering
The U.S. News rankings place Johns Hopkins University at No. 7 among national universities, rising from No. 9 from the past two years.  JHU shares that spot with the University of Pennsylvania. USNWR also this year recognized Johns Hopkins as one of the nation's best overall values (No. 9), most innovative schools (No. 10), most ethnically diverse universities (No. 6), schools with the highest percentage of international students (No. 21), and best destinations for undergraduate research and creative projects (No. 12).
Read the Hub story for more details.